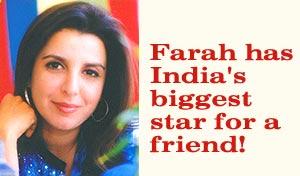 Tell Farah Khan she is yet another woman joining the brigade of female filmmakers in India and pat comes the reply: "I am very different from them all. Women directors in India have mostly made niche films. Naturally, those films have a limited market."
But she does not believe budgets had anything to do with the kind of films Aparna Sen or Kalpana Lajmi have directed. "Even with a big budget, you can make a niche film," she muses.
Farah says her directorial vehicle, Main Hoon Na, is a tastefully done masala film with the widest appeal. "I had no hassles directing this film in a world dominated by men," she chuckles. "My experience in Bollywood has been this: You work hard, you deliver, and nobody finds fault with you.
"You are punished only when you are not performing as per expectation, and not because you belong to a particular religion, caste, or creed. Here, you fail because your vision is not right or you have not worked hard.
"That's why I believe we have true democracy in the film industry," she continues, her voice soaring now. "How I wish the rest of the country was like the industry!"
Passion for movies has been so ingrained in Farah that she was never deterred by her ambition of being part of Bollywood. Though her father — actor and director Kamran Khan — died a disillusioned man, and the family had been plunged from riches to rags by the time of his death, she vowed to remain steadfast in her pursuit of her goal.
Farah, who is now in her mid-30s, was 19 when her father died. She never discussed her movie ambitions with him. "I don't think he would have approved," she says.
With her directorial debut Main Hoon Na releasing on April 30, she has been working over 12 hours a day giving finishing touches to the film. But her voice does not betray the physical exhaustion.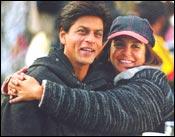 The interview was conducted on telephone, an hour after the Outer Critics Circle in New York had nominated her (along with Anthony Van Laast) for choreographing Bombay Dreams. She became the first Indian to be nominated for a major award for behind-the-scenes work.
The show was also nominated in the Best Musical category. And two of its featured actors — Ayesha Dharker and Sriram Ganeshan — also garnered nominations. The musical opens in New York on April 29 after a month of previews.
Two of the most important things in her life are happening at the same time, Farah says. But she prefers to stay in Mumbai because Main Hoon Na "is completely my baby". She continues, "I needed to take full control of this baby. There are many people to take care of Bombay Dreams. I am not the director there. But I did spend a couple of weeks in March rehearsing the cast. Then my assistant Gita Kapur took over."
Her father used to make stunt films that were released in the smaller theatres in big cities and played well mostly in B and C centres: the smaller cities and towns. "Right then it was clear to me that the films I make will reach everywhere, from A to Z across the country," she says. "I did not want people to say that my films ran well abroad and then in a handful of big cities in India. I believe in making mast films with a lot of masala."
Though she has choreographed more than 40 films, Farah maintains her passion has always been direction. She began her career as an assistant director to Mansoor Khan, but was pushed into choreographing the film because the man signed to direct the dances in Jo Jeeta Woh Sikandar had quit. Mansoor knew that her second passion was dance. He also knew that she had a dance troupe of her own while studying in Mumbai.
When she wrote the script of Main Hoon Na, she had two men in her mind: her father and Shah Rukh Khan. "There is so much about fatherhood and relationship between father and son in the film," she says. "I could not take my mind off Papa when I wrote this film."
Shah Rukh Khan, she continues, gave her not only plenty of moral courage but also the kind of financial backing "one only dreams of". Someone else might have nudged her to direct the film on a modest scale.
"To have the biggest star in India backing your first film with all enthusiasm and financial resources is anybody's wildest dream come true," she says. "This could have remained just another dream project but for Shah Rukh.
"My father would never have been able to give me a break like Shah Rukh did," she adds ruefully.
"Shah Rukh was also my date at the Bombay Dreams premiere," she continues. He had told her how proud he was of her achievement, adding that his pride soared when she was called on to the stage at the end of the performance by producer Andrew Lloyd Webber. Along with A R Rahman and director Steven Pimlott, she was given a standing ovation.
"Even then, I was thinking of Main Hoon Na, wondering when we would start working on it," she says. "I have been in this industry for over 12 years and no day has passed without me dreaming of directing my own film."
But she admits, "I could never have thought that [Bombay Dreams] would happen. If someone had told me I would choreograph a show in London and then in New York, I would not have been able to believe it."
Once it was known that Shah Rukh was producing and acting in her film, getting the other talents — lyricist Javed Akhtar or composer Anu Malik — was not a problem. "I suddenly began to realise the goodwill people have towards me. Papa would be very proud."
She was keen on having Anu Malik's score for her film. "Not only is he a versatile composer, he is also a wonderful human being who more than matches a director's enthusiasm," she says. "I did not want to work with a composer who took his own sweet time creating a tune. We wanted wonderful music, but we also wanted it fast."
Farah knew Malik had quite a few films on his hands. "But he is so flexible and has this superb energy about him," she says. "He would be ready early in the morning if we needed him to start recording, and he would make all the necessary changes in a matter of minutes. His score is one of the highlights of the film. I would not have been directing the choreography without the kind of music he has created in our film."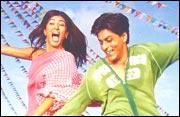 She hopes to be in New York a week after the film opens. "I want to watch it with the audiences in America too," she says. "As I said, I want this film to be appreciated universally."
Surely, she will want to see if the audiences are dancing in the aisles during the musical numbers. The Chaiyya chaiyya number in Dil Se... was a big hit with audiences in London. Broadway is an entirely different world, she knows.
Click here for More Features