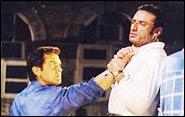 I expected three hours of punches, kicks, grunts, growls, scowls, swearing, emotional blackmail, death threats.
Bardaasht is a Bobby Deol film, after all.
But know what? It wasn't so bad. So what if it reminds you of Ghayal at times or lifts the punch from The Negotiator for its climax?
I do mind it when they use the background scores of Gladiator, The Lord Of the Rings: The Fellowship Of The Ring, and The Lord Of The Rings: The Two Towers. They are ill-used and totally out of place.
But director E Niwas, who impressed earlier with Shool and Love Ke Liye Kucch Bhi Karega, shows considerable improvement from his last film Dum.
Fighting injustice was the core issue in both Shool and Dum. Bardaasht treads the same path.
Aditya Shrivastav (Bobby Deol) is a well-to-do travel agent who brings up his younger brother Anuj (Riteish Deshmukh) after their parents' demise. A slickly shot flashback (by Rakesh Manikantan) reveals that he was once an armyman, but was court-martialled for insubordination. Deserted by his girlfriend Payal (Lara Dutta), Aditya starts afresh in a new city.
Anuj, meanwhile, is idling around in nightclubs, drinking, dancing, and making merry with a bunch of equally no-good friends. Other things you should know about Anuj: he is asthmatic, a brilliant student, and has a girlfriend Ramona (Tara Sharma).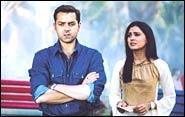 One day, he is caught stealing examination papers from the principal's room. The normally subdued Aditya gives Anuj the spanking of his life. Anuj leaves the house, the picture frame, and the world, in that order.
After looking all over for Anuj, Aditya finds him in a morgue. He is labelled a drug peddler. Police reports say Anuj was shot while trying to escape from three cops — Yeshwant Thakur (Rahul Dev), Sunil Yadav (Ganesh Yadav), and Deepak Sawant (Vishwajeet Pradhan).
The truth, of course, is something else. So Aditya decides to get to the bottom of it and nail the real criminals. Ex-girlfriend Payal re-enters his life. By now, she is a lawyer — just what Aditya and the script ordered.
Bardaasht isn't an extraordinary script, but it holds you till the intermission. Niwas builds a tense atmosphere by avoiding unnecessary songs (only three tracks in the film), comic relief, or pompous dialogues.
The action sequences are few but good (by Abbas Ali Mogul). The flashback has an imaginatively shot sequence in a muddy stream against a rainy, wild backdrop. The climax, though 'inspired', is thrilling.
Bardaasht is pretty strong on the performance front. Bobby Deol does a good job. Look out for him in the scene where he sees his kid brother's dead body. His body language is frail, broken and numb.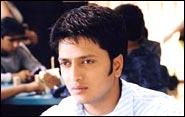 Niwas extracts a meaty performance from Lara Dutta as well. She is no-nonsense and carries herself with confidence during the courtroom scenes. Riteish Deshmukh doesn't have much to do except dance in a song and die in a chase. His co-star Tara Sharma looks convincing as the emotionally disturbed eyewitness.
Bardaasht would have been stronger if the script had offered a solid motive for Anuj's killing. There is also a strange lack of rapport between the two brothers. So when Aditya challenges the entire police force, the passion strikes you as very forced.
Verdict: It's not great, but it's not bad either.
CREDITS
Cast: Bobby Deol, Lara Dutta, Riteish Deshmukh, Tara Sharma, Rahul Dev
Director: E Niwas
Producer: Pooja Galani
Music: Himmesh Reshammiya
Lyrics: Sameer