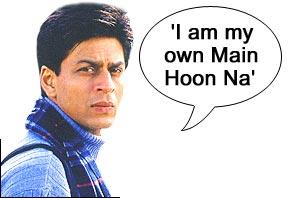 The release of Shah Rukh Khan's Main Hoon Na is just a fortnight away (April 30), but director Farah Khan is still filming a dream song, Tumhe jo maine dekha on Shah Rukh and Sushmita Sen at Mumbai's Film City Studios.
But that is so characteristic of Shah Rukh, the man who has lived the last decade in stardom-fuelled frenzy.
On the sets, he plays gracious host to Ketan Mehta and Aamir Khan, who are shooting on an adjoining set for The Rising, yet remaines intimately attuned with his character while he is called to romance Sushmita for the camera.
Dinesh Raheja speaks with Shah Rukh Khan, the man who, his close associates vouch, has made Main hoon na a statement of life:
In real life, who are the people to whom Shah Rukh Khan would say Main hoon na?
I would say it to Aziz Mirza, Karan Johar, Adi [Chopra], Juhi [Chawla] and Chikki Pandey. These people and their families were very helpful to me when I came to Mumbai.
I hope no harm ever comes to them. If, God forbid, they are in a spot of bother, I will always be there for them.
I am always there for my family, my sister, my wife and my kids. If a car were to collide with my sister or kids while they were crossing the road, I would pull them away and stand in their place.
I think like a Pathan when it comes to my family. People say Karan, Adi and Shah Rukh have ganged up professionally. But gang or no gang, film or no film, I will be there for them. I have always been there for Farah, the director of Main Hoon Na. She will vouch that I love her as much as her brother does.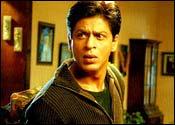 Is there anybody you can count on in your difficult times?
My mother. She is not there any more physically, but she gives me that feeling 100 per cent.
You don't need to hear Main hoon na from anybody else?
I am the eldest in my family so I can't afford a chink in the armour or have a little weakness.
You don't feel lonely at times?
Yeah I do. But I lead a very busy life. Besides, I think my kids look up to me, so I have to sort out my problems myself.
Do you have conversations with your mom?
Not conversations, but I do point out two stars in the sky to my children and tell them, "This one is my father and that one is my mother."
Once in a while, I am overcome with sadness, which is normal I guess, and I go up to the terrace and pray to my mother.
Do you get any answers?
Just a feeling of Main hoon na. I don't have a spiritual connection with my mother like the man [Neale Donald Walsh] who authored the book, Conversations With God had with God. But when I pray for something, it gets done.
Obviously, she is listening to me.
Looks like your character has a solid Main hoon na relationship with Zayed Khan in the film.
In Main Hoon Na, I am Laxman's [Zayed Khan's] elder brother Ram Prasad Sharma. His half-brother, actually. In the film, I am a major who joins college to resolve some important issues.
The film is set against the backdrop of India-Pakistan friendship, which has suddenly become a real event thanks to the cricket matches between India and Pakistan and the release of POWs, among other things.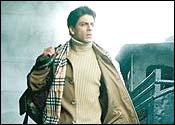 I believe you disliked the title originally?
I was not okay with it. I thought it was incomplete. Besides, it sounded pompous. After I listened to the title song, it seemed relevant to the theme.
How did you convince Suniel Shetty to play a negative role?
I have played grey-shaded roles in both Darr and Baazigar, but the scriptwriters justified my character's motives. Suniel is playing an outright negative role, no explanations offered. I am thankful to him for agreeing to do this role.
Which other films are on the anvil?
Ashutosh Gowariker's Swades, set in a contemporary village, is nearing completion, while I have begun work on Yash Chopra's next where I costar with Rani Mukerji and Preity Zinta.
A lot of water has flowed under the bridge since you replaced Aishwarya Rai with Rani Mukerji in Chalte Chalte. Will you work with Aishwarya today?
Yeah, I will work with a director who will cast Aishwarya and me. I am nobody to cross anybody's name out of my professional life. I always work with heroines chosen by the director.
Image: Uday Kuckian