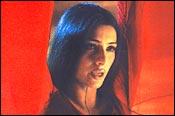 Meenaxi is poetry in colour. Painter-director M F Husain's mastery over colours makes the film look captivating.
It is, of course, not just a canvas for Husain, like his earlier film Gaja Gamini. This one goes deeper.
Writer Nawab (Raghuvir Yadav) is facing a dilemma -- he cannot get the right subject for his next novel. He meets a stranger, Meenaxi (Tabu), who urges him to write a book on her. At first hesitant, he later agrees.
| | |
| --- | --- |
| | Meenaxi on rediff.com! |
| | |
Now, Nawab needs a male character for Meenaxi. He zeroes in on Kunal (Kunal Kapoor), his drunken car mechanic, who once wanted to become a singer.
In the novel, the two meet for the first time in Jaisalmer. The chemistry between the two is shown well. Meenaxi is the mysterious beauty, while Kameshwar (Kunal's name in the novel), is the shy youth. He is intrigued by her and cannot seem to get enough of her. Soon, Meenaxi is drawn to him too.
That is when a third character Karanvir (Sagar Arya), the 'villain', comes in. Though the part when he dumps his girlfriend and proposes to long-time friend Meenaxi came out of nowhere.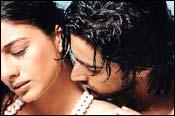 Back in Hyderabad, Meenaxi taunts Nawab about the 'boring' story and, finally, burns the manuscript in disgust.
So Nawab starts a new story with the same characters. This time it is set in Prague.
Maria (Meenaxi's new name in the new novel) is a free spirit who walks everywhere with her cycle. Walks, because she doesn't know how to cycle.
She holds a placard with Kameshwar's name at the railway station. When they meet, they hit it off immediately. He comes to the city to meet a Dr Crass, who is never shown or explained.
This time, Nawab introduces himself in the novel too. When he asks Meenaxi if there is any romance between Kameshwar and Meenaxi, she appears vague. She is drawn to Kameshwar too.
The moments leading to the climax may seem confusing but the last few minutes of the film puts things in perspective. And the exceptional dialogues by Husain and his son Owais, who assisted him on the film, take the film to another level.
Besides the climax, there are some parts that are well done. Meenaxi, in Hyderabad, is never fully convinced about the story in Jaisalmer. She always feels that the story lacks punch. Or rather, the intimacy that she yearns for. She hints at it first and later, tries to spell it out to Nawab, who is uncomfortable with the idea.
Tension grips the scene in Jaisalmer, when Meenaxi tries to meet Kameshwar late at night. While Meenaxi tries to pull forward and meet Kameshwar, Nawab's ink does not let her get beyond the front door. Finally, Nawab wins.
Husain never really explains who his characters are. Who really is Meenaxi? She claims that she sells ittar [fragrance], though you never see her doing so. She hovers around Nawab and is adamant that he write an interesting story on her. It is never explained why.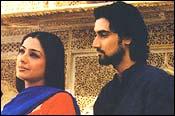 Who is Kunal? He is a car mechanic whose dream of becoming a singer was never fulfilled and so he took to the bottle. But who is he? Husain never explains his roots except for a stray comment about his father.
The characters are just there.
Tabu is brilliant. The way she teases the two men in the film is spectacular. She is aided, of course, by Husain's knack of presenting his women beautifully, like he did to Madhuri Dixit in Gaja Gamini.
Tabu looks breathtaking. This is probably the best looking Tabu you have seen. The accent sat uncomfortably on her, so did the babyish tone she adopts in Prague.
Newcomer Kunal Kapoor is a pleasant surprise. His freshness adds appeal to his character, yet he emotes like a seasoned actor. He seems rugged, yet vulnerable, in Hyderabad; confident, yet shy, in Jaisalmer and Prague.
No wonder the actor is going places. He has signed his second film with Aamir Khan, for Rakesh Mehra's bilingual, Rang De Basanti (Paint It Yellow in English).
Raghuvir Yadav is just perfect in his role, portraying all the tension, conflict and dilemma that Nawab feels. Admittedly, it had traces of his performance in Prawaal Raman's Darna Mana Hai.
A R Rahman's score is excellent. No wonder M F Husain waited a year to get the music! Apart from Yeh rishta and Chinnamma chilakkamma, Do kadam and Noor-un-ala-noor are a treat to the ears. There are far too many songs in the film, though.
Husain seems to have incorporated all of his knowledge and experience into this film. Watch it with an open mind. This is not the usual Hindi film you are used to.
CREDITS:
Cast: Tabu, Raghuvir Yadav, Kunal Kapoor
Director: M F Husain
Music: A R Rahman