You got to have one kind of a funny bone to enjoy Mumbai Matinee.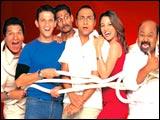 The tsk-tsk-nudge-wink SMS jokes brigade will enjoy it immensely. Their parents, hmm. Not so sure.


| | |
| --- | --- |
| | Do write in to us! |
| | |
Sex, with a big S dominates the film. Make that a big E and X too. Bollywood is growing up and it shows.
Gone are the anecdotal two flowers necking. Also out the window is the entire load of moral baggage that has come to be associated with the three-letter word.
Sex is an urge, an activity set off by the biological clock. The tick-tock can become quite loud if you are Debashish Chatterjee (Rahul Bose), 32 years old and still a virgin.
And if you are Baba Hindustani (Vijay Raaz), a charlatan wearing the garb of a tantric, people like Chatterjee are the path to prosperity.
Between Debu and Baba, you have a clutch of interesting characters thrown in. A failed and distinctly Punjabi film producer (Saurabh Shukla), his good-looking lackey angling for a role, Baba's urbane secretary (Asrani), Debu's best pal and colleague (Kaabir), who has a fetish for female legs, their wig-toting boss and his secretary.
The mix of characters is electric, and many of the darkly humorous one-liners, liberally peppered with sexual innuendoes, have the audience chuckling. 
The film has more than a few touches of surrealism. How Chatterjee, an agarbatti-lighting advertising executive, becomes a soft porn star is one such touch.

The key to the film are the superb actors chosen by the late director Anant Balani. It doesn't take long for a film with overt sexual content to degenerate into a skin fest. Bollywood is notorious for it.
To Balani's credit, the slapstick quotient, for most part, is well within permissible limits.

One reason could be that the author of the story is Balani himself. That, surely, must have helped him out in fleshing out his characters and giving them life. Balani, I guess, must have written the story while passing through a difficult phase in his life.
The film, for the discerning viewer, has layers of meaning embedded within it. All of it tries to unravel, in its own ways, what makes Mumbai tick.

For Chatterjee, as he finds out, the city ticks because there are no rules. But the film doesn't ram down its logic down the throat of the viewers. It leaves certain knots untied, and deliberately at that.

Joggers' Park may have pitchforked Perizaad Zorabian into the spotlight, but as journalist Sonali Verma, she is clearly playing the third fiddle in this film. How Debu and Sonali meet, discover each other and finally end up in bed, not out of lust but out of love, makes for a different taste and texture.

Apart from Rahul Bose, who looks every inch the diffident, self-conscious and 'uncomfortable around women' types, Shukla plays the gas bag producer with a good heart to the hilt. Such versatility is rare in Bollywood, and Shukla is one such rare commodity. Vijay Raaz and Asrani are competent.

Perizaad is different. Not a traditional stunner, but very attractive. She plays the role with a lot of verve. A complete natural in front of the camera, she lets nuances of body, eyes and facial expressions do the trick.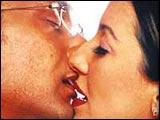 On the flip side, some situations of the film are a bit over the top, even after surrealism is taken into account. They show why Bollywood is still growing up, and not grown up.

For instance the way Debu, his friend and their boss hang their tongues out every time the secretary crosses her leg. While on the subject, the entire characterisation of the secretary is stereotypical. Agreed all offices have their share of hotties, but then even the most blatant of them don't bat their eyelids or pout their lips like that.

The film is not everyone's cup of tea. If you are looking for a family entertainer, you are eyeing the wrong film. But if you want time out with your locker room buddies or with your girlfriend, Mumbai Matinee is the film.
CREDITS
Cast: Rahul Bose, Perizaad Zorabian, Asrani, Vijay Raaz, Saurabh Shukla, Kaabir
Director: Late Anant Balani
Producer: Pritish Nandy Communications
Music: Anand Raaj Anand

Would you like to review this film? Here's your chance!