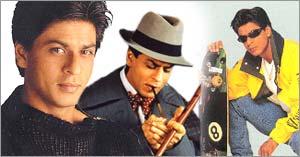 I was 10 years old when Doordarshan -- God's boon to entertainment-hungry folk back in the Eighties -- began showing a new television series. It was called Fauji.
I cannot recall whether Fauji was aired on a Wednesday or a Saturday. But I do remember one guy who stood out in every episode.
He played a training commando named Abhimanyu Rai.
You know what I liked about him? His restless energy and his bouncy feet. If you notice carefully, the guy never stood straight. He was always hopping up and down, as if a pair of springs were attached to his sneakers. And his shabby hair fell all over his forehead.
I finally came to know Abhimanyu's real name: Shah Rukh Khan.
'Nice name, but what does it mean?' I thought. I was told it meant a 'man with the face of a king'.
At the time, I didn't realise Shah Rukh, would one day, really rule. 
In 1992, he starred in a series of films: Deewana, Chamatkar, Dil Aashna Hai, Maya Memsaab and Raju Ban Gaya Gentleman.
| | |
| --- | --- |
| | We'd love to hear from you! |
| | |
Now a little before any of his movies hit big screen, my mother, a senior journalist herself, happened to do an extensive interview with the actor. She met him twice on the sets of Umesh Mehra's Chamatkar, where he was shooting for the popular song, Bicchoo mujhe kaat khayega, with Urmila Matondkar.

I needed details: each and every dialogue exchanged, every expression had to be narrated to me.

This is what I was told: He is full of life and confidence. His dimpled smile is rather cute. He is respectful and very emotional. He loves his mom dearly. He loves to talk. He can go on and on. He is pretty hassle-free. He actually sat on the floor throughout the interview.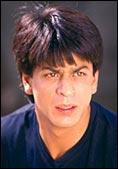 So far so impressed. I bragged about this to all my classmates. Everyone at school adored Shah Rukh.
One after one, his films released. Even though none of his earlier movies turned out to be blockbusters, Shah Rukh was making waves.
To me, his box office status was never an issue. I thought he shared a fun chemistry with Juhi Chawla in Raju Ban Gaya Gentleman. Also, the scene in which he is overconfident at an office board meeting was good. Raju (his name in the film) and Shah Rukh shared something in common: they were confident of making it big. They both succeeded.
But in Kundan Shah's Kabhi Haan Kabhie Naa, Shah Rukh's Sunil didn't get all that lucky. He loses Anna (Suchitra Krishnamurthy) to his friend Chris (Deepak Tijori). Playing the underdog always had its perks.
SRK received plenty of audience sympathy. His desperate attempts to get Anna, his funny encounters with a gangster (Goga Kapoor), his examination result fiasco and his ultimate sacrifice made Kabhi Haan Kabhi Naa one of my favourite Shah Rukh movies.
Oddly enough, the masses preferred him in obsessive avatars instead. KHKN wasn't a big hit, but Darr and Baazigar were. Personally, I didn't like his K-k-k-Kiran gimmick. But the casualness with which he throws Shilpa Shetty off the terrace in Baazigar was wow!
I mean all the man says is 'Main tumhe azaad karta hoon, Mujhe maaf kar dena, Seema.' Thud!
And Bollywood had a spate of good guys wanting to get bad and ugly.
Just when the audience and media were getting enough of SRK's mean streak, Dilwale Dulhania Le Jayenge happened. I was in college then. The promos looked very enticing with collages of Kajol and SRK in stunning locations and gorgeous clothes.
Actually before DDLJ, SRK's dressing sense was pretty ordinary. But in this film, he looked cool. A tag he took rather seriously and went on to wear a cool pendant in another teenybopper love story, Kuch Kuch Hota Hai.
Coming back to DDLJ, the scenes that stayed back in my mind were:
* When Raj (SRK) taunts Simran (Kajol) about getting married to a guy she has never seen or met.
* When Raj asks Simran what would she do if she discovered she was in love with him. Does she have the courage to defy her family and be with the man she loves? Simran doesn't reply. She smiles and walks towards her train. 'Agar yeh tujhse pyar karti hai Raj, toh yeh tujhe palat ke zaroor dekhegi,' he mumbles to himself. She turns and smiles.
| | |
| --- | --- |
| | More on Rediff! |
| | |
Unfortunately, I never got to see DDLJ on big screen. Funnily enough, the first Shah Rukh film I ever saw in theatre was Zamana Deewana. It was this obscure film that released and disappeared. Mind you, it had some really big names associated with it. Ramesh Sholay Sippy directed it.
Raveena Tandon was SRK's co-star in this story.
The next SRK film I watched in a theatre was Kuch Kuch Hota Hai. I was in my final year of degree college. KKHH had been declared a major success. Tickets were scarcely available. Housefull boards everywhere.
Ultimately, my friend Eusebio, who happened to have some contacts with the theatre manager, pitched in four stall tickets for us.
KKHH was an experience. It had everything: emotions, romance, chemistry, stunning visuals, great music, poignant dialogues and, most important, it had a happy ending. Of course, it cannot be denied that KKHH was a Kajol movie all the way.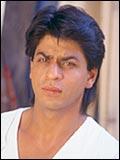 At an award function, SRK said, 'Kajol is the hero of this film.'
But the real hero too played a cool dude with élan. Whether he was squabbling with Kajol over a game of basketball or climbing Rani Mukerji's bedroom window or walking up to the dais to comfort his reel daughter at a school function, Shah Rukh was in his element.
Ditto for Yes Boss, Pardes and Dil Se.
The reason for Shah Rukh's phenomenal success is that he plays to his audience. He gives them what they want. The media wants SRK to be someone other than him, but the masses like seeing SRK in his characters as well. So if the actor in him turns out a caricature of himself, so be it.
By the time his first home production, Phir Bhi Dil Hai Hindustani, was released, I was working as a journalist. Shah Rukh didn't quite seem so appealing anymore.
But what's a head without the heart? So I tried watching his Asoka. I didn't mind the film. But I did mind Mohabbatein. Perhaps Amitabh Bachchan has something to do with it. His Narayan Shankar was so overpowering that SRK's Raj Aryan paled in comparison.
But. Shah Rukh redeemed himself in the climax. In his final face off with AB, he says, 'Maaf kijiyega sir, lekin jahan se mein dekh raha hoon aap haar gaye.'
I never understood how he won the Best Actor Award for Dil To Pagal Hai. Come to think of it, even for DDLJ, especially when Aamir Khan too was nominated for his superb performance in Rangeela. But I would rather not get into that.
I had promised myself not to watch Devdas more than once. Films like Devdas take a toll on a softy like me.
I liked Sanjay Leela Bhansali's extravagant adaptation of Sarat Chandra Chattopadhyay's novel, primarily because this tragic yet popular character intrigues me. That no one can ever match Dilip Kumar's perfect portrayal of the ill-fated hero goes without saying.
To give Shah Rukh credit, he did a credible job. For once he was more than just Raj and Rahul.
His last release, Chalte Chalte was what Mumbaikars call 'timepass.' Shah Rukh was back to playing Raj with gusto, pouting like a puppy dog, shedding tears like a baby, gnawing his teeth when angry and wooing and winning the girl's heart.
A few days ago, I saw him in the promos of his upcoming drama, Kal Ho Na Ho. If what I have heard is true, it is supposed to be a remake of Hrishikesh Mukherjee's Anand. If so, SRK will have no difficulty in garnering sympathy votes.
He has made a career out of it.
Click here for More Features