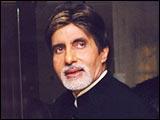 Twenty-two years after Ram Balram, Amitabh Bachchan and Dharmendra have teamed up in Ravi Sharma's Hum Kaun Hai.
"I feel I gave a shot for Ram Balram only yesterday and today I am here again for another shot. Vakt gayab hogaya [Time has flown]," smiled Dharmendra.
Garam Dharam, who has worked with the Big B in films like Chupke Chupke, the cult classic Sholay and Ram Balram, said, "Amit is stronger and more hardworking now than he was in his earlier days. He is a lesson to all youngsters on how to fight back when you are down in life."
Hum Kaun Hai, which  is a supernatural thriller, also stars Dimple Kapadia, Moushumi Chatterjee and newcomers Abhijit Lahiri and Seema. The music for the two-hour long film has been scored by Anand Raj Anand. Hum Kaun Hai is scheduled for a December 27 release.
Producer Sony Juneja says the shooting for the film started on June 27. The film, which was shot in Mahabaleshwar and Mumbai, was completed on schedule. "I am very proud to produce this film with legends like Amitji and Dharmendra," Juneja continued. "As a child, I loved their pairing and am happy to have brough them together again for this film."
| | |
| --- | --- |
| | More on rediff.com! |
| | |
Juneja's father, Tony, had produced Ram Balram (1981) which also starred Amitabh Bachchan and Dharmendra.
"The producers are family friends. When Tony approached me saying that Dharmendra is doing this film, I could not refuse. Besides, I was present when Sony was born. When Tony told me that Sony was producing the film, I readily agreed," Bachchan said.
"Dharamji has always treated me like a younger brother. Many people don't know that I was not supposed to be there in Sholay. When the decision was supposed to be taken, I asked Dharamji to do me a favour and get me in the film. He did it. Today, I am what I am because of him," added Bachchan.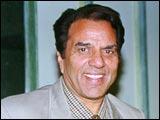 He then went on to say the only difference between Dharmendra and him was that he had a beard and his costar didn't! "I am very touched as a lot of mediapersons have turned up to greet us. I hope this film does well for us," said Bachchan.
Hum Kaun Hai was shot at yesteryear actor's Rajendra Kumar's bungalow in Bandra, Mumbai.
"We love working together but unfortunately never got a chance after Ram Balram," said Dharmendra. "Not a single film was made keeping us in mind. I am happy that after 22 years, someone has thought about us."
When asked whether the other actors would get lost in the film due to the presence the dynamite Veeru-Jai team, Dharmendra said, "Every character is important in this film. I cannot say more than that because the story of the film will be revealed. Amit is such a good actor that whenever he gives any shot, my reaction comes very naturally. I never feel that I am acting."
Click here for
More Features