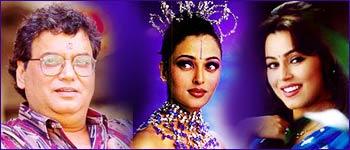 I've been a Hindi movie buff ever since I can remember. Born into a lower middle-class family, my parents managed to show me quite a few Hindi movies, at cheap suburban Mumbai theatres, every month.
For someone born in my economic class, I can claim to have seen the most number of Hindi films at theatres at a schoolgoing age. The movies included art house classics like Gaman, Kitaab and Mohan Joshi Haazir Ho (none of which I understood then); box-office disasters like Aakhri Goli, Heeralal Pannalal and Achcha Bura (films very few people must have heard of); and commercial blockbusters like Sholay, Dharam Veer or Vishwanath.
By the time I grew to distinguish good films from bad -- in the early years, any film with a few fight sequences was good for me -- I also started looking at the filmmaker's names in the credits.
| | |
| --- | --- |
| | Don't miss: |
| | |
Among commercial 'masala' films, I started enjoying films made by Subhash Ghai.
The variety of topics the showman and his Mukta Arts dealt with, albeit superficially; the larger-than-life characters he painted on screen; the huge star cast he managed to assemble; the sets and settings of his film; the melodious music which flowed smoothly with his storytelling and his standout action-packed climaxes proved his mastery over the art of celluloid entertainment.
I was even bowled over by his extravagant use of cinematic liberties to keep his audience enthralled. There did not seem to be any dull moment in his celluloid fantasies.
I remember watching, wide-eyed, as Ghai presented us with films on varied themes. While Karz dealt with rebirth for revenge (much before Rakesh Roshan's Karan Arjun), Hero dealt with reformation of a criminal through love. Karma (which picked up from V Shantaram's Do Aankhen Baarah Haath and Ramesh Sippy's Sholay) addressed the issue of terrorism for the first in Hindi films, and Saudagar dealt with love bringing together friends-turned-foes.
Nothing similar in the themes. Usually, not much in common in the casting either.
I was also impressed with the way he introduced memorable characters and drew successful career paths for struggling or upcoming actors. Though I was too small to make anything out the casting of villain Shatrughan Sinha as a hero (Kaalicharan, Vishwanath and Gautam Govinda), or giving Jackie Shroff a major break (Hero), after a side role in Dev Anand's Swami Dada, I did find it amazing that the 'retired old man' Anupam Kher (Mahesh Bhatt's Saaransh) could so easily become one of India's most remembered villains Dr Dan (Karma).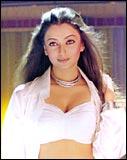 Ghai's bringing together of actors like Dilip Kumar and Naseeruddin Shah (Karma) or Dilip Kumar and Raaj Kumar (Saudagar), or the huge star cast in films like Vidhaata made me look forward to his next film.
Each of his films boasted of unforgettable chartbusters. Be it Mukta Arts' first film Karz (Om Shanti Om; Darde dil darde jigar), Hero (Ding dong; Tu mera jaanu hain), Karma (Har karm apna karenge), Ram Lakhan (Mere do anmol ratan; Bada dukh deena) or Khalnayak (Nayak nahin khalnayak hoon main; Choli ke peeche kya hain).
The tunes seemed tailormade for the script and actors. The teenager in me would always walk out of the theatres impressed, sometime even hoping for an encore.
Though I started appreciating 'realistic' and 'meaningful' films soon, I still liked being taken on an enjoyable ride into the make-believe world of filmmakers like Ghai.
It is precisely for this reason that I was disappointed when Ghai gave up his trademark style to make imitations of the chocolate-coated romances of the Sooraj Barjatyas, Aditya Chopras and Karan Johars in the 1990s.
His obvious sell-out to business houses – note the in-your-face product placements promoting softdrinks, cycles and paan masalas, with unnecessary dialogues, in Taal and Yaadein -- made watching his latest films a major disappointment.
He seemed to be turning into a businessman for whom films were nothing but commerce. The art of packaging art as a commercial product seemed to have been lost.
I wished one could tell him there was an audience that wanted to see a Subhash Ghai action-drama as much as a mushy love affair.
| | |
| --- | --- |
| | More on Rediff: |
| | |
And precisely for this reason, just before Yaadein released in July 2001, I accompanied my movies editor and another colleague to meet the showman at his office in Andheri, a suburb in northwest Mumbai.

Talking of his successful career and hit films, Ghai seemed all pleased with himself. Having agreed to spend 15 minutes with us, he went on to speak unhurriedly for almost 45 minutes, about how he has his fingers on the pulse of his audience and how he enjoys catering to all sorts of audiences and tastes.

Sensing that he was only telling us what he wanted us to print, I asked him -- I'm still not sure it was the right question at the right time -- why he had started imitating the Johar-Barjatya-Chopra type of love stories (Pardes, Taal and Yaadein), forsaking his trademark big-budget, multi-star cast, masala pot-boilers.

Smiling and pleased with himself till now, the question suddenly put the brakes on a smooth-flowing interview.

'Who said they were purely love stories?' he asked, clearly irritated. 'Pardes was the story of a non-resident Indian coming to India in search of a bride with traditional values, while Taal was a musical, full of song-and-dance rehearsals and concerts,' he said.

'Like Dilwale Dulhania Le Jayenge and Dil To Pagal Hain,' I added with a smile.

'So what do you want me to do? Stick to my style, and get thrown out like the others of my generation? Tell me, which filmmaker of my time has survived? They are all finished. I have changed with the times, so I am still here.

'And what's wrong with my films? Have you seen them?' he asked.

'Yes. All of them. Sorry to say this, but I did not like Taal,' I said.

'See Yaadein. You will like it,' he said, and put a sudden end to the interview.

Yaadein released -- and bombed in India -- a few days later. More than two years since, we are still awaiting a formal announcement of his next directorial venture.

The only rumour we heard meanwhile was that he would direct Homeland, a film on war and patriotism, with Dilip Kumar, Amitabh Bachchan and Shah Rukh Khan/Akshaye Khanna. But the project seems to be stillborn.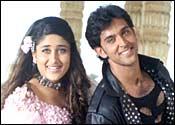 But if a film like that does materialise, it would be a master showman's return to his own brand of entertainment. Way to go, sir!
We would rather have a Karz, Karma or Ram Lakhan, with Subhash Ghai written all over it, than a Yaadein, pretending to be a teenager's vision for his family and the world.
Leave those teenybopper, NRI romances and family dramas for the ones who make them best. We are waiting for your next blockbuster, Mr Ghai.
We are waiting to be entertained.

Click here for More Features