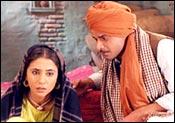 The Good
Based on an original story by the celebrated Punjabi writer Amrita Pritam, which means one is not going to watch a typical song and dance routine or a typical revenge and melodrama sequence.
A gripping narrative about a Hindu woman who is kidnapped by a Muslim before Partition to settle old family scores and how, during Partition, this couple helps out the woman's family.
| | |
| --- | --- |
| | Also Read |
| | |
Amazing sets that truly recreate the Punjab of the 1940s.

Good performances by the lead actors.

The Bad

Too many songs in the first half.

Unconvincingly glib in the second half, which does not allow the climax to build up.

Except for the qawwali, most of the songs are unmemorable.

The Verdict

A must-see film.

Log in tomorrow for the complete review.