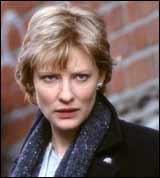 Producer Jerry Bruckheimer (Pearl Harbour, Pirates Of The Caribbean) went to the Toronto International Film Festival last month with one of his smaller films: Veronica Guerin.
The usually publicity-shy Bruckheimer even attended a press conference for his film, along with its lead player, Cate Blanchett. There was no big surprise as to why he was in Toronto; there had been quite a bit of Oscar buzz about his film. And he wanted to give it a bigger profile at TIFF, which draws a substantial number of Oscar voters.
Much of that buzz has disappeared by now. For the film, which is about an award-winning real-life Dublin journalist whose investigation into the city's underworld led to her death in 1996, does not soar. It is a film that certainly means well but does not offer a compelling drama, even though it doesn't lack the possibilities for it. It is far removed from such complex and yet entertaining gangster dramas as Brighton Rock.
But with a compelling performance by Cate Blanchett and heavy promotion by Touchstone, it may emerge as a mid-level success.
| | |
| --- | --- |
| | More on rediff.com! |
| | |
Ambitious journalist Guerin has a big heart. Moved by a sight of children playing with a hypodermic needle on a Dublin street, she starts probing the city's drug world. Soon she realises the enormity and ruthlessness of the drug business. The film does not offer us a one-dimensional picture of its heroine. True, Guerin is courageous, well-meaning and determined, but she is not a terribly good homemaker.
A major flaw in the script is that, as the film proceeds, it lets Guerin's character seem foolish. Despite the threats and attacks on her, she seems to be careless as she continues her investigation.
Director Joel Schumacher gives in more to his thriller impulses than to the dramatic elements in the story.
In arguably her best work since Elizabeth (1998), Blanchett offers us a complex Veronica Guerin. She expertly brings out the self-confidence, arrogance, foolishness, ego and commitment in the slain journalist.
Among the film's more interesting characters is the money launderer John 'The Coach' Traynor (Ciaran Hinds) and John Gilligan (Gerald McSorley), the ruthless ruler of many of Dublin's worst rackets.
But some of the film's more formidable actors like Brenda Fricker, who plays Veronica's mother, have little to do.
CREDITS:

Cast:
Cate Blanchett, Colin Farrell, Brenda Fricker, Ciaran Hinds, Darragh Kelly, Gerald McSorley
Director:
Joel Schumacher
Rating:
R for violence, drug scenes and language
Distributor:
Touchstone Pictures