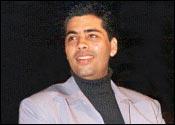 When Karan Johar appeared as one of Shah Rukh Khans' friends in Aditya Chopra's Dilwale Dulhania Le Jayenge, no one gave much thought to him.
Things changed as soon as Kuch Kuch Hota Hai hit the theatres.
Karan Johar became a name, a star in his own right. His second film Kabhi Khushi Kabhie Gham strengthened his reputation in the film industry and at the box-office.
With Kal Ho Naa Ho, Karan Johar turns producer. The film, starring Shah Rukh Khan, Saif Ali Khan and Preity Zinta and directed by Nikhil Advani, carries good reviews.
Karan talks to Lata Khubchandani about his debut production:
Kal Ho Naa Ho

seems to cater to the NRI audiences.

| | |
| --- | --- |
| | Don't Miss! |
| | |
I don't know what this divide is about what will appeal to NRI audiences and what won't is about. I don't cater to NRIs. I cater to the sensibility of all audiences.
Just because the film is set in New York doesn't mean it will appeal to New Yorkers only. They are not retarded, they see their city every day. The film is shot in New York because that is where the protagonist comes from. There is a reason for him being there. We did not set it there to attract NRIs.
How reflective is the film of the NRI lifestyle?


It deals with how the middle class community lives in the suburbs of New York and Brooklyn. But it does not talk about the NRI way of life. The same story can be based in Mumbai but there is a reason why the protagonist goes to New York.
Tell us about the experience of shooting in New York.

It was very easy. We had a strong American crew and good security. Some Indians there recognised the stars but it never reached an embarrassing situation. It was actually quite wonderful to shoot there.
I had heard a lot of stories about shooting in New York and was anxious but it turned out to be very comfortable.
How did you spend your free time?

We had no free time. At least I didn't. We were working 18 hours a day. When we weren't, we were planning. Then I would go to bed and pass out.
I never caught a film or play or go shopping. Sometimes, the others did. But most of the time, they were just as busy, so they spent a lot of free time sleeping too!
Tell us about your actors.
Shah Rukh is family. Working with him is like working with family. He is an indispensable part of Dharma Productions. We don't work without him. We need to have him. I feel creatively satisfied when he is there. My best work happens with him. He took it easy because his back gave him trouble.

I think Saif has untapped potential. He is a brilliant actor. There is so much that can be done with him. He was tailormade for the role. He has great professional discipline to adapt to sync sound. He is an actor who is coming into his own now because he has been given films that showcase him. We must look up to him.

Preity is energy off the sets. On the sets, she is professional. Her character is very interesting because there is a mystique about it. Naina [her screen name] feels she has been given a raw deal in life. Life is not great place to be in. She has no social life and is cynical. She has nothing to look forward to, nothing to gain in life.
The three of them were extremely complementary. There shared great understanding. Preity was part of every department. We have not worked with her earlier but she blended with the crew as if she had always been part of it.
Was it your idea to cast Jaya Bachchan?
Yes.

Why the move to dress her in Western clothes?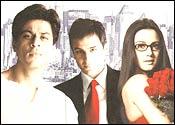 I knew it would be nice to see her in something unusual. I had never seen her wear jeans and I don't think anybody has a visual of her in trousers. I thought it would break new ground. It would be fresh for her.
What was her reaction?

She said, 'If you are making it, I'll do it'. She didn't hesitate. That's the level of understanding I have with her.
Who is your favourite character in the film?


Saif. I just love his character. Shah Rukh is the protagonist and has a wonderful role but I like Saif's character very much.
What kind of appeal will this film have?


People who like films will like it. It has a universal appeal.
How much feedback did you get from Indians there?


They love our cinema. In India, our films are
ghar ki murgi dal barabar.
But there, they really find out what's going on and keep abreast. They know a lot. When they see Shah Rukh Khan, they don't believe it!
They come and ask, 'Are you Shah Rukh Khan?' Their shock and amazement is patent.

Which aspect of the film will appeal to the Indians?
| | |
| --- | --- |
| | More on rediff.com! |
| | |
It's an emotional film. It would appeal to anyone. Emotions are universal. They can touch a banker in New York and an engineer in Delhi. I would say both my films appealed because they were emotional and emotions are universal.
Will this film be outstanding in any way?

That is for the audiences to decide. It has been made with sincerity. I can't be immodest and say it will be outstanding just because we made it with love and care.

Is it a Bollywood film or a new age film ?
It is just a Hindi film like any other. It is not a crossover film. It has the emotions and look of mainstream Indian cinema.

What inspired this story?

I don't know what inspired it. It is probably my power of observation that makes me write the way I do.

Does the film have a K3G hangover?

I don't think any film can have a hangover. I don't think K3G had the Kuch Kuch Hota Hai hangover, though some people said that. There is nothing common between K3G and Kal Ho Naa Ho, no common thread.

Why a new director?

I didn't want to direct a film at that point of time. I wanted to take a sabbatical. At the same time, I wanted to learn the finer nuances of production. My father [Yash Johar] is active today so I thought I could learn under him on a big production. That seemed like the best scenario because I had the story.
It was a learning process for me.
How did you enjoy playing producer?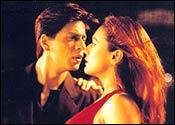 I didn't enjoy it. It is a thankless job. I don't know why people like it. All those who say they like it are lying or are retarded.
I am very happy making films. Yes, learning the ropes of production is integral, but I don't think I want to go through this again.
I can't tell you the budget of the film. We took 120 working days to shoot the film, out of which 52 days were in New York and 50 in Mumbai. We finished the film in seven months. That is the fastest film made under my production.
We started shooting in February and took a three-month break due to Shah Rukh's back surgery. The film is out in November!

What made you choose Nikhil Advani to direct your film?
I have known him since school. He worked with me in Kuch Kuch Hota Hai and K3G. He has a fine sense of music and is a fine storyteller. He is definitely a chip of a good block.
Did he live up to your expectations?

Mote than I expected. I kept feeling that the writing was wrong and he would pull it off. But he went two steps further.
Did your presence restrict him?

No, we have worked together before. When we had anything to clarify, we would discuss it. It was never a fight though we did argue. We worked well together.
Any particular scenes to watch out for?


The chemistry between Shah Rukh and Saif is palpable. It is a great acting chemistry!
When characters are set abroad, very little care is taken about their looks and mannerisms. Did you take any care?

I was in New York for a month-and-a-half while writing the script. I would walk the streets, go to areas where I set the film and talk to people.
I have been to London often but I hadn't realised that people don't wear beige suits and light coloured clothes there. They only wore blue, grey and steel grey -- I discovered this when I was making K3G. I gave Shah Rukh a beige and green suit but realised this was a detail I hadn't known.
This time, I took care to see how people commute, how they walk and what kind of lifestyle they have. The only thing I couldn't do anything about was the accent. In any case, they speak in Hindi in the film and they don't speak Hindi in New York.
The blackout occured during the time you were shooting in New York...
That lasted for two days and threw us off [schedule]. The blackout was the most interesting thing that happened. No water, no electricity and no food at one point of time. It was shocking that in the US you can have no lights! If it was Ratnagiri, it would have been understandable, but not in America.
How is the music doing?

Really superb business.
Tell us about your next film.
I am going on a long holiday. Then I will decide what to do next.
I have about five or six visuals in my head and they don't make a germ of an idea. I don't know what I am going to make next.
Click here for
More Interviews