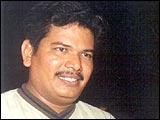 Director Shankar has started work on his next project with Vikram, Tamil filmdom's reigning star, in the lead.
For the director, it is quite a jump from the frothy 'young' Boys, to sci-fi.
The upcoming project revolves around a robot, which is about all that is known of the close-mouthed director's project at the moment.
Interestingly, Shankar had planned such a film about three years earlier, intending to cast Kamal Haasan in the lead. That project fell through for a variety of reasons: Kamal not having the dates to give at that point in time; a disagreement between director and star over who should produce the film, et cetera.
Shankar's decision to put that project on the back burner then reportedly owed, in part, to Kamal signing on for Abhay (Alavandaan, in Tamil). Word at the time was that Shankar's project had the lead star playing two distinct avatars -- one as a human, the other as a robot. It was reportedly felt that for Kamal to do a film like that immediately on the heels of Abhay, where he played a good guy and a psychopath, would not work too well.
| | |
| --- | --- |
| | More on rediff.com! |
| | |
So now it is Vikram. The rest of the cast will be finalised before the film goes on the floors in March.

Interestingly, for the first time since Shankar began directing films with Gentleman, he will not be working with his favourite music director, A R Rahman.

Dates, again, are supposedly the issue. Rahman is busy reworking his Bombay Dreams for its Broadway debut. He has also been signed on to produce music for the multi-million dollar stage production of The Lord Of The Rings.

Given these commitments, Rahman is cutting back on Tamil.

Shankar's project will in all probability be done by Harris Jayaraj, a one-time keyboard player in Rahman's orchestra, who then branched into composing and started off with an enormous hit in his debut film Minnale.

Shankar, meanwhile, managed to salvage his reputation as a director who has never known outright flops in a rather roundabout fashion.

Boys, his latest venture, ran foul of public opinion in Tamil Nadu, with many protesting that the dialogues and some scenes were too 'vulgar' for public consumption.

The film -- produced by Shankar's regular producer A M Rathnam -- did enormous business in Telugu. Now comes word that it is a bigger hit in neighbouring Sri Lanka, where the film has completed 50 houseful days and counting.

Reportedly Boys has already earned, in the Sri Lanka market, more than Shah Rukh-starrer Devdas managed to earn in the US.

Recently, the cast of Boys flew down to Colombo to celebrate the completion of 50 days run and were welcomed with the sort of acclaim normally reserved for international pop stars.

An interesting aspect of Boys was the casting of the lead character. When Shankar was looking for a young, fresh-faced lad, someone recommended that he check out Siddharth, a youngster who was then serving as assistant director to Mani Ratnam (in, among other films, Kannathil Mutthamittal, which had Madhavan in the lead).

Shankar ended up casting the boy in the lead role. The film worked. The boy's career took off. Now, he has been cast by no less than Mani Ratnam in his upcoming bilingual project -- Yuva in Hindi starring Vivek Oberoi, Kareena Kapoor et al; and Aayudha Ezhuthu in Tamil starring Madhavan and Esha Deol.

Siddharth is, in fact, now in Kolkata shooting with Madhavan and Deol for the film, fronting the cameras for his erstwhile mentor, Mani Ratnam. Talk of strange twists of fate.

Click here for more Southern Spice