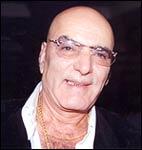 We last saw him onscreen in Yalgaar in 1993.
Feroz Khan's next directorial venture, Prem Aggan (1998), to launch his son Fardeen, bombed at the box-office.
Asked why the absence, Khan said, "It is just that no script excited me."
Come November 26, 2003, Khan will release his new film, Janasheen, with Fardeen: "I play Fardeen's foster father."
"I am happy the way the film has come out and I hope people will love to see the film," says Khan to Chief Correspondent Syed Firdaus Ashraf: 

You are known for stylish films. What would you say is new and stylish about Janasheen?
| | |
| --- | --- |
| | More on Janasheen! |
| | |
The new thing for Indian audience is a super bike championship on the big screen. The Indian masses have never seen such scenes in any Hindi film.
I am acting with my son for the first time. I play Fardeen's foster father in the film. We share a good bond. Also, this is not stated, but I hate Fardeen's biological father in the film.
Apart from that, I play Afghan freedom fighter Saba Karim Shah, who is fighting against Soviet invasion.
The film is modern and has values and emotions.

You had played a Formula 1 driver in Apradh with Mumtaz in the 1970s. Are you fond of speed?
Yes, I love speed. I love the races. Speed is in my nature.
On the sets too, I like everything to move fast. I hate delay and sluggish attitude.
When Qurbani did well, I bought a bike for Fardeen. He was a kid then. I used the same bike in Janasheen. Our family is emotionally attached to that bike.

Tell us about facing the camera with your son for the first time.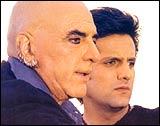 We were both anxious and apprehensive. When the camera first rolled, I muffed my lines on purpose, to boost Fardeen's confidence.
Instead, he was just perfect. It was me who actually muffed my lines. I took seven takes for our first shot.

Your last film as an actor was Yalgaar ten years ago. Why the long absence?
I didn't get a script that excited me. This is the only one that excited me. 

What do you do when you are not working?
I travel. I have a thirst for knowledge and I read extensively when I am not doing anything.

Why did you choose Celina Jaitley for Janasheen?
Celina won the Femina Miss India Contest. I liked her when I saw her in the competition. She is a combination of Zeenat Aman and Aishwarya Rai.

Why is she shown playing a violin in the posters?
She is a violinist in the film. So I used it in the posters.

The other heroine Pinky was an investment banker before she joined Bollywood. How did you choose her?
Yes, she was an investment banker. I liked her screen test.  She has performed well and I am happy with her. Let me also tell you, this film is not a love triangle.

Do you think Fardeen has evolved as an actor over the last five years?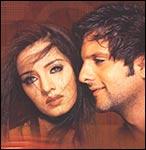 He is improving. He has matured. He was brilliant in Khushi.
For his first film Prem Aggan, he was chosen for the Best Newcomer Award.

How did you feel when Prem Aggan failed at the box-office?
I was disappointed. I thought I would make a simple story. The audience probably didn't want me to do that kind of film. The song Prem Aggan did well on the music charts though.
But if you have failed you have failed. You cannot do anything about it.

Aren't you apprehensive about releasing your film along with Shah Rukh Khan's Kal Ho Naa Ho?
No. Two big films have released on same day often. Both are different genres. I have no fear.
You know, I was in Hyderabad last week. I was told people were buying tickets in advance for Janasheen.

What is the budget of the film and where has the film been shot?
| | |
| --- | --- |
| | More on rediff.com! |
| | |
It is a Rs 17 crore (Rs 170 million) film and has been shot in Afghanistan, Thailand and Australia.
Afghanistan? Will you share your experience?
Watch the trailers. I won't say much about the experience now.

You have redefined Indian womanhood onscreen. The way you have presented Zeenat Aman in Qurbani or now Celina Jaitley, for example.
That is why people say my films are ahead of times [laughs]. It's not only women in my films, I have also presented my characters very well. For example, Shakti Kapoor in Qurbani.
But let me quote Oscar Wilde. He said: 'Women are meant to be loved not understood.' [laughs]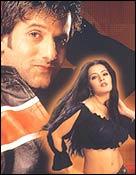 But I think I was fortunate to work with some good women. It was a special pleasure to work with Celina, too. I am in touch with almost all the heroines I have worked with.

Why did you move to direction? Were you not satisfied as an actor?
I won several awards as an actor. But honestly, every actor has a passion for direction.
Eight out of ten actors are interested in direction. I was always interested in the technicalities of filmmaking. I always wanted to know why the camera moved up or down. So, I started by the trial and error method.
Now, I enjoy direction.

The economics of filmmaking are changing. If you have a low-budget film, you stand to make money soon. Did it ever occur to you that you should also follow suit?
Never. That has never been Feroz Khan's style. It will not work for me.
People who come to the theatres want to see something good and you cannot compromise on anything. 

There are two pictures of Sai Baba on your table. Are you a believer?
When I was down, Sai Baba came to my dreams and said, 'Look, things will be alright.'
I didn't believe it. But from the very next day, things started working for me. I keep his picture close to me. I still don't know how this dream came to me.
I used to wear a gold ring of Sai Baba that I lost in Thailand recently. I am so upset. I now plan to make a new one.
Click here for More Interviews