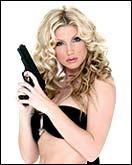 Brande Roderick.
Better known as the Baywatch babe. Now in Mumbai.
Dressed in a blue sequinned dress, the blue-eyed actress was truly the water nymph of the evening at the Out Of Control press conference.
Directed by Apurva Asrani and produced by Vashu Bhagnani, the film releases November 21.
Brande, the quintessential all-American pie, giggly and high on energy, breezed through questions and spoke her mind with Smitha Parigi on shooting in the Alps in a sari and being 'out of control'.
How was it working in a Bollywood film?
I was shooting in the freezing Alps of Switzerland, which is not the same as shooting on a warm beach in Hawaii.
And I had to fall in love with this young man here [Ritesh Deshmukh]. Of course I felt like I was leaving one world and entering another. But it really was a great experience.
Was it tough to do this role?
Yes, in a way, it was tough. I had to wear a sari and I tripped.
The language was an issue. I had to speak in Hindi. It was hard but Ritesh helped me write my lines in English, the way I was supposed to speak them in Hindi.
I managed. Soon, I even learnt some Hindi.
[Heavily accented, but in a sincere effort, she says, "Sat Sri Akaal Paappaji."]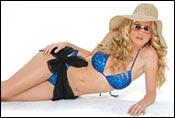 Why did you do the film? Money or fun?
Of course the money [laughs]. No, actually, it was everything. I was intrigued by the whole idea.
The chance to do a song and dance routine -- I could not pass that. I wanted to come over to this side of the world and do something like this.
What kind of preparartion did you do for the role? Did you watch other Hindi films?
No. I didn't watch other Bollywood films. But I saw a few of Vashu's [Bhagnani, producer of Out Of Control] films. I saw how they performed and learned from that.
What was your experience in working with two different crews such as Hollywood and Bollywood?
There is one big difference: everybody is always late. Nobody turns up on time.
I am very punctual. On the sets, I was always the one waiting for the rest to turn up. Ritesh was late, always.
[Ritesh intervenes to say, "Hey, the movie is called Out Of Control. What else did you expect?"]
Were you nervous about any aspect of doing the film?
I didn't know I would have to sing in the film. That too, in Hindi. 
I showed up on sets with no idea about that. But with a little help from everybody, we managed.
[She actually did sing a few lines in Hindi, at this point.]
What is the reaction from home to your doing this film?
My mother was with me during the shooting of the film. She was very excited while we were shooting in Switzerland. My family is waiting for the movie to come out. Everyone's asking me when it will be out in a theatre closer home.
They are all so excited about this.
What are the reactions from your colleagues from Hollywood and Baywatch?
Umm. I actually haven't heard yet. I don't know. It's too soon to tell.
Rumour has it that Jagmohan Mundhra shot most of your scenes in the film? Is that true?
Hahaha. Jagmohanmundhar...?
Yeah, Jagmohan?
Oh. You mean Jag?
Yes.
Oh, Jag is a good friend of mine. He is a good friend now. Hahaha.
[The question remains unanswered.]
One reason why we have to watch Out Of Control?
Apart from watching me in the film, you have to see this because Ritesh here will be wearing a negligee in leopard prints. That is fun.
Have you got any more offers in Bollywood? Will you do it again?
Of course. I would do it again. I'm counting days before I do my next Bollywood film.
Click here for More Interviews