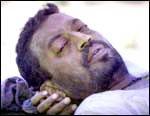 Hoping to walk in the steps of the legendary Sabu, who acted in half a dozen Hollywood hits in the 1940s, including Thief Of Bagdad, Irfan Khan plays the lead opposite an American actress in Road To Ladakh, a film that combines the thriller and road movie genres.
The film, being produced by Oscar-winning actor Richard Dreyfuss and his movie partner Judith James, is expected to start shooting in Ladakh early next year. Khan's more significant films, The Warrior (2001) and the recent Maqbool have travelled to many film festivals.
The new film may also attract film festivals but it is designed as a movie that could play in multiplexes across the globe.  
"We have finalised the screenplay and now we are looking for an American actress," said writer and director Ashvin Kumar.
| | |
| --- | --- |
| | More on rediff.com! |
| | |
Last year, Kumar had made a 48-minute long film
Road To Ladakh
, which was shown at the Cannes Film Festival, where it received good amount of attention. James, who has coproduced such critically acclaimed films as
Quiz Show
, started negotiating with Kumar a few weeks later and signed him on to create an expanded version of that film.
While Khan repeats his role in the Hollywood film as a mysterious man on a dangerous mission, the part played by Koel Purie (Everyone Says I'm Fine) will go to an American actress.
Drawn to Khan's character mistaking him for a dope seller, the muddled American is faced with a dilemma when she begins to realise who he is. If she leaves him, she knows he will face death. But if she stays back, her own life could be at risk.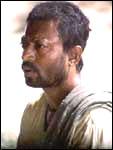 'Recent world events have made possible such a controversial romantic thriller,' James told Hollywood Reporter. "It will be exciting and important to make such a picture in such a unique collaboration ..As (an adapted feature), this project has the ability to be far-reaching and commercial without sacrificing anything (from the original short)."
Kumar, 30, who was born in Kolkata and studied in a number of schools in India attributes his creativity to Doon School before moving to London to obtain a bachelor's degree. Being self sufficient was one of the key lessons he learned at Doon, he said in a telephone interview from London.
He made Road To Ladakh after he gathered an international crew through an Internet advertisement. He offered them no money and no plane tickets. They joined him because they wanted to be a part of an interesting film, he said.
"I left India because the kind of films I want to make are not easy to produce in Bollywood," he said. He wants to make films with Indian themes but with universal sensibilities, he said, adding that he was worried about the lack of outward looking culture in Bollywood.
"I proudly wear on my sleeves that I am a director from India," he said, "but I want to make films that are different from the kind of movies Shyam Benegal makes on the one hand, and Subhash Ghai makes on the other.
| | |
| --- | --- |
| | Irfan Khan on rediff.com! |
| | |
"I cannot talk too much about the new project just now," he said. "But I can say that Judith James brings producing and development skills critical to achieve an original Indian-American tone that will make the film work worldwide."
Kumar, who studied briefly at London Film School, describes himself as a self-trained man who made half a dozen short films before turning to Road To Ladakh. While he made his first film, his company was known as Rasa. Now it is Alipur Films.
"Alipur is a locality in Kolkata  where I was born," he notes. "I owe much of my early influences to Kolkata."
Apart from Cannes, Road To Ladakh, has been shown at half a dozen film festivals in such cities as Vancouver, Paris and Los Angeles.
In a short review in Variety, Derek Elley noted that the film 'plays as a teasing, extended mood piece'. He also wrote: 'Tale of a fashion model and taciturn stranger lacks a strong enough final twist to totally satisfy,' and added the film, 'deserves some fest exposure and specialised small screen play in hour slots'.
In a year, Kumar with his new (and hopefully stronger) script, will have more than a specialised small screen for his new film.
The director, whose icons include Satyajit Ray and Alfred Hitchcock, loves making films with mysteries but not the kind of films, he assures, that remain a mystery to the audiences. 
Click here for More Features