The Mumbai bomb blasts of March 12, 1993 will soon revisit us – in celluloid form.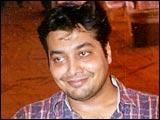 Writer-director Anurag Kashyap is all set to start Black Friday, a film based on the shocking, violent events of that fateful day.
Based on S Hussain Zaidi's book Black Friday, the film will be produced by Arindam Mitra, Director Operations, Mid Day Multimedia Limited. It will star Irrfan, Kay Kay, Vijay Raaz, Vijay Maurya and Zakir Hussain, with background score by Sandeep Chowta.
The film, which will go on the floors in October, will have a continuous shooting schedule of 70-80 days. Black Friday is expected to release by March 2004, sometime around the 11th anniversary of the blasts.
Kashyap does not expect any controversies over the film. ''I have based my film on a published book that is freely available in the market. The book is not controversial, and has not created any problems. So I don't think anyone should have any complaints about my film,'' he says.
''Also, the film will not be saying anything that should not be said. Expect only a straight, hard-hitting and honest film. Nothing controversial,'' he adds.
''I have been working on the script for over one-and-a-half years. I have attended the bomb blast case hearings in the courts, read a lot of newspaper and magazine articles on the issue and spoken to a lot of people associated with the case. The script has been completed after much groundwork,'' says Kashyap in a confident tone.
Does this mean his other films AK: Allwyn Kalicharan (produced by Tutu Sharma, and starring Anil Kapoor) and Gulal (starring Kay Kay, Antara Mali, Raja Chowdhury and Vijay Raaz) will take a backseat?
''Of course not! AK: Allwyn Kalicharan will be a big film, with a lot of special effects. The film requires some bit of pre-production work too. Shooting for the film will start after we complete Black Friday. Expect the film sometime mid-2004.''
''As for Gulal, it is stuck for lack of finance. We had shot for a few days in February 2002, but had to stop when we ran out of funds. The film will start again as soon as we manage to find some financer. Hope the film can be released by 2004-end.''
Remind him a lot of films announced with him as writer-director have been stuck, he says except for the untitled Mani Ratnam bilingual being shot in Chennai and Kolkata, he isn't doing any other film.
What about the film on Kapil Dev announced early last year? And director Sanjay Gupta's Musafir and Manisha Koirala's Paisa Wasool?
''There were some creative differences with the people making the Kapil Dev film, so I backed out. I think a person called Kitu Ghosh is making the film now,'' he says.
''I am not writing Musafir. I had my differences with Gupta again, making it difficult for us to work together. I am not part of his project anymore,'' he adds. Kashyap had earlier opted out of writing Gupta's Kaante, when he realised it was based on Quentin Tarantino's Reservoir Dogs.
''As for Paisa Wasool, I was only supposed to write the dialogues. That I finished long ago. I am not associated with the film in any other way.''
''I waited too long for the release of Paanch (Kay Kay, Tejaswini Kolhapure). I even stayed depressed for over a year. I think I need to get on with life now. The release will happen sooner or later. By then, let me have some more films ready,'' he says.
''If all goes well, I may have three releases next year,'' he laughs.