In the world of Munnabhai MBBS, taporis have a conscience, a golden heart and a healing touch. Doctors, on the other hand, are cold, stern and unemotional beings who only treat, not heal, the patient.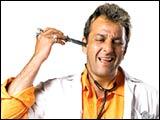 Generalisation towards the medical fraternity aside, Munnabhai MBBS is filled with spontaneous humour, touching sensitivity and understated old school sentimentality.
Tapori touch: Bolega to Munnabhai MBBS ekdum solid film, kya? Phaltu mein rona-dhona nahin. Khali peeli bomba bomb nahin. Apun tapori log ko bhi feeling hai, aisa batayelai iss picture mein.
Murli Prasad Sharma, Munna (Sanjay Dutt), left his village to come to Mumbai after being constantly reprimanded by his father Hari Prasad Sharma (Sunil Dutt). Sharma Sr's only dream is to see his son become a doctor.
Back in Mumbai, Munna becomes Munna 'bhai'. His job description includes kidnapping, breaking bones and paisa vasooli (obtaining money by physical force) and making threats on the phone. But hold on, Munnabhai and his sidekick Circuit (Arshad Warsi) are a conscientious pair. They only loot dirty money.
Every year, Munnabhai's parents pay him an annual visit thinking their son is the city's top doctor. Apparently, Munnabhai developed cold feet during a telephonic conversation he had with his father and he lied about him being a MBBS.
Tapori touch: Kya Munna, baap koich shendi laga diya?
Overnight, Munnabhai's bashing booth becomes a spic and span clinic with well fed patients. Like Munna's dad remarks, "Kyun bhai tum ab tak yahin ho? Peechle saal bhi maine tumhe dekha tha [What are you still doing here? I remember seeing you here last year as well]."
Hari Prasad bumps into an old acquaintance, Dr Asthana (Boman Irani) during a laughter therapy session. The two decide to fix their kids Munna and Chinkie (Gracy Singh) together. Unfortunately for Munnabhai, the charade comes to an end when Dr Asthana reveals his true tapori identity to his heartbroken father.
Now, the story of Munnabhai turning into an MBBS kickstarts.
Tapori touch: Saale, chirkut, Asthana! Tune bechare Munnabhai ka bhanda phod daala. Abhi dekh, paaji, Munnabhai bhi terko terich hospital mein kaise mammu banata hai.
To prove a point to a proud Asthana, Munnabhai gets himself admitted at a medical school by both hook and crook.
Thereon follows a series of hilarious episodes involving Munnabhai and the medical institute.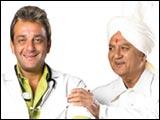 The scene where Munna shifts into a hostel room, discovers ragging for the first time or his first day in a classroom are amazingly hilarious. Ditto his encounter with the wrong Chinki. Also, his unwinding session by the dhobi ghat with Circuit is interestingly done.
Munnabhai does a Patch Adams by introducing the concept of magic hugs to the terminally ill Zaheer (Jimmy Shergill). Not only that, he also convinces a frustrated, heartbroken teenager about the stupidity of suicide. Awwww is all I can say when Munnabhai falls prey to Cupid's arrow.
Munnabhai MBBS's strongest assets are its screenplay and dialogues. But you need to know Mumbai really well to get the joke in Abbas Tyrewala's (the man who wrote the lyrics of Aslambhai in Love Ke Liye Kuch Bhi Karega) lines like: "Feelings strong hota hai to bina phone ke Chembur tak awaaz jaata hai" or "Kahan se doctory pass ki? Dongri Medical College!"
Tapori touch: Yeh Munnabhai bole to kya solid dialogue marta hai. Ekdum jhakaas! Aur woh doctor chokri ko bhi kya mast line marelai, apun bole to fultoo fida, kya?
A layer of emotional corniness begins to set in during the latter half of Munnabhai MBBS. The music, too, could have easily been done away with in this otherwise smoothly paced fun flick. The songs are neither alluring nor necessary in the scheme of its screenplay.
Tapori touch: Naach gaana dekh dekh ke pak gaya, biddu! Watak le!
Munnabhai MBBS was originally supposed to feature Shah Rukh Khan in the title role. The end credits mention his name and thank him for his inputs to the character.
I have no idea how SRK would have played Munnabhai. But Sanjay Dutt simply cakewalks through his role. He is convincing as a bhai, an emotional son and a concerned wannabe doctor. The bonding and vulnerability in the father-son scenes with his dad, Sunil Dutt are conveyed without being overtly melodramatic.
Sunil Dutt exudes the warmth and grace of the elderly man we are all accustomed to seeing in our families. Not once does it seem like a performance, Dutt Sr is genuine all the way.
Another actor without whom Munnabhai MBBS would not be the same is Boman Irani. The man cracks you up with his portrayal of the bittersweet, eccentric and weird Dr Asthana.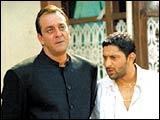 Gracy Singh, Arshad Warsi, Rohini Hattangady and Jimmy Shergill do not have much onscreen time. But thanks to their properly fleshed out roles, they contribute suitably to the film.
Tapori touch: Bole to Sanjay Dutt ka acting ekdum mast. Woh apun tapori maafik kaam kiyela hai. Doorsre tapori bhai log ko bhi yeh film dekhno mangtai.
Although hugely unrealistic, Munnabhai MBBS is a feel-good comedy that cheers you up with its pure intentions and cute sense of humour. 

Tapori touch: Sahi hai baap!

CREDITS
Cast: Sunil Dutt, Sanjay Dutt, Gracy Singh, Jimmy Shergill, Arshad Warsi, Rohini Hattangady and Boman Irani
Director: Rajkumar Hirani
Producer: Vidhu Vinod Chopra
Music: Anu Malik
Dialogues: Abbas Tyrewala
Writers: Rajkumar Hirani, Vidhu Vinod Chopra


Would you like to review this film? Here's your chance!