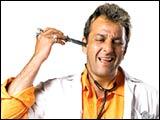 Rajkumar aka Raju Hirani's father wanted him to get into medical school. But this Nagpur native wanted to try his hands at films.
Hirani specialised in the field of editing and also experimented with theatre. "I edited for feature films and television. Then I somehow drifted into advertising."
Soon, Hirani began producing and directing his own ad films. He worked in campaigns like Parachute, Tata and Goodnight.
But Hirani had more in mind. He wanted to direct a film. "I took a conscious break after I finished editing Mission Kashmir. I shut down my office. I took a one-year break, wrote the script and took it to Vidhu Vinod Chopra."
The script became Munnabhai MBBS, which hits the theatres on December 19.
Shruti L Mathur and Sukanya Verma spoke to the debutant filmmaker.

How did the idea of Munnabhai MBBS come about?
Like every father who wants his son to be either an engineer or a doctor, my father wanted me to become a doctor. I never did. A lot of my friends did and I used to visit them frequently in their hostel.  They would take me to the dissection room and show post-mortems being done. I was doing theatre then so I used to scribble notes and keep them.
Back then, I never imagined it would turn into a script. I had a series of gags I thought I could weave into a film. But I couldn't since there was no story. Then I thought, what if a goon goes into medical school? What would he do? 
Finally, when I had a script I went to Vinod [Vidhu Vinod Chopra]. He loved it and said, 'This film should be made.'

Was it during the making of Mission Kashmir that you mentioned doing Munnabhai MBBS?

Yeah, he knew. Vinod had never produced a film for anybody. He is a nice guy. I have always been friends with him. When I went to him with the script, he loved it.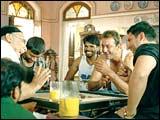 Was there any trepidation over making your first commercial film?

You always have teething troubles. Like casting. Most of the worries were during the initial shoot days. But all that got over within a day or two. When you focus on your own work, it all falls in place. People respect you. And I really started enjoying myself. I know what filmmaking is all about.

When you were writing Munnabhai MBBS, did you have specific actor in mind?

No I had no actor in mind and no notions.

During the casting, did you suggest that someone like Sanjay Dutt or Shah Rukh Khan should do the role?

Yes, of course. Once your film is done, then you start seeing the character, the small characters. That's when you cast actors who suit the roles best. Every actor is great in his own right but certain actors suit certain roles. So we went through casting and we felt Sanjay [Dutt] fit the role best.

Vidhu Vinod Chopra was saying when he edited the script, you would politely tell him it wasn't good enough. How was it working together during the movie?

I had a great time with Vinod. He's a very unusual producer. 
Most producers tend to be very dominating.

I don't think Vinod was doing it [the film] for money. Most producers think of films as a business. Vinod's only concern was that I shouldn't lose money.
We had extensive meetings where we would sit and work on the script. With his experience he came up with some fabulous ideas. Yes, there were times I didn't like something. He was absolutely open to it. He would just say, 'Do it your way.' I would rework it. Finally, we had a script we were both happy with.

You are not from Mumbai originally. How did you get the Mumbai tapori lingo?

I have been in Mumbai now for 13-14 years. That's long enough.

What is the basic theme, the feeling Munnabhai MBBS tries to convey?

What the film is conveying is that love conquers all. A lot of medical problems are solved if doctors are nice to patients. If you can make them think positive, you may not need medication. But we don't preach that in the film.

How was it working with Sanjay Dutt and Sunil Dutt who play father-son on screen?

It was a pleasure. He [Sunil Dutt] came very prepared. He used to call me and say, 'Give me my lines in Urdu.' He reads an Urdu script. So we did that. When he walked onto the set he knew his lines, left, right and centre.
He is a nice guy. You can communicate with him. Even if you ask him to redo a take ten times, it's okay.  

The problem was with other actors. When Boman Irani walked in, he was absolutely nervous. He is one of finest actors this country has. He got nervous, because Dutt was working in a film after 16 years. Arshad Warsi was nervous on the first day of shooting as well. Of course, all that was solved within two days.

Sunil Dutt was not well, right?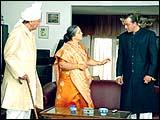 Yeah, he had health problems. He had a problem in his shoulder. There was a scene where he had to hug Sanjay Dutt. I called for action and he didn't move. We cut the camera. I said action again. We realised he couldn't move his arms.
Sanjay was extremely worried. He said, 'Pack up, let's take him to the hospital.' But Sunil Dutt insisted he would finish the shot.

He sat down for a while, had a cup of tea and got back. I knew he was in pain, but he insisted. He lifted his hand with great effort. When you watch that shot, remember he was in great pain.
It is this old-school discipline that I feel I should imbibe from these people. How they can go through any type of pain and still work?

Vidhu Vinod Chopra was saying the moments between father and son were the best moments in the movie. How was it shooting such emotional scenes?

Sanjay Dutt, used to joke, 'I have to act with my father, I am scared.' I don't think he was scared. You see them hugging in the film. I get emotional about the whole thing whenever I even think of it.

Do you hug your mom or dad often? I don't know how many times Sanjay has hugged his father. So that whole hugging scene, hugging each other, it was real.
They probably they hugged after, I don't know how many years. It is so real.