Vidhu Vinod Chopra is arrogant. He says, with great assurance, 'I am a great director.'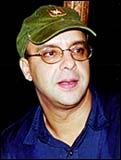 With critically acclaimed films like Khamosh, Parinda, 1942 - A Love Story and Mission Kashmir, it would probably be hard to be modest.
 
Munnabhai MBBS, produced and co-written by Chopra and debutant director, Rajkumar aka Raju Hirani, shows Chopra attempting comedy: a first for the writer-filmmaker, known for dark, hard-hitting subjects.
 
Munnabhai MBBS, featuring Sanjay Dutt in the title role, along with father, Sunil Dutt, Gracy Singh, Arshad Warsi, Jimmy Shergill and Boman Irani, hits the marquee on December 19.
 
Sukanya Verma and Shruti L Mathur spoke to the filmmaker on the art of filmmaking:
 
Why are you not directing this film?

Let me tell you very honestly. Though I think I am a great director, I don't think I am capable of directing this film. This film needed Raju Hirani and only Raju Hirani.
 
Please explain.
I am a great admirer of Charlie Chaplin. But if you ask me if I am capable of directing Gold Rush, my answer would be no. 
 

| | |
| --- | --- |
| | More on Rediff: |
| | |
Munnabhai MBBS is a film that makes you cry. I don't think I am capable of handling such emotion. It was great fun to write this with Raju, and I feel he is the best guy to direct it.
 
Watch Munnabhai MBBS and Mission Kashmir or 1942-A Love Story and you will know what I mean.
 
So only dark films for you?

I am not saying that. There is Aditya Chopra's Dilwale Dulhania Le Jayenge, which I liked but I cannot make that movie. I am not pitching myself against Raju Hirani or Adi. We are just very different.
 
I still remember the premiere of DDLJ. I said, 'Wow, what a movie!' But if you ask me 'can you direct it?' I could have written it because it is one thing to write, to conceive characters who are all from the heart. It's completely another to make them, direct them in the fashion Raju Hirani has done in Munnabhai MBBS. There are certain kind of films only certain directors can direct.
 
This is your first attempt at comedy. What was the experience like?

It was like a breath of fresh air. I loved it. Frankly, it is a cliché, but I am very proud of this film. I am very proud I had the courage to go ahead with a movie of this kind.
 
How different is Munnabhai MBBS from most commercial comedies?

No one is running around the bush here. No one is going to Switzerland, New Zealand or Australia. There is no car chase. Well, there is a cabaret at a hospital. This is the first time my film has a cabaret. So we had a big debate about whether or not or how to do it.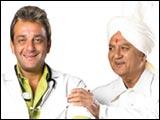 But it doesn't have the clutches of a commercial film.
 
I believe it has the potential of becoming the biggest hit we have had in our company. It's like when I did Parinda, it didn't have a smuggler in a red muffler and coat. Because never before have you seen a don in a kurta pyajama and chappals.
 
Munnabhai... is an attempt at a huge box-office success.
 
So are you aiming to make a full-fledged commercial film with Munnabhai MBBS?
 
I always wanted to make a commercial film. I want all my films to be huge hits.
 
My aim is to make films that I believe in. I will never make a film that I don't believe in. You can hold me to that.
 
I strongly believe cinema has a social responsibility. I strongly believe that what is happening in our country is partly due to the kind of cinema people are being exposed to.
 
So when you ask me why do I take so long or make these kind of films, the answer is simple. This is not just a movie I am producing, this is a movie I believe in. I am willing to stand by every line, every dialogue, everything about this film. That's why I co-wrote it.
 
The intention to do this film is not just produce any other movie. Nobody has got one rupee from this film so far. No signing amounts. No dubbing amounts. Nothing at all. We pay only when we make money.
 
That means I, The Vidhu Vinod Chopra, am not alone in saying this. My whole crew made this film with that conviction. 

What was it like to have someone else direct what you had written?
 
Oh, it was crazy. He [Raju Hirani] was the boss! I used to write a scene and think this is the best scene I have ever written. Next day, Raju Hirani would come and politely tell me the lines I had written were bullshit. Then I would write all over again. It was a humble experience.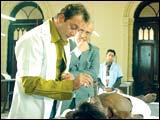 What inspired to write a story like this?

The idea that Raju had was wonderful. It's about a gangster with a heart. He is trying to tell the doctors to have a heart. It was fascinating. You need to give your patients human warmth rather than a cold, sterile injection.
 
Does Munnabhai MBBS have any resemblance to Patch Adams?
 
No, I saw Patch Adams only last month. I saw it only because someone mentioned the same thing to me. With due respect to Patch Adams, and I am not saying this for the sake of it, Munnabhai MBBS is a far superior film.
 
Why did you choose Sanjay Dutt for that part?

Sanjay Dutt is a wonderful, warm-hearted guy. He is one of the best actors I have met in the movies.
 
How was the chemistry between him and Sunil Dutt?
 
Oh it was wonderful. Their scenes together are my favourites. I am very grateful to Sunil Dutt for doing this film. Munnabhai MBBS would not have been the same without him.
 
He brought a sense of reality to the film. His disillusionment with his son was so real. Finally, his love and affection for him at the end of it was so real. Those scenes bring to tears in my eyes.
 
Who came up with the title, Munnabhai MBBS?

There is saying by Akira Kurosawa, 'Filmmaking is actually based on its individual human talent that works in its co-operative work forms.' So the workforces cooperated, individually we are all talented.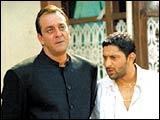 Raju Hirani is very talented. [Cinematographer] Binod Pradhan is very talented. It is very difficult for me to tell you who came up with the title. Raju Hirani and I had several discussions. In the beginning Raju wanted to call the film Jeeo Mere Yaar and I hated it.
 
Then we came up with Munnabhai MBBS. That was appropriate --whether Munnabhai becomes a doctor or not will remain an MBBS. Like it says, Miya Biwi Bachchon Samet.

Click here for More Interviews