The smash tearjerker hit Kal Ho Naa Ho posted the highest per screen average in Britain over the weekend, according to the Internet Movie Database.
The film, which is performing better in Britain than in America where too it is a solid hit, grossed about $644,000 in three days in just about 37 theatres, with a $18,000 per theatre average.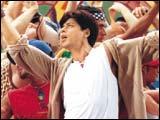 It was the sixth highest grossing film in Britain, where the box-office leader Love Actually grossed $7 million over the weekend.

In America, where KHNH was shown in 52 theatres, it earned $986,000 over the four-day Thanksgiving holiday period. The film was estimated to gross $1 million, but on Monday, the actual figures showed a slightly lower gross. The film averaged a solid $14,675 for the weekend and was at 17th position on the charts.  

The three-day weekend gross of KHNH in North America and Britain exceeded $1.4 million. It is a record setting gross for any first-time Indian director (Nikhil Advani). For composers Shankar-Ehsaan-Loy too, the film is a record-setter.

Despite its terrific performance, KHNH could not overtake Kabhi Khushi Kabhie Gham that had grossed about $700,000 in its opening week in Britain in about 43 theatres. The film opened at an unprecedented third place for a Hindi film in Britain in December 2001.

The huge success of K3G, and later Lagaan, prompted many mainstream publications in such cities as London, New York, Chicago, Los Angeles and Toronto to review high profile Hindi movies.

Shah Rukh Khan toplined in KHNH as well as K3G. While in the new film, he has to share the limelight to some extent with Saif Ali Khan, in K3G he was surrounded by Amitabh Bachchan and Hrithik Roshan.
| | |
| --- | --- |
| | More on Rediff: |
| | |
Another actress common to both films is Jaya Bachchan. The huge success of KHNH in some ways is far more impressive than that of K3G because the latter was a more lavishly made film and a multi-starrer.

Both KHNH and K3G were produced by Karan Johar. While his assistant Nikhil Advani directed KHNH, Johar directed K3G. Both films had Yash Raj Films as their distributors in many territories. 

If KHNH follows the usual rate of attrition for Hindi films (about 50 per cent each week), it could end up grossing $2.5 million on both sides of the Atlantic.

But if it is made of sturdier legs, it might gross over $5 million. K3G grossed about $6.5 million in North America and Britain.

Click here for More Features