I am a sucker for love stories, especially when they make the implausible look plausible. Even though its release was delayed by almost a year, Chori Chori definitely has its warm moments.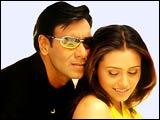 Like most feel good romances, Chori Chori is about letting the heart rule the head.

The film opens in the bustling markets of Delhi's Connaught Place with Khushi (Rani Mukerji) introducing herself and her constant companion, Jonathan, a scruffy-looking stuffed monkey. Brought up by a bunch of traditional wedding singers, Khushi works as a hostess in the banquet section of a hotel. Good-natured, helpful and bubbly, she is the proverbial Cinderella who dreams of her Prince Charming.

Then there is Ranbir (Ajay Devgan), a reserved architect who finds it hard to express his feelings. Ranbir is feeling rather frustrated at the moment. He hates his job and has just been rejected by Pooja (Sonali Bendre), his childhood crush from Shimla.

Ranbir, who is on the brink of turning into a modern-day Devdas, runs into Khushi who has been sacked by her employer. He realises she could help him win Pooja back. They pretend to be engaged in order to make Pooja jealous and Khushi is only too happy to be a part of Ranbir's affectionate family.

As Ranbir and Khushi spend time together, they find themselves bonding. While Khushi treads between 'he loves me, he loves me not,' Ranbir is neither able to commit himself to her nor resist her charm.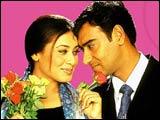 There is no doubt Chori Chori is a formula film -- Khushi as the character with whom you can sympathise, Ranbir's attempts to make Pooja jealous, Khushi the orphan finding love in an overzealous family, the attraction between Khushi and Ranbir... all of these are cleverly manoeuvred into the script. And they succeed in tugging at your heartstrings.

You can't help smiling when Ranbir and Khushi realise they are falling in love with each other or laugh heartily when a sedate Pooja takes an overenthusiastic Khushi out for lunch.

Chori Chori is a Rani Mukerji film all the way. The actress pumps life into the gregarious Khushi without making her too boisterous. Her hilarious take off on Bollywood's actors is one of the best moments in the film. Rani flows with the script as she smoothly reveals the happy, vulnerable and emotional facets of her character.
 New: Comedy is very challenging: Priyadarshan
Also see: Adoor flays Jha over Ajay's award      
This is for Johnny Walker        
     Madan Mohan's music to live again
Watching Ajay Devgan in a romantic comedy is quite a change from the heavy-duty stuff he seems to prefer these days. Ajay is brusque and smug and makes for a perfect Ranbir. Besides, he and Rani share great screen chemistry.

Sonali Bendre, his co-star in Major Saab and Tera Mera Saath Rahen, makes a special appearance in Chori Chori. She is required to look both beautiful and jealous and does it admirably.

On the flip side, the film does look dated in parts.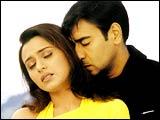 The climax would have been better if wasn't so melodramatic and didn't have to carry the weight of two songs, Roote yaar and Kehna hai.

What makes Chori Chori likeable despite its shortcomings is that it has a 'heart' -- the prime ingredient for any love story.

CREDITS
Cast: Ajay Devgan, Rani Mukerji, Sonali Bendre
Producers: Lalit Kapoor, Raju Narula
Direction, screenplay: Milan Luthria
Music: Sajid-Wajid