Subhash K Jha
My first encounter with Lata Mangeshkar is still vividly etched in my memory.
From the age of six, I've believed that divinity dwells in her throat. I still do.
Some years ago, a mutual friend set up an appointment with her. I couldnít believe my luck. But she was ill, and had to miss our appointment. I consoled myself saying it was not meant to be. But the very next day, she was there in front of me: frail, warm... and real. She was full of jokes.
Since then, Iíve come to know one truth about the lady -- humility comes naturally to her.
In 1999, when Lataji missed out on the Bharat Ratna in favour of Pandit Ravi Shankar, I commented on the unfairness of Bharat's real ratna of Bharat being denied the highest civilian honour.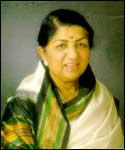 "Aisa aap kyoon sochte hain?" (Why do you think that) she admonished me. "You might think I am a big talent. But Panditji is far bigger than I have been or can ever hope to be.
"I still remember how nervous and excited I was when I had to sing his compositions in Anuradha. I kept wondering whether I would do justice to the creations of an artiste as great as him. Artistes like Pandit Ravi Shankar and Ustad Bismillah Khan come once in a century. They deserve to be honoured far more than I do."
Of course, Panditji's creations in Anuradha, like Kaise din beete and Hai re woh din, attained new heights when Lataji sang them.
When Panditji tried to recreate the same magic with another voice (Vani Jairam) in his score for Gulzarís Meera, the compositions fell flat.
Lataji refused to do Meera bhajans even though Panditji, Gulzar, even leading lady Hema Malini personally pleaded with her to do the needful. "How could I?" she reasons. "I had already done Meera bhajans for my brother Hridaynath."
This singer lives, breathes, earns and yearns only for her family. Her world begins and ends within the Mangeshkar clan of two sisters (Meena and Usha), Hridayanath, and their families. They stay together at Peddar Road, Bombay.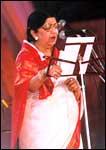 Inconised, and now canonised, Lata Mangeshkar is more than a singer. As director Sanjay Leela Bhansali puts it, "It doesnít matter if she no longer sounds as she did ten years ago. At her age, itís a miracle she can still sing. Lataji has long ago transcended human definitions of excellence."
Then, there is Dharmesh Darshan, who says he learnt direction just by listening to her voice. He used to listen to her voice on the radio during the shooting of Dhadkan, since he couldnít get her to sing for his film.
There was a time when composers like Sachin Dev Burman and Madan Mohan waited months to get her to sing. Once, Asha Bhosle went up to Madan Mohan asking why she couldnít sing more of his songs. "Nahin, jab tak Lata hai aur koi nahin," (As long as Lata is here, no one else will do), came the firm answer.
Forty years later, Anu Malik still sulks each time his Didi cancels his recording.
It is the love of her admirers that overwhelms Lata: "I consider it the highest honour. It is all thanks to my parents and my listeners' prayers. Bharat Ratna ke baad to ab kuch bacha hi nahin (there is nothing left after the Bharat Ratna). I donít deserve so much recognition. There are many artistes far greater than me."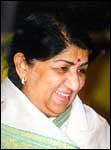 To have received the Bharat Ratna in the same year as Ustad Bismillah Khan is a matter of double joy for Lataji: "He is a sweet and simple soul, whom I have known and admired for years. Not only have I attended his concerts, he also performed at my fatherís death anniversary."
Lataji's songs for Aishwarya Rai (Humko humee se chura lo -- Mohabbatein), Juhi Chawla (Khamoshiyan gunguna ne lagi -- One 2 ka 4) and Jaya Bachchan (Kabhi Khushi Kabhi Gham -- Kabhi Khushi Kabhie Gham) have soared up the charts.
Now, the legend wants to concentrate on her non-film albums. Recently, she released an album of bhajans with brother Hridayanath Mangeshkar. But she doesn't want to stop singing film songs. Especially if the filmmaker is Yash Chopra.
"Iíve got so much love and appreciation . I must give some of it back to my country. I have never considered myself an extraordinary singer," Lataji insists.