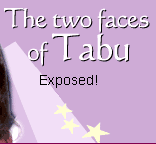 Subhash K Jha
Tabu happens to be one of my favourite artistes.
Unfortunately, I've never been able to establish a comfort level with Tabu. Ironic, because I've known her aunt Shabana Azmi for years.

Tabu, the actress, has the passion to romance the nuances and portray people as fragile and transparently emotional. Even in a film like Dil Ne Phir Phir Yaad Kiya, she created a character in a role devoid of challenge and appeal.

Tabu, the person, and I share some traits. We are both Scorpios; we share undying respect for Gulzarsaab.

But neither Gulzarsaab nor I can understand Tabu's craving to be recognised as cover girl. Her strange obsession of competing with Jennifer Lopez and Shilpa Shetty in the slim-and-svelte department is unfathomable.

Sure, Tabu can look as svelte as J Lo if she (and her trainer) set her heart on it. But can J Lo act like Tabu in Hu Tu Tu, Maachis, Astitva or Chandni Bar?

Once, during the shooting of Hu Tu Tu in Pune, Tabu burst into tears while emoting for one of the songs. When I told Lataji (Lata Mangeshkar, who had playbacked the songs), she laughed, "Did she cry because my singing was so bad?"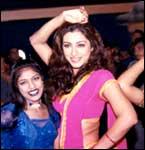 When all it was that Tabu cried because all beautiful things -- human beings, incidents and experiences -- move her.
For me, Tabu has two faces: The pouty pinup girl who, I believe, gives interviews to magazines only if she adorns the cover page. And the generous, thoughtful poetess, who responds to subtle stimuli. It is also hard to believe the girl who appears in the gossip columns is the same one who snuggles as close to Gulzarsaab as his own daughter Meghna.
But what I do believe is Tabu is at peace with both aspects of her personality.
I remember Tabu's one (and only) interview with me when she was fasting during Ramzan. She could barely open her mouth or eyes. But she bravely answered all my questions.
She felt betrayed later, when I inadvertently quoted an off-the-record statement in her interview. For those who don't know Tabu, every gesture in life indicates a moral message. Her emotions cannot be tarnished by tackiness, her feelings must not be smothered by sleaze. She's upright and, therefore, not easy to please.
Tabu does not forgive or forget easily, but she does not let human betrayals colour her better judgement. It is almost as if she gleans her celluloid supremacy from the betrayals of life. The pain that she projects as Mumtaz in Chandni Bar comes from within her, making its way to the character until the person and persona become one.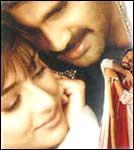 Tabu doesn't act. She reacts. While viewing Chandni Bar, we watch Mumtaz taking over. In achieving this synthesis of spontaneous responsiveness and a canny craft that she has cultivated over the years, Tabu reminds us increasingly of Shabana Azmi.
The unfortunate incident in the past, where she claimed I had quoted an off-the-record line in an interview, hurt Tabu immensely. As I look back, my bafflement has turned into regretful amusement.
I don't think Tabu connects with this world of ceaseless deceptions and betrayals. That she thinks I belong to that world is rather shameful for me. As I look back, I wonder how many levels one has to go through to 'prove' oneself to a star before being considered a friend.
And, at the end of that trial, you wonder if stars are capable of forming true friendships.