Union Railway Minister Lalu Prasad is dukhi (sad) these days.
The reason for this heartache is his belief that he has not been praised enough in his home state of Bihar for his spectacular success in turning the loss-making Indian Railways into the second-largest profit-earning PSU in the country.
While his management style and rustic common sense have been acclaimed all over the nation and overseas, especially among premier business schools, he feels that Bihar itself has not given him his due.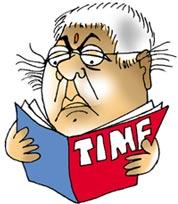 Lalu, the quintessentially rustic politician whose 15-year-rule in Bihar as chief minister was dubbed by critics as 'jungle raj,' will don the role of a lecturer at the Indian Institute of Management, Ahmedabad on September 18. The turnaround in the financial health of the Railways, with Prasad in charge, has been the subject of major discussion at IIMs and global B-schools and he is already being looked upon as a 'management guru.'
But with just a couple of days to go before his lecture at IIM-A, his grouse remains: Bihar has been rather cold to his efforts at making the Railways a major hit.
In his inimitable rustic style, Lalu compared himself to Sant Goswami Tulsidas -- who wrote Ramcharitamanas, the Awadhi version of the Hindu religious book, Ramayan -- saying just like the famed saint, he too is being ignored by the people of his native land.
"Ghar ki murgi dal barabar (things at home are rarely appreciated)," rued Lalu, quoting a popular Hindi metaphor.
That institution in Bihar has invited him to hold forth on his management style and teach students his mantras for success, while other bodies globally are making a beeline for him, is not sitting well with the railway minister.
Dressed in his usual white cotton clothes and running his fingers through his silver mane, he said: "Tulsidas ke saath bhi yehi hua tha. Apne ghar mein pucch nahin hoti hain, baahar log bula rahe hain, kya kijiyega? The same happened to Tulsidas. No body is bothered at home, whereas outsiders are calling… what can one do?)"Lalu said to rediff.com in Patna on Friday.
He said he was pained by the remarks made against him by of a section of the society in Bihar: People say 'Laluwa' -- not Lalu -- is coming, when they see him, he said. The same, he said, happened to Tulsidas, who also was not spared in his village as villagers used to call him 'Tulsiya,' instead of Tulsi.
After the Harvard Business School, the Indian Institute of Management-Ahmedabad and the Paris-based HEC School of Management, it is now the turn of Lal Bahadur Shastri Academy of Administration at Mussoorie to invite Lalu to teach Indian Administrative Service probationers.
The railway minister is upbeat about the latest invitation to lecture IAS probationers. "I will give them sufficient time and will also teach them good things," he said, refusing to be any more specific about his plan.
He was also been invited to an international conference on railway administration being held at Indore on November 8 this year. Before that, he will be addressing corporate chieftains in New Delhi.
Few weeks ago, Karine Le Joly, executive (education) at the Paris-based HEC School of Management, expressed the desire to do a case study on Indian Railways, which ended the fiscal year 2005-06 with a healthy cash reserve of Rs 11,000 crore.
The turnaround in the financial health of the Indian Railways, among the largest rail networks in the world, has come about in a matter of just a couple of years.
Several luminaries from the world of business, including GE chief executive Jeffrey R Immelt, have over the last few months called on Lalu Prasad to commend his efforts in not only managing the huge rail network, but also striving to improve the services without increasing additional fares.
Lalu's Rashtriya Janata Dal was ousted from power in Bihar last year. His wife and former Bihar chief minister Rabri Devi is currently leader of opposition in the state assembly. The Janata Dal (United) leader Nitish Kumar, once Lalu's friend, is now the Bihar chief minister.
Incidentally, Nitish Kumar too has been invited to lecture the students and faculty at IIM-A.