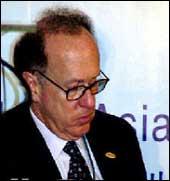 With a blue chipped career, Stephen Roach is one of the most influential and quoted economists in the world. Starting with a degree in economics from the NYU, he followed this with a stint at the Brookings Institution in Washington DC, a long stint at the Federal Reserve and over 20 years with Morgan Stanley where he is currently managing director and chief economist.
Excerpts from his exclusive interview with CNBC-TV18 on the decline of America, the growth of Asia and the huge potential of India.
On the rise of free markets and capitalism:
I think that free market capitalism is a very powerful force and globalisation is an overlay on top of that. The two go hand in hand. In this free market, capitalism spreads around the world. What I think I was unprepared for is the very complex relationships that occur amongst the economies when they all embrace the same free markets and interconnected philosophies of globalisations and trade liberalisations.
This is not going as easily as the textbook explains. It is getting a lot of attention between the nations across the boarders, between developing and developed countries. I am confident that we can get there, but we just can't presume that this is an easy and natural outgrowth of the new way the world works.
There will probably be bumps in the road, there will be friction that arises from time to time and there is right now in the trade front between United States and China, US and Europe and other regions of the world. I think this is part of the coping process of globalisation. The job-related dislocations that occur along the way have important political implications that we cannot take lightly.
On the logic behind an American decline:
I think that if we don't attend to our own imbalances we will have to go in for a fairly significant adjustment in United States. We have gone very far in changing the way in which consumer demand is generated in the United States.
That concerns me a lot, because we are spending well beyond our means. We are spending a lot of wealth; we are drawing down the long-term savings and investment in homes, etc to fund current consumption.
We are going deeply in the debt and do that we have taken our income-based savings rate down into the negative territory for the first time since 1933 and that is not a comforting comparison. 1933 was the depth of the Great Depression. In taking our savings rates down, as a nation we have the lowest national saving positions that we have ever had in the US.
So to grow we have to import super savings from abroad and massive current account and trade deficits to attract the capital and that is why we have this imbalance of payment issue. I don't think that this is sustainable recipe for any economy, let alone the greatest economic power in the world today.
On the rise of Asian economies:
There is a lot of exciting change going on in Asia, in China, in India and there appears to be a turnaround finally in Japan. I think it is premature to celebrate the dawn of the new Asia. Most Asian economies -- and India is an exception -- still remain dominated in terms of their growth by a combination of exports and export led investment. Internal demand is lacking.
For example, in China last year domestic private consumption fell to 42% of GDP -- that was a record low for China. China is being driven by a combination of explosive growth in fixed asset investment and exports and that is not a sustainable growth model. Taiwan, Korea, Malaysia, Thailand and even Japan to some degree have remained externally led economies for many years. India is more encouraging in that regard, than the typical Asian economy.
The Asian crisis was a huge wake up call and a very painful adjustment for many Asian economies. A lot of lessons were learned that Asia has taken to heart in terms of managing exposure to short term capital inflows, currency regimes, drawing down foreign exchanges reserves and Asia has done a great job in moving out of that.
But the next crisis is never like the last crisis and I do know right now that Asia is too dependant on external demand and that external demand is too dependent on the US consumer who I think is a weak link in the global growth chain. So if the US consumer goes there could be some ripple effects in Asia and that could be once again very problematic for the region.
On India's advantage in terms of sustainable economic growth:
India is making progress in balancing its sources of economic growth more so than elsewhere in Asia. In particular, I am struck by growing support from internal demand, especially private consumption. There are still some glaring macro deficiencies for India but I am beginning to see more progress, especially on the infrastructure front where I have been very critical of India for sometime.
Everywhere I go and now in India I am seeing construction and that is an early sign of encouragement. The FDI constraint is still serious and savings shortfalls relative to China is still an issue but I am more encouraged on this trip to India than I have been than on my earlier ones.
If you look at the growth dynamic of India over the last 15 years, the service sector has played a disproportionate role in driving it. The service industry's share of GNP has been pretty steady. There is a big debate of manufacturing versus services. I, for one, think that India needs labour-intensive economic growth to deal with real unemployment.
A capital-intensive manufacturing strategy just doesn't cut from a macro perspective in my point of view. It reduces labour input into an output. So services is a very attractive model given India's natural comparative advantage in human capital, IT capability and English language familiarly: all of which are playing important roles in driving a globalisation services.
On the Indian political fixation with manufacturing:
I think the manufacturing is always been thought of as the Holy Grail -- the answer to economic development for any country in the world. India is no exception. This is a dream of prosperity and it does need to be updated because of increasing dramatic breakthroughs in technological change.
We are living in a much more knowledge-based world where value-add is occurring by what's between the ears rather than what you hold in your hands. Obviously things need to be made in India and China and other hardworking developing countries that play an important role in providing that.
On why China's stock market is at 8 years lows, while India's is closer to its lifetime high:
If I could explain that to you I would have cracked a big puzzle in my own mind as well. I think it reflects a striking difference between the approach that the China and India have taken 27-28 years down the road of economic development.
China is still struggling to really develop a lasting and deeply entrenched corporate culture. India by contrast now has 15 to 20 world class companies, a fully functioning banking system, vibrant capital markets and rural law democracy.
China is still lacking in most of those key attributes of free market capitals. In terms of FDI, savings and infrastructure China out distances in India. But there is more to prosperity in the long run than just building roads, getting foreigners to take advantage of low cost labor/ technology and setting up plants in the country.
China is trying a centrally planned economy and remaking it in the models of free market capitalism. There is a multi-ecade transformation and China may be half way down the road in doing it.
On the future of the Indian economy:
I think the Indian economy is going through an absolutely critical point in its own transition. I do see a lot of opportunity for your domestic companies -- whether it is financial services, information technology, manufacturing, materials or energy.
I am very impressed with what I see and I am going to go back and tell my colleagues and investors that we deal with around the world that India is a market, a story, a country, an economy and they need to take it seriously. I think the transformation in India has always been in fits and starts, so one step forward and one step back.
I now see more steps forward than you see steps backward and that encourages me a lot.
I think India has its own unique style of trying to model economic development to be inclusive rather than exclusive. There are a lot of tough issues in India that still need to be overcome. There is a huge challenge in rural agricultural and in dealing with rural unemployment.
I would like to see India be much more successful in attracting foreign direct investment and that would be a clear sign that India has arrived on a global stage. I am very confident that India is going to pull it off.
For more exclusive interviews with top management, log on to www.moneycontrol.com