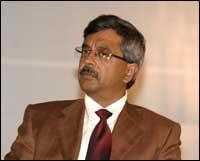 Pramod Bhasin, president & CEO of Genpact, one of the pioneers and major players in the global outsourcing arena, is aggressive and confident. And he is moving at top speed to keep his rivals in awe all the time.
Bhasin expects Genpact to cross the $1-billion mark in annual revenues by 2007-2008 and employ a global workforce of 30,000 in countries like China, Ireland, etc.
At the Asia Society Conference 2006 in Mumbai, Managing Editor (National Affairs) Sheela Bhatt caught up with Bhasin for an interview. Excerpts:
What do you think is the future of the business process outsourcing industry?
Excellent! It's a great business and we have great advantages in India. It's a new industry and it will continue to grow.
What about the image problem?
The image problem is only in the Indian media. It's certainly not with the overseas press. Globally, this industry is 50 to 100 years old and India is just discovering it. And the Indian media is discovering even later!
I will be very blunt with you and say that 90% of the media's views on BPO industry are incorrect. People just don't understand the type of work we do, the value-addition we are doing, the reengineering we are doing, and the type of high-end processes we are conducting. It's too new to them and they haven't studied it as much as they should.
Internally, and with our customers, we have no image problem. If media has a problem they will have to deal with it themselves.
But your company is employing more and more people in China. . .
We employ everywhere around the world. It's not China versus India.
We will grow globally, like any global company does. IBM, Accenture, and other global majors and companies like us are growing at the rate of 25 to 35 per cent a year. Yes, we are employing people in China. But we are employing many more people in India. This year, we will be hiring 10,000 people, out of which 2,000 will be in China, and 6,000 to 7000 in India.
Do you think Americans are still sensitive about the outsourcing issue?
Anybody would be sensitive about losing jobs to other country. Who won't be? What will happen in India if we lost jobs to China? There will be riots in the street. It's naive to think that people won't be sensitive. Of course, they would be!
Even in developed economies this will happen. At the same time, the United States is producing more jobs every month and that holds it in a very good stead because America has ability to reinvigorate itself in a way that very few countries have.
When the Japanese came to the US everybody said, 'Oh, my God, its over!' But it's not quite over yet.
Do you find enough talent in India?
I think there are enough people. Are they trained enough? That's a different question.
Are they well trained?
No. We do a lot of training and we will enhance our training. Are the right people trained for right jobs? Are they meeting the right companies they should work in?
No. I don't think so. The tragedy is our education system is not just good enough. I think our education system badly needs to be upgraded and urgently needs to be upgraded. And the government should get out of it.
Will China become India's competitor in the BPO industry?
Of course, they will! Why not? Why not? See, this is how the world works. Any country, if it sees the good opportunity, will jump at it. This is how we should work. This is called competition.
We have a small base in China. If you are looking for global talent its harder to find in China. But if you are looking for great responsiveness from the government and local authority, it's much easier to work in China.
They are fantastic, they are superb and there is no comparison between China and India. I recommend all of you to go to China, make one trip. Pay for yourself. You must go to China once and you will stop asking these questions.
Is India gearing up for the competition?
It is not. When China announces that it will put up 40 Harvard-level management institutions they will not get to the Harvard level, but if they get 20 colleges at a half of Harvard level it will be better than our 5 IIMs!
In India, in the second year (of graduation), colleges students don't show up, teachers do not attend classes, marks are poor, training level is poor, the teaching level is poor. . . so when they come out of colleges we retrain them completely. A simple thing like you have to come to work on time is a new idea to them!
English is our plus-point. Also, Indian education is a low-cost issue. But China produces more graduates than India does. In India we need training, education and infrastructure for IT companies. We have to provide our own cars to employees, we have to provide security. Should I be doing this?
We have to keep triple back-up of power. Should I be doing that too? Every time we employ a person we need to retrain him. But India still works well. Because we have energy, passion and people are creative and they want to learn. India has always survived in spite of its governments.
To what extent has the tag of 'cyber coolies' stuck with India?
To an extent, everyone is a coolie. You are a coolie, I am a coolie. It's a ludicrous allegation. Media baffles me. They don't do any homework, they don't want to read. We are closing books of American companies while sitting in India. We are running treasuries. Yes, we are doing low-end work, but every Indian company is doing low-end work also, even your company can't survive without doing low-end work.
If you get an exclusive audience with Prime Minister Manmohan Singh what will you tell him?
Education, infrastructure and training. Bus (That's it)!!
Do you want to discuss stock tips? Do you know a hot one? Join the Stock Market Discussion Group.