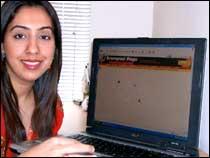 Online marketing is booming in India, and with this arrives a new avenue to rake in millions. So now we have 'pixel advertising,' that is emerging as a very lucrative medium for people across the globe.
All you need to do is start a Web site and sell 'pixels' to companies for online advertising or marketing campaigns.
Cashing in on this new trend is Sunaina Bansal, who is the brain behind crorepatipage.com.
"I was inspired by a young British student who made over a million dollars selling he pixel advertisements. His Web site generated so much interest that he was able to sell over a million dollars of pixel advertisements in a short span of four months. Now, his Web site is completely sold out and advertisers are looking for new innovative pixel Web sites to advertise on," says Bansal.
Pixel advertising is visual advertisements on the Internet. The cost of these ads is calculated on the basis of the number of pixels that they occupy. Pixel advertising gained popularity in the last quarter of 2005 when Alex Tew, a British student, created a Website called The Million Dollar Homepage, and solicited advertisers to buy ad space measured in pixels on the homepage.
The price was set at $1 per pixel, and there were 1 million pixels of space available. In about four months all the ad space was sold out.
Sunaina, after her graduation from Symbiosis College, Pune, migrated to the United Kingdom, where she did her Masters in Leisure and Tourism Management. She worked for a few months in London and later started her first business venture.
A million pixels on one page at Rs 10 a pixel. She will make a crore if this succeeds, but is this as simple as it sounds? It involves a lot of hard work, determination, passion and of course luck to become a pixel crorepati (millionaire).
Pixel advertising is becoming as effective as traditional advertisements. Companies that advertised on 'milliondollarhomepage' have seen a tremendous rise in hits and revenues, as it can reach out to a larger audience and is a cheap advertising medium.
Web sites sell pixel ads in 100 pixel 'blocks' because this is the smallest size to reasonably display anything meaningful and yet be easily clickable. Some Web sites allow a larger image to appear when one brings the cursor over a small pixel ad.
But how will the page look with over a million advertisements?
"A million advertisements on one page will not make it too crowded as they have the pixel listing of every company that advertises along with their Web site and slogan. The slogan is also displayed on the main page. We also plan to add a zoom facility once the page starts getting crowded so that even small icons can be magnified to create an impact. So you can rest assured that all ads will be visible," says Sunaina.
Sunaina is now creating mass awareness by promoting this new medium of advertising through television, radio and the Internet, and contacting companies directly.
Sunaina may or may not succeed. But one thing is for sure: this new medium has thrown open a huge opportunity that even housewives can use to start a business venture and reach out to the world.
Do you want to discuss stock tips? Do you know a hot one? Join the Stock Market Discussion Group.