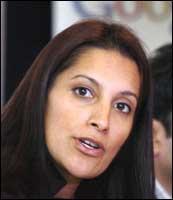 India has the best talent pool in the world, says Sukhinder Singh Cassidy, vice president, Asia-Pacific and Latin America, Google, who is bullish on India.
As Google spreads its wings in India, Cassidy shares her experiences of working with the world's most popular search engine, Google, and why the company is upbeat about Indian operations.
Highlighting India's tremendous potential and global reach, in an interview with rediff.com Cassidy explains how easy it was for her, sitting in Canada, to get her wedding cards printed last year from an Indian firm through the Internet. Excerpts:
Google has opened offices in New Delhi and Mumbai. What are the advantages of expanding operations in India?
India is not just a potential market but it's also a place with an exceptional talent pool. India is geographically spread out as well.
So we would be educating more SMEs (small and medium enterprises) about online advertising and the Adwords programme, which is doing well in China. We expect it to grow further in India as well. There is a sizeable market in India, which presents a lot of opportunities.
We will be doing a disservice to users if we don't focus on better search services from India. Moreover, there is an incredible entrepreneurial SME base in this country keen to join the Adwords programme.
(Adwords enables users and businesses to reach out to users through the Web. Google Adwords matches text-based ads to users' search queries providing them with information relevant to them).
Considering the fact that mobile services are growing at a faster pace that Internet penetration in India, is Google looking at this segment?
We are looking at the mobile services sector as well. I cannot give you a time frame, but globally we have announced a lot of initiatives on mobile and we would launch services relevant for the Indian market as well.
How do you compare the India and China markets?
The markets are similar in some ways: both have strong entrepreneurial SME bases. Geographically, both the countries are spread out, while China has 31 states, India has 27 states.
Both offer a rich content, have similar mobile characteristics and a number of dialects. Search is doing very well in both the nations. The governments have also succeeded in driving the Internet growth in both the countries.
Do you think India will be a larger market for Google?
Currently, China has 400 million mobile users while India has 60 to 80 million. There are 100 million Net users in China and 30 million in India. India's growth rates are phenomenal, India will definitely get closer.
What would be your focus in India?
We will definitely focus on localised products, localised search and mobile services. We are in talks with local clients for partnerships.
How successful is the Adwords programme?
About 95 per cent of our revenues are from Adwords, last quarter we had a revenue of $1.6 billion. Adwords account for over 55% of revenues globally.
Google Earth has run into controversies. What is the status of the project now?
The controversy on Google Earth is not yet over. We do look at the sensitivities in every market that we operate. Google Earth is a US product. It has been launched based on the international mapping standards. We usually use the UN recognised boundaries for Google Earth. Our team is looking at the security aspects also as we have got complaints not just from India, but also from countries like Japan, China and Taiwan.
Our aim to make a product that is objective based on local needs, we are now looking at the legal aspects in local markets.
When will Gmail be available for all users?
We do have a supply constraint with Gmail. We are oversubscribed and our engineers are always asking for more machines. It will take us some time to open Gmail to all. We are now managing the services country by country.
What are the focus areas for the company?
We will be enhancing the search engine services. We have launched a numerous services like desktop search, university search, and video search last year. We will be looking at extending the local search programme. Today we cover only what is easily available on the Web.
We will be looking at news archives, subscription and password-based databases. Personalisation of search to give users one precise answer to their query is also being planned.
What are the challenges that you face?
We have a shortage of recruiters as we will be hiring more to met local demand. I end up spending most of the time recruiting people. China and India offer the best talent to met our local needs as well. We have hired a lot of people for local operations. We have an experienced team from the Indian online industry.
What is the status of the Google library project?
There has been a controversy over this project due to some misconceptions. We have spent about six months on educating the market, as there are a lot of misconceptions about the Google library project. We have now introduced a publisher programme where publishers have given us permission to present an extract of the book on the Net.
The library project is often thought of as a project of taking book extracts without copyright permission. But it is different. We scan the book, index it and give users about six lines, not more than that. . . it's a digital library.
We have got Indian English writers keen to join the publisher programme. We will also look at local languages for the publisher programme.
What are the reasons for Google's success in such a short span of time?
We have been able to attract the world's best talent on the engineering and business side. Talent acquisition, coupled with a very focussed mission by the founders -- Sergey Brin and Larry Page -- who are focussed on search quality are the mains reasons for our success.
How has your experience been working with Sergey Brin and Larry page?
The most striking aspect about them is that despite the fact that they are both engineers they have a good business judgment. They think long and hard on every decision they take that will affect the user. They are very dedicated to the users' needs and whatever decision they take they have a high belief that it will benefit the user.
Do you want to discuss stock tips? Do you know a hot one? Join the Stock Market Discussion Group.