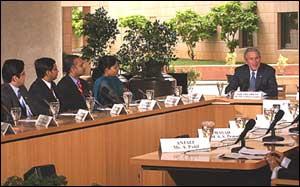 Can you dream of a round-taken discussion with US President George Bush at your campus?
Some students at the Indian School of Business in Hyderabad who indeed held a round-table discussion with the American President are simply thrilled.
"It was a great thing for me. The best thing that has happened in my life," said Anjali Patel, a student from the ISB Class of 2006, who was a participant at the Bush roundtable.
The President who spent more than one hour at the ISB spent some time interacting with a roundtable of a group of entrepreneurs.
"To be chosen for a one-on-one interaction with President Bush is a great opportunity for me," Patel said.
And she said it was President Bush's praise for India and the happening entrepreneurship in the country simply made her proud to be an Indian.
Patel is involved with social entrepreneurship projects, and is the President of the Net Impact Club at the ISB.
Besides Bush, Secretary of State Dr Condoleezza Rice, David C Mulford, Ambassador to India, and a few other officials were part of the President's entourage.
Rajat Gupta, Chairman of the ISB (former Managing Director of McKinsey and Senior Partner Worldwide), received the President along with Professor M Rammohan Rao, Dean, ISB.
"We are delighted that President Bush has chosen a premier management institution like the ISB for his visit. This is indeed a prestigious event for us," said Rajat Gupta.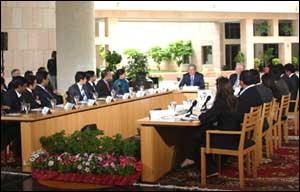 The Chairman and the Dean of the ISB Rao briefed the President about the history of the ISB, and about the remarkable progress that the school has made since the five years of its establishment.
"The ISB has emerged as a world-class business management institution within a short span of time. We have highlighted the success of our one-year post graduate management programme to the President. We took the opportunity to emphasise our focus on entrepreneurship and cutting-edge research, especially relevant to emerging economies," said Dean Rammohan Rao.
President Bush was visibly impressed by the ISB campus, and with the ISB students.
Two other ISB students from the Class of 2006, Rajesh Mani and Ruchi Bansal, had earlier greeted President Bush on his arrival. The President also interacted with other faculty, students, and members of the ISB community.