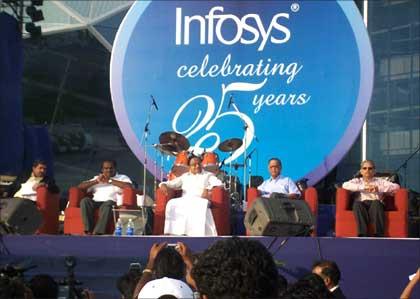 "IBM is legacy, Infosys is the future," said Indian Finance Minister P Chidambaram, speaking at the 25th anniversary celebrations of Indian infotech giant Infosys Technologies Ltd at the company's magnificent campus in Mysore on Sunday evening.
He said this is what Nandan Nilekani, the company's chief executive officer, tells the world. And one look at the sprawling campus and you could be forgiven for drawing parallels that might normally evoke myriad emotions: from surprise to uncertainty to absolute concurrence.
The nation's finance minister clearly was more than impressed, not only by the exploits of the company in its stellar, 25-year existence devoted to excellence, integrity and business acumen, but also by the very architecture of the vast Infosys campus in Mysore.
"It is difficult to believe we are in India," the finance minister gushed. "This could be the Silicon Valley in California, this could be the Rouen region in France, this could be Stuttgart, this could be any town in Australia. It is not even in a capital city, but in a place of great history and a greater future. But we are proud that this is India, we are proud that the makers of this dream are here with us and let me begin by congratulating Narayana Murthy and those who founded Infosys 25 years ago," the finance minister went on.
He said that the Infosys campus was a great place for education, training and, perhaps, romance. "I have not seen a more romantic environment than this in the last many years," he said and added tongue-in-cheek, "every challenge must be converted into an opportunity." Much merriment rippled through the gathering.
Indeed, the sprawling campus, replete with glass-and-steel edifices that seem straight out of a futuristic science fiction film, the massive entertainment glass 'globe' like a golf ball from Brobdingnag, the rambling and perfectly landscaped lawns, the world's largest training centre for IT professionals, the buzz among Infosys's greatest wealth -- its employees, the contagious feeling of joy that those on the campus exude... and one can be forgiven for believing that one is no longer within India's borders.
The finance minister said that the 25 years of Infosys's voyage have been a matter of true grit triumphing over great difficulties. He said that Infosys has brought incalculable acclaim to India and saluted the company for unlocking the phenomenal potential of young Indians, and for unleashing the power of learning and knowledge.
Chidambaram also said that such endeavours should be looked at with respect, just as political institutions that have gathered monstrous proportions should be judged with suspicion.
The finance minister said that knowledge powerhouses like Infosys can help transform India into a global giant across various industry sectors and spheres of human endeavour. He said the youth of today can help build a new, strong, prosperous, poverty- and disease-free India by the sheer application of India's traditional strength: knowledge.
Chidambaram added that while the state can adopt the role of an enabler allowing entrepreneurship to blossom, it is the youth of the nation who can actually transform it into a true global power. Several Infosyses in different industries can help India become a world leader, and this could be achieved by the country turning into a knowledge society.
"With knowledge, learning and aspiration," India can make more Infosyses, he added.
"Infosys is a company that has raised the aspirations of the nation," Chidambaram remarked.
Hailing the Infosys campus and its huge training centre, he said: "If you want a campus, a training centre, a convention centre, build the world's largest. Get professionals from across the globe to come to India to work with Indian firms. India can become a world destination for excellence."
Speaking extempore on the occasion, the finance minister peppered his speech with nuggets of information and more than a smattering of humour. He gave examples to explain how much freer India is today to do business and grow as an entrepreneur, than it was 25 years ago when N R Narayana Murthy, founder and chairman of Infosys and six of his friends, began with a pocket-full of dreams and only Rs 10,000 to nurture them.
Earlier, Nandan Nilekani welcomed the guests, including Finance Minister P Chidambaram, Karnataka Chief Minister H D Kuramaswamy, Planning Commission and Deputy Chairman Montek Singh Ahluwalia.
"Infosys is more than a brand. It is a legend. It has transcended the barriers of name recognition and become an internationally known label for success, innovation and humility," said Karnataka Chief Minister K D Kumaraswamy, speaking at Infosys's 25th anniversary celebrations.
Heaping lavish praise on Narayana Murthy, the Karnataka chief minister said, "The Infosys chairman, who stands like a colossus in the Indian business world today, rose from a very humble origin. He continues to be full of humility even though he is counted amongst the most important business leaders of the 21st century in the world."
"25 years ago, if an Indian visited a western country, no matter what his qualification was, the westerners looked at him as a person looking for a job, no matter what kind of job. Today, the perception has undergone a complete change. Today the Indian arriving at any destination is seen mainly as a knowledge sector professional. It is mainly thanks to the contribution of the IT industry in general and companies such as Infosys that this has happened," he added.
N R Narayana Murthy and Nandan Nilekani both spoke on the occasion. Murthy said that when he first embarked on this magnificent journey called Infosys, he did so with a set of guiding principles that have been the hallmark and the bedrock of the company.
He said that when the first phone at the company was given to a marketing man, he realised that Infosys had become a customer service organisation.
When in 1992, the first campus was built, Murthy was sure that a company worthy of his dreams had begun to blossom. When the company walked out a deal with GE -- 1995 -- which accounted for 25 per cent of its revenues and 8 per cent of its profits, he knew that a principled, courageous organisation had taken shape. And these very codes continue to pilot the company as its moves into the future, ever stronger, ever eager.
The Infosys chairman also announced, to the accompaniment of wild cheer from the employees, that the trustees of the Infosys Employees' Welfare Trust have decided to distribute a corpus of Rs 126 crore (Rs 1.26 billion) among all its employees.
Murthy also made a veiled attack on critics of economic reforms in the country, asserting that his company was a "shining example" of the success of the policy.
"Let critics of economic reforms realise by this shining example that there is no alternative to creation of jobs to solve the problem of poverty," he said.
Murthy said he would like to thank two sets of people -- the past and present 'Infoscions' and late prime minister P V Narasimha Rao, Prime Minister Manmohan Singh, Finance Minister P Chidambaram and Planning Commission Deputy Chairman Montek Singh Ahluwalia, the architects of 1991 reforms.
With PTI Inputs