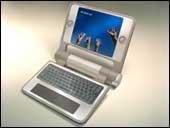 The $100 laptop computers that Massachusetts Institute of Technology researchers want to get into the hands of the world's children would be durable, flexible and self-reliant.
The machines' AC adapter would double as a carrying strap, and a hand crank would power them when there's no electricity. They'd be foldable into more positions than traditional notebook PCs, and carried like slim lunchboxes.
For outdoor reading, their display would be able to shift from full color to glare-resistant black and white.
And surrounding it all, the laptops would have a rubber casing that closes tightly, because "they have to be absolutely indestructible," said Nicholas Negroponte, the MIT Media Lab leader who offered an update on the project Wednesday.
---
FAQ on $100 laptop
What is the $100 laptop, really?
The proposed $100 machine will be a Linux-based, full-color, full-screen laptop that will use innovative power (including wind-up) and will be able to do most everything except store huge amounts of data. These rugged laptops will be WiFi- and cell phone-enabled, and have USB ports galore. Its current specifications are: 500MHz, 1GB, 1 Megapixel.
Why do children in developing nations need laptops?
Laptops are both a window and a tool: a window into the world and a tool with which to think. They are a wonderful way for all children to 'learn learning' through independent interaction and exploration.
Why not a desktop computer, or-even better-a recycled desktop machine?
Desktops are cheaper, but mobility is important, especially with regard to taking the computer home at night. Kids in the developing world need the newest technology, especially really rugged hardware and innovative software. Recent work with schools in Maine has shown the huge value of using a laptop across all of one's studies, as well as for play. Bringing the laptop home engages the family.
In one Cambodian village where we have been working, there is no electricity, thus the laptop is, among other things, the brightest light source in the home.
Finally, regarding recycled machines: if we estimate 100 million available used desktops, and each one requires only one hour of human attention to refurbish, reload, and handle, that is forty-five thousand work years. Thus, while we definitely encourage the recycling of used computers, it is not the solution for 'One Laptop per Child.'
How is it possible to get the cost so low?
First, by dramatically lowering the cost of the display. The first-generation machine may use a novel, dual-mode LCD display commonly found in inexpensive DVD players, but that can also be used in black and white, in bright sunlight, and at four times the normal resolution-all at a cost of approximately $35.
Second, we will get the fat out of the systems. Today's laptops have become obese. Two-thirds of their software is used to manage the other third, which mostly does the same functions nine different ways.
Third, we will market the laptops in very large numbers (millions), directly to ministries of education, which can distribute them like textbooks.
Why is it important for each child to have a computer? What's wrong with community-access centers?
One does not think of community pencils-kids have their own. They are tools to think with, sufficiently inexpensive to be used for work and play, drawing, writing, and mathematics. A computer can be the same, but far more powerful. Furthermore, there are many reasons it is important for a child to 'own' something-like a football, doll, or book-not the least of which being that these belongings will be well-maintained through love and care.
What about connectivity? Aren't telecommunications services expensive in the developing world?
When these machines pop out of the box, they will make a mesh network of their own, peer-to-peer. This is something initially developed at MIT and the Media Lab. We are also exploring ways to connect them to the backbone of the Internet at very low cost.
What can a $1000 laptop do that the $100 version can't?
Not much. The plan is for the $100 Laptop to do almost everything. What it will not do is store a massive amount of data.
How will these be marketed?
The idea is to distribute the machines through those ministries of education willing to adopt a policy of 'One Laptop per Child.' Initial discussions have been held with China, Brazil, Thailand, and Egypt. Additional countries will be selected for beta testing. Initial orders will be limited to a minimum of one million units (with appropriate financing).
When do you anticipate these laptops reaching the market? What do you see as the biggest hurdles?
Our preliminary schedule is to have units ready for shipment by the end of 2006 or early 2007.
The biggest hurdle will be manufacturing 100 million of anything. This is not just a supply-chain problem, but also a design problem. The scale is daunting, but I find myself amazed at what some companies are proposing to us. It feels as though at least half the problems are being solved by mere resolve.
How will this initiative be structured?
The three principals at MIT are faculty members at the Media Lab: Nicholas Negroponte, Joe Jacobson (serial entrepreneur, co-founder and director of E Ink, and Seymour Papert (one of the world's leading theorists on child learning).
Additional researchers include: Mike Bove, Mary Lou Jepsen, Alan Kay, Tod Machover, Mitchel Resnick, and Ted Selker.
Organisationally, MIT will work with a small number of companies of complementary skills to develop a fully working and manufactured laptop (50,000 to 100,000 units) in fewer than 12 months, with an eye on building about 100 million to 200 million units by the following year.
Five initial companies who have committed to this project are AMD, Brightstar, Google, News Corporation, and Red Hat. MIT will also work with the not-for-profit company One Laptop per Child (OLPC), as well as with the 2B1 Foundation.
---
Negroponte hatched the $100 laptop idea after seeing children in a Cambodian village benefit from having notebook computers at school that they could also tote home to use on their own.
Those computers had been donated by a foundation run by Negroponte and his wife. He decided that for kids everywhere to benefit from the educational and communications powers of the Internet, someone would have to make laptops inexpensive enough for officials in developing countries to purchase en masse. At least that's Negroponte's plan.
Within a year, Negroponte expects his nonprofit One Laptop Per Child to get 5 million to 15 million of the machines in production, when children in Brazil, China, Egypt, Thailand, South Africa are due to begin getting them.
In the second year -- when Massachusetts Gov. Mitt Romney hopes to start buying them for all 500,000 middle and high-school students in this state -- Negroponte envisions 100 million to 150 million being made. (He boasts that these humble $100 notebooks would surpass the world's existing annual production of laptops, which is about 50 million.)
While a prototype isn't expected to be shown off until November, Negroponte unveiled blueprints at Technology Review magazine's Emerging Technologies conference at MIT.
Among the key specs: A 500-megahertz processor (that was fast in the 1990s but slow by today's standards) by Advanced Micro Devices Inc. and flash memory instead of a hard drive with moving parts. To save on software costs, the laptops would run the freely available Linux operating system instead of Windows.
The computers would be able to connect to Wi-Fi wireless networks and be part of "mesh" networks in which each laptop would relay data to and from other devices, reducing the need for expensive base stations. Plans call for the machines to have four USB ports for multimedia and data storage.
Perhaps the defining difference is the hand crank, though first-generation users would get no more than 10 minutes of juice from one minute of winding.
This certainly wouldn't be the first effort to bridge the world's so-called digital divide with inexpensive versions of fancy machinery. Other attempts have had a mixed record.
With those in mind, Negroponte says his team is addressing ways this project could be undermined.
For example, to keep the $100 laptops from being widely stolen or sold off in poor countries, he expects to make them so pervasive in schools and so distinctive in design that it would be "socially a stigma to be carrying one if you are not a student or a teacher."
He compared it to filching a mail truck or taking something from a church: Everyone would know where it came from.
As a result, he expects to keep no more than 2 percent of the machines from falling into a murky "gray market."
And unlike the classic computing model in which successive generations of devices get more gadgetry at the same price, Negroponte said his group expects to do the reverse. With such tweaks as "electronic ink" displays that will require virtually no power, the MIT team expects to constantly lower the cost.
After all, in much of the world, Negroponte said, even $100 "is still too expensive."
Photograph and FAQ on $10 laptop from MIT.