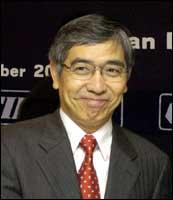 The key to being able to double loans to India, the ADB President Haruhiko Kuroda acknowledges is to get more flexible structures, to lend in local currencies, and without Central government guarantees.
He talks to Business Standard about the Bank's plans. Excerpts:
By how much are you going to pare down your growth forecasts due to the oil scenario?
Surprisingly, not by too much. We'd forecast a slowing of growth for developing Asia (minus Japan) to around 6.5 per cent (from 7.3 per cent last year) even in spring when we'd thought oil prices would fall to $40 a barrel by the end of the year and stay there for the next two years or so.
We're still working on the revision, so I could be wrong, but we're finding there may be no need for further revision downwards. That's good, but difficult to understand!
One reason is that US growth at 3.5 per cent is very strong, Japan has not slowed like was expected and most expect Eurozone to recover in the second half. China at 9 per cent and India at 7 per cent also look good -- one reason could be the oil price has not been fully adjusted to. So, the global economic outlook may not deteriorate.
Is the situation of a savings glut going to continue and does this mean long-term interest rates will remain benign?
Economists talk of a savings glut in China and in the oil producers especially after the surge in prices. It will stay this way for a while. Can you imagine Chinese households suddenly increasing consumption or this happening in the oil producing countries?
Eventually, this will happen, but not for some years. So, the long-term interest may remain low.
You've stressed on reforms and ADB's last review was very gung ho on India due to the reformist credentials of the PM and his team. Today, with the employment guarantee scheme, the lack of progress on fixing pensions among others, many feel the government cannot push reforms. What's your view?
It is laudable that the government is arguing for reforms, because without this the economy cannot continue to grow fast. But I understand that timeliness is important. . . if certain things are not done on time, it could be too late.
You have mentioned the rural employment scheme and I understand your concern, but employment is an important issue especially in the less developed states. You can criticise the scheme, but you have to present an alternative which increases employment and does not hurt the fiscal situation.
Have you suggested one?
No!
The roads minister yesterday suggested relaxing of your conditionalities. Today, you have minimum turnover criterion, for instance, and this forces our companies to get foreign partners who just take a fee for lending their name.
I admit some procedures take a long time and should be improved. . . we are trying to do that. On August 25, our board approved new financing products/procedures.
We will provide non-sovereign loans, that is without looking for a Central government guarantee; rupee lending for those who don't want to be bothered by currency fluctuations; we're prepared to make cost-sharing flexible; there's a multi-tranche finance facility (a $400 million loan can be split in four tranches of a year each and commitment charges will have to be paid only on one tranche at a time).
How much will this lower costs of ADB loans by?
Today, our costs are Libor plus 8 basis points. How much this will fall by will depend upon how the multi-tranche is tranched!
The conditionalities?
The conditionalities are not decided lightly, and are agreed upon with the member country. We need to look at safeguards like environment. . . social protection needs to be done, so projects have to be evaluated on these criterions. The conditionalities are supposed to improve the sector which is being financed also.
What about the issue of relaxing pre-qualification criterion to prevent foreign companies from getting money for lending their name?
Our guidelines are not so rigid, so it can be tackled. We can look at how pre-qualification should be done. It is part of a process. . . with NHAI, a lot of learning has been done in how to make the pre-qualification document. If there is a sub-standard contractor, both the project and the country will suffer.
You've talked of a maximum ADB loan of $2.5-3 billion a year over the next few years. This is peanuts compared to what India's infrastructure needs.
There is perhaps a maximum to what ADB can provide and what the Indian government can absorb. One way to fill the gap, especially in light of the fiscal situation which may prevent the government from undertaking very big infrastructure expenditure, is PPP (public-private partnership).
We're having a big workshop here next month to develop a financing model and maybe our private lending arm can lend to private parties. We've done one such project with GAIL. . . the Jamnagar to Rajasthan pipeline was completed in 2002.
Powered by