Ajay Banga is the most senior Indian American manager at Citigroup, the world's largest financial company.
Formerly, president of Citigroup's retail banking North America, Banga was last week named co-head of the bank's global consumer group as part of its senior management realignment to reinforce customer focus.
The 45-year-old Banga will now lead the group's international operations and report directly to Charles Prince, Citigroup's chief executive officer.
In an exclusive, recent, interview with rediff india abroad, Banga spoke at length with Senior Editor Suman Guha Mozumder about what prompted the son of an Indian Army officer to choose the career that he did.
The interview was conducted at Citigroup's headquarters in New York just before his latest appointment:
Part I: Banking's New Star
How did it start?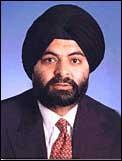 After my graduation from IIM-A (the Indian Institute of Management-Ahmedabad, possibly the finest management institute in India), I joined Nestle in India in 1981 as a management trainee. I worked with Nestle for the next 13,14 years, working in different capacities.
Then I joined Pepsi as head of marketing and business development to start the KFC (Kentucky Fried Chicken) and Pizza Hut businesses in India.
When Pepsi actually planned to spin off its restaurant business I did not want to be part of that. I wanted to work for some big company and not for some franchise, and then I ended up joining Citibank.
How did that happen, from KFC to Citibank?
I met this man called Tim Kelley, who was head of Citibank's Central Europe, Middle East and Africa, in 1996 at a bar in Bangalore. We were sitting just next to each other and started talking and we got to know each other.
He interviewed me and then he got me to meet the management guys in India and I joined them as head of marketing in August 1996. Then I moved to London in December of that year to become head of marketing and sales for Central Europe, Middle East and Africa.
Then I moved to Brussels, then came back to London and became the president of that division because Kelly had retired and I got his job. I moved to the US in 2000.
When you look back do you think you had really a lot of foresight in terms of a career choice?
No. Not all. I am not a big believer in planning the career 10, 15 years in advance. I, kind of, take things as they come. I am very relaxed kind of a guy. I never planned to be here.
If you had asked me five years ago, you would never have known by looking at me or talking to me that I would be doing this job today -- sitting in the US with 40,000 people reporting to me; in a company making three-and-a-half billion dollars after tax and profits. It is a number I could not think even five years ago.
How does it feel?
It feels very good. I really enjoy this company. In this company, somebody who looks like me is in the management committee, has a chance to run a business with 40,000 people and with that much profit across the US. I get great respect in this company because it is a very open organization and I am very proud of it.
I have really enjoyed and the last nine years with the company have been great fun.
You have been to several places and held many positions. What has really made you tick?
It is an interesting and a tough question. Just the other day I started counting how many schools my elder daughter Aditi -- who is going to Harvard this Fall -- had been to and I found that she went to nine schools in nine different places across countries.
I enjoy being in different places despite the hassles of moving and I quickly settle down wherever I go. It takes me very little time to get used a place and to call it my home. I do not pine for wherever I was last year. I don't think about 'Oh! I loved London' or that 'Brussels was great for this' or 'Delhi was great for that' and stuff like that.
Yes, Delhi was great. You get the best mangoes in Delhi, but that does not mean that I would live in Delhi all my life.
It seems you are very pragmatic?
You have kind of got to move on. Your life is where you are. And your home is where you are and your immediate family is. I miss India, my parents are in India, my brother is in London. My sister in the US, though. My attitude is wherever you go, treat that place as your home, settle down quickly, make friends and look forward. That makes our family move easily.
But my question...
The other thing is that you have to be willing to learn from each new job and from new people. If you have this attitude that you do not know everything and that somebody where you go to work probably knows better than you, then you will hunt out that person and ask him.
When your photographer was asking me about the problems of getting account passwords that are badly typed, I was not hassled at all. I am learning something and I will fix it. But if I do not listen to him and my mind is closed, I am not going to be a better manager.
My approach always is this -- if somebody offers you advice or feedback or viewpoint, please listen so you can do better next time. Nobody has a premium on solving the world's problems. Everybody has got new things to learn from somebody.
The third thing probably is that I believe in transparency and I am open about my views and what I am doing. It allows me to allow the other person to trust me. Trust is a big part of any success equation. I trust the people who work for me and I want them to trust me.
I am very lucky to have got where I got today. If you believe you are lucky and that somebody above you was looking for you, it keeps you humble and keeps you normal. Work-wise you have to make plans, but in personal life, I believe in taking one day at a time.
Are you the kind of person who is just married to his job?
Not at all, not at all. I try to keep my balance, try not to work on weekends, spend as much time as I can with my wife and kids. In my spare time, I play some golf and read a little bit, but not so much as I used to do.
I do not feel like reading when I go back home. I love movies, all kinds of movies. Have you seen Bride and Prejudice? It's really worth seeing -- good music and fun.
Talking about music, do you have any interest in music?
Plenty. I listen to everything from classical music to Elvis Presley to modern day songs. It is very difficult to say what is my favorite, if you ask me. In my home I have CDs that literally range from Elvis to classical music. If you see me after dinner very often I would be listening to Elvis because that is something I like at that time.
But in the morning, it is all classical. I have all the Beatles' records. Music is a big thing, not just for me but my entire family. Music is there all the time in our house. It is a funny house.