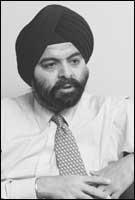 Ajay Banga is the most senior Indian American manager at Citigroup, the world's largest financial company.
Formerly, president of Citigroup's retail banking North America, Banga was last week named co-head of the bank's global consumer group as part of its senior management realignment to reinforce customer focus.
The 45-year-old Banga -- whose brother M S Banga is the former chairman, Hindustan Lever Limited -- will now lead the group's international operations and will report directly to Charles Prince, Citigroup's chief executive officer.
In an exclusive recent interview with rediff indiaabroad, Banga spoke at length with Senior Editor Suman Guha Mozumder about his career, his interests and what prompted the son of an Indian Army officer to choose the career that he did.
The interview was conducted at Citigroup's headquarters in New York just before his latest appointment:
Citibank seems to have launched efforts to reach out to the Indian-American community. What is the reason for that?
We have been dealing with the Indian segment for a long time. We have been in India for a long time, with the full range of products and services. And one of our big advantages is that Indian Americans -- people who come here (the United States) from India or have settled here in the past 20, 25 years -- know all know about Citibank and have a positive image of the bank.
At least one-third of the Indian-American population has a relationship with us. I think among the Indian Americans, almost 50 per cent are professionals, another 30 per cent are new immigrants -- like taxi workers, restaurant workers or construction workers and all that. Besides, there are self-employed people, businessman, and all that.
We want to reach out to everybody and have products that can meet the requirements of all. I think this is a great market segment for us to go out to.
Given the fact that institutions like Merrill Lynch have already started community outreach programmes, do you think yours is coming somewhat late in the day?
Ours is a very different strategy from that of others like Merrill Lynch. They are in the brokerage business. We are in banking. In fact, I never compare Citibank with ML. I am more interested in making sure that we at Citibank can find a way to use our global reach and product to make an impact.
We have been doing it for a while. We started the NRI (Non-Resident Indian) business in 1986. So, it is not a new effort. We have branches in most areas with concentration of Indian Americans and there are branches with Indian employees who speak the language, understand the culture and have the perspective to help people from the community. So it is a not new effort.
What is new then?
What is new is that I am trying to bring all (products and services) together. I think what has really changed is the desire to promote ethnic marketing and do it in an organised and structured way for Indian Americans, for Mexican Americans, for Chinese Americans and other communities.
As far as I know, you have been in the US for less than five years. Could you tell me something about your background, I mean where you studied and worked before joining Citibank?
I was born outside Pune, at place called Khadki, where there is an army cantonment. That's because my father was in the army and we used to live there. I have lived in many cities because my dad used to get transfered every two three years. I have lived in Secunderabad, Jalandhar, Delhi, Hyderabad and in Shimla, where I finished my schooling.
Ajay Banga: He can sell ice to Eskimos
After that, I attended St Stephens College in Delhi to obtain a bachelor's degree in economics, and then went to Ahmedabad for an MBA.
Your brother is the former chairman of Hindustan Lever (and currently non-executive chairman with additional responsibility as business group president of Unilever's $6 billion home and personal care business in Asia) and you are the vice-president of Citibank. How come none of you decided to join the army given that you father was in the army? Is it not a bit unusual?
My God (laughs)! You sound like my dad. My father used to ask me that question. He was very keen (that we joined the army). I toyed around with the idea because we had a great life when my father was in the army.
When I went to college in 1976-77, the army was not as attractive a career as it used to be earlier. The army was of course one of the best careers, but over time other careers like management, the Indian Administrative Service and Indian Foreign Service had developed. When I went to college I felt more attracted towards management, both, in terms of nature of job and responsibilities, and also, frankly, in terms of financial well being.
The army was no longer the best paying employer that it used to be. There was a time when being in government service was an attractive option because you earned well, lived well and earned a lot of respect. I think the respect is still there but the earning has changed tremendously.
So what you are saying is...
I think the times have changed, the choices too have changed. I think I had more choices than my dad had and my children have completely different choices from me. When I went to school and college I never even dreamt of coming to the US or the kind of opportunities that my children have.
I never had those and their children will have an even better opportunities than mine. That is good. That is what life is all about. That is what parents do for their children. So, I have no regrets for my career option.
Part II: Ajay Banga shares secrets about his amazing success story