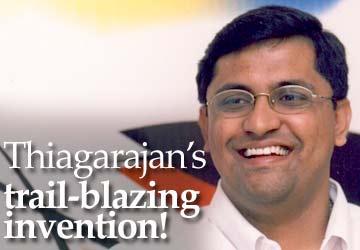 Who says Indians cannot come up with revolutionary inventions? Take the case of Arvind Thiagarajan, a young Indian scientist, for example.
The head of department of a hospital in Singapore asked Arvind Thiagarajan whether he could solve the problems that they faced while storing large images of echo cardiograms. As per legal requirements, doctors have to store the images for seven years.
"He asked me whether I could help him build a better digital base to store the large amount of information he had. He asked me because of my IT background. I said, why not. I also told him that some kind of compression would help," says 25-year-old Arvind Thiagarajan.
It was to help this Singapore doctor that he started working on digital images.
"As I didn't have a PhD in image compression, I went through a process of trial and error. It was just a coincidence -- or rather a stroke of good luck -- that helped me hit upon an idea. The method I adopted is very simple."
Arvind Thiagarajan explains how he compressed data, on his way to a path-breaking invention.
An invention that saves money, time and precious resources, and at the same time also exemplifies simplicity.
"Conventionally, compression is done using complex transformations such as Discrete Cosine Transformations (DCT) or data transformations, wherein the whole image is converted into a frequency signal and some of the high frequency details are filtered. Because of that loss, we are able to get the data compressed. This is a well-known method used all over the world.
"What I thought was a completely new approach where you keep the data in the original form itself. It was challenging to code colours. Although they look quite similar to human eyes, in reality, there are minor variations in them. The pattern is not like single pixel colours occurring continuously; it will be like, if one is in the 1st position, the other is in the 5th and another in the 10th.
"So, the challenge was to put all of them together. I felt if we can do that by rearranging the data, we can code them better. When we rearrange the data, it is necessary that we need to maintain the original order. That's where the technique of repetition coding using an index, which we call it as bit- plane, originated.
"What we do is, we maintain a binary index to store the original location of the data when we do the rearrangement and coding. So, at the decompression stage, we can bring back the original data without any loss because we had already indexed it. So, it's a perfectly reversible technique, and very simple, too.
"I really don't know how I hit upon the idea. It was more of a practical approach where intuition played a part. It was logical thinking that helped me.
"Yes, I wondered why nobody in the world thought of this before because it is such a simple thought. Thousands of papers are produced all around the world on compression of data but, somehow, nobody has thought of this fundamental problem."
Not only lossless, but more compression too
When Arvind Thiagarajan applied the compression technique on the images from the hospital, he got 35 times lossless compression. The compression was only 5 times in the traditional techniques like JPEG and data was lost.
Doctors of the Singapore Hospital were surprised and wondered how could a lossless technique give 35 times better compression than a system that produces loss.
In medical applications, doctors cannot afford to lose any data.
Without any delay, the hospital asked the inventor to implement the technique in the hospital.
It was then that he decided to start a new company. A businessman from Singapore became his partner and an Indian investor from Korea also joined and put in $1 million.
Thus, in 2003, MatrixView was born.
According to Arvind Thiagarajan, the name MatrixView was chosen because "we view every image as a matrix. We transform the matrix, we also rearrange the matrix."
But the scientific community was sceptical initially.
"They were sceptical because conventionally, it is known that lossless compression can give only a maximum of 2 times or 3 times compression. So, when we are getting 30 times compression, that too lossless, they wouldn't believe it.
"We had to build a demo and show them independently, and let a third party test it out. We engaged Ernst & Young technology audit team to do the independent testing."
Then, the question came: whether they could manage the same kind of compression with documents, radiology images, echo images, natural colour images, et cetera.
"They couldn't really accept the fact that an Indian company has done this and not an American company," Arvind Thiagarajan remarked.
The beginning
Arvind Thiagarajan had been interested in science and technology even as a school student; it fascinated him to know how things work. This curiosity led him to think differently and develop new products even as a student.
While in school and college, he was more involved in the practical implementation of science, rather than the theory.
It was after joining Anna University as an engineering student in electronics and communication that his creative mind spread its wings far and wide.
Junior scientist award from President Abdul Kalam
It was for a paper he published on the role of multimedia PCs in healthcare that he won the award at a competition held in Chennai.
At that time, he was developing a combined monitor that could show all the different parameters of the body -- such as ECGs, mechanical activities of the heart, echoes and blood pressure.
The paper was about how to get all the signals on a centralised monitoring station, or a PC, so that the doctors could analyse it and store it for later reference. This would mainly help doctors in handling the large amount of details about every patient. It can also be called a patient monitoring system.
The Junior Scientist Award was presented to him in 2001 by the then scientific advisor to the Government of India and the current President of India Dr APJ Abdul Kalam.
"He had always been my mentor as he used to spend a lot of time in Anna University. He used to give lectures on how important patent protection is and how India could be the world's technology leader. I was so inspired by him that I decided against going to the United States to pursue higher studies."
Patenting his first invention
Arvind Thiagarajan followed Abdul Kalam's advice of patenting his inventions and ideas without any delay. The first patent was for a device that diagnosed cardiac problems.
Cardiac diagnosis is generally done using Ultra Sound Echo, which costs about half a million dollars. In sharp contradistinction, the device Thiagarajan invented costs only $500! Even home users can use it with ease, he says.
This patent came to the notice of the Singapore government and it showed interest in incubating the technology. They offered an investment of around Singapore $1 million and invited Arvind to go to Singapore and set up a company.
The offer was to develop a product and then commercially market it. He decided to take up the offer.
"It was almost like starting my own venture immediately after I finished my college. It was a great experience. It exposed me to what is happening all around the world and helped me develop a wider perspective like how investors look at new technology, what are the challenges in commercialising new core technology into the market, the steps to be taken, et cetera."
In two years, the clinical trials of his product called 'HeartCard' were conducted. He, however, feels -- on retrospection -- that there was a flaw in the strategy that he adopted to commercialise the product.
Instead of targeting doctors and hospitals, it was targeted at end-users. This, he feels, affected the commercial positioning of the product.
Now that he has learnt more about marketing tricks, he plans to bring the product back into the market once again.
It was while the clinical trials of 'HeartCard' were going on that the doctors asked him about compressing data. Consequently, he came up with the path-breaking invention.
Once MatrixView was formed, he began the fund raising exercise by listing the company on the Australian Stock Exchange in August 2004 and raised about Aus $2.5 million.
Why the Australian Stock Exchange?
"We found that Asian markets are more comfortable in investing in conventional industries, and not core technology. So, it can either be in the US or in Australia. We felt we were too early for the US market. But we were told that Australian stock exchange was open- minded. Within 5 minutes of our listing in the Australian Stock Exchange, our price was doubled from 50 cents into 1 dollar. Within a month, it went up to 1 dollar 80 cents," says he.
Application: Once MatrixView got a patent for the core algorithm, it started looking at the application side of the algorithm. This fundamental technique can be applied in all kinds of images -- medical image, document image, natural colours in the digital cameras, video cameras, CDs, DVDs, in the post-production studios, medical applications, defence, mobile phones, surveillance, imaging, broadcasting. . . where large data has to be stored.
The core algorithm developed by Arvind Thiagarajan allows lesser loss of data and larger compression.
Products: The company decided to call the first product from MatrixView, based on the core algorithm, 'EchoView.'
1. EchoView is a hardware solution that captures the Echocardiogram directly whilst the scan goes on. These images are then optimised with ABO (Adaptive Binary Optimisation) and archived in MatrixView's .mvu format.
Using the existing LAN network, these images are easily transmitted and then retrieved.
The company anticipates EchoView replacing the use of VHS video cassettes to store ultrasound scans in hospitals as EchoView substantially reduces the cost of storage and retrieval.
"If you were to digitise the moving frame of echo data in a hospital, you need 60 gigabytes of data. But with 30 times compression, it can be compressed to just 2 gigabytes of data. This image can be transferred within the hospital for the doctors to see," says the chief scientist.
The first hospitals where EchoView was implemented were the Sri Sathya Sai Super Speciality Hospitals at Whitefield (near Bangalore) and Puttaparthi (in Andhra Pradesh).
In a country like India, with the help of EchoView, images from rural clinics -- where there are not many good doctors -- can easily be sent to a specialty hospital in the city for expert opinion.
2. DocuMAT: 'DocuMAT' is for document imaging. "Today's businesses in the insurance, financial services, legal healthcare and government sectors generate, exchange and store huge amount of document image files. With their huge file size, document files clog corporate networks, slowing the pace of communication and business.
The huge pile of papers in these offices can be scanned and saved for several years. They can store this in a centralised depository in a highly compressed manner so that it will save a lot of storage cost," Arvind Thiagarajan explains.
With many foreign companies transferring lots of documents from their offices in the US and Europe for outsourcing to India, they need fast and lossless data transmission.
"The advantage we offer is high lossless compression. Banks and insurance companies in the US and Europe send a lot of data to India as a part of outsourcing. It is a huge business."
At present, MatrixView has a software application team of 10 in Singapore, while the core research team of 50 in Chennai.
His plans for future
"If what we plan now is going to take place, we will be a billion dollar company in the next five years with at least 5,000 employees. We want to be among the top five high-technology companies in the world."
Photo: Sreeram Selvaraj
Design: Rahil Shaikh