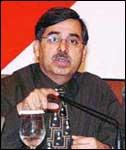 Hero Honda Motors Ltd, India's largest two-wheeler company, is no stranger to competition. But the company could face its toughest challenge in the next two-three years.
Bajaj Auto is firing on all cylinders to dislodge it from the top. Honda of Japan, a stakeholder in the company and its technical collaborator, has launched its scooters and motorcycles in India. Suzuki has plans to roll out its motorcycles soon. For how long can Hero Honda hold on to its market share of over 50 per cent?
Business Standard spoke to Pawan Munjal, Managing Director and CEO of Hero Honda, on the challenges facing the company. Excerpts:
Your sales growth in May was low -- less than 10 per cent -- while your competitors like Bajaj Auto and TVS Motors grew very rapidly.
There were some constraints with some of our component suppliers. These have been sorted out and we are on back target for June. Otherwise, the May market was very buoyant.
But the faster growth of your rivals closes the gap in market share between you and them.
That is not true. In absolute numbers, the gap is actually widening. The gap between Hero Honda and its nearest rival has increased from 8,00,000 in 2003-04 to over a million in 2004-05.
Fifty per cent is an awesome market share and is not easy to sustain. In a market where there are some very strong players, the market share is bound to fluctuate. But we are okay with that. Our effort is to keep on growing by giving more options and more choices to our consumers.
People have had this impression that when it comes to introducing new models, the competition has left Hero Honda behind. We are not trying to match anyone in introducing new models. We keep studying the customer.
And whenever there is a gap in the customer's demand, we try to fill it. In the last two years, our introduction of new variants has been very regular.
Hero Honda has been growing at a fast clip for very long now. For how long can you sustain such growth with your two plants at Dharuhera and Gurgaon in Haryana?
The size and the numbers at the two locations have become very large. We want to go to a third location, although we have not taken a final call on where to locate it. At the moment, we are augmenting the capacity of our two plants.
By August or September, we will have a capacity of over three million at these sites. This will be good enough to take care of the festival season buying in October and November.
You had talked of a third plant in Uttaranchal at a cost of Rs 500 crore (Rs 5 billion) last year.
We never said that we have identified a site for our third plant. We have seen some sites at Uttaranchal, just as we have seen some sites in Himachal Pradesh.
But we have not taken a final decision. In my view, the size of the investment will depend on what kind of a plant we want to have. For a complete range of products, the investment will be higher. But if we want to have more outsourced products, the investment will be lesser.
But the global trend is to go for more and more outsourcing.
Yes, the second option looks more likely.
So the new plant will be close to an auto components cluster?
Or the cluster could come to us. This is what happened when we set up our first plant at Dharuhera.
Of late, TVS and Bajaj Auto have said that they would set up production facilities in the north. Since the west and south are also large markets, are you considering locating your third plant there?
We find that in terms of logistics, transport and so on, it is not such a big deal. Also, we make such a large range of products that it will become cumbersome to have a third plant in the west or in the south. We will have to source products from Dharuhera and Gurgaon.
The automobile industry says that the high-volume segment of the motorcycle market is upscaling from 100 cc to 125 cc, while your forte has been 100 cc motorcycles.
We are trying to change that ourselves. We have been selling 100 cc motorcycles for over 20 years. There are over 10 million customers of these motorcycles. Now we want to give them an upgraded experience.
We have introduced the Super Splendor with a 125 cc quantum core engine. It gives a better riding comfort and overall output than a 100 cc engine.
This is where Honda's best technology comes in -- out of a bigger engine, we are giving better power and a better fuel economy. For us, Super Splendor is the next blockbuster. It will do better than even the Splendor. Already, it is a huge success. We are selling over 40,000 motorcycles a month.
What sells more, Bajaj CT or Hero Honda Splendor?
The largest selling has to be a Hero Honda product if you look at the entire Splendor family.
Bajaj Auto has been your biggest competitor for a long time. At the same time, Suzuki is also entering the market. How do you size up the competition in the days to come?
We expect Bajaj Auto to continue to be our biggest competitor in the coming years. As for others, we never take anyone lightly. Suzuki, which has been planning to enter the Indian market on its own, is also welcome. It is a huge and growing market with room for many players. Yamaha is a close competitor for Honda all over the world. However, Yamaha in India has not been a great challenge for Hero Honda, though it has been around for long.
You have been talking of entering the scooter market for a while. But the market is not growing and there are several well-established players. What will be your USP in this market?
We will launch our first product in 2006. Being a fairly late entrant, we will try to give a product that will be in the fast-growing segment within the scooter market. The scooter market has revived. But it will not be a huge market.
Our scooter will cater to niche demands that have been created by fast urbanisation. We expect that more and more women will be buying scooters for commuting within cities.
Honda has two operations in the country, one with you and the other through a fully owned subsidiary, Honda Motorcycle and Scooter India. How do you ensure that there is no conflict of interests in terms of product launches?
The two operations are independent of each other. However, we do sit and discuss on model launches so that we can complement each other in terms of Honda products in the country. Both of us use the benefits of the Honda R&D facility in India.
There is a lot we can learn from HMSI for our plans in the scooter segment, just like we can share our knowledge on the motorcycle market with them. We need not re-invent the wheel. Given the wide range of products offered from the Honda family with price gap between two adjacent models being thin, there could be some product cannibalisation that cannot be avoided.
Of late, there seems to be a new interest amongst Indian automobile companies to develop a low-cost car. Ratan Tata has talked about it and so has Bajaj Auto. Do you think it is possible?
The way raw material prices are going, it is not easy.
If it is developed, would such a product impact your motorcycle sales?
The initial investment needed from a customer for such a product would not be high. So, initially, people could go for that option. But you have to use and maintain a product. There the costs could be higher.