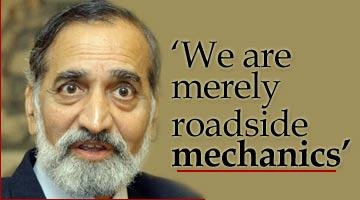 Kiran Karnik, President, National Association of Software and Services Companies, does not mince words.
Speaking to Manu A B in an exclusive interview, the Nasscom president laments that India has a zero-product base.
"Indians are merely going for software programming: it is like a car mechanic repairing cars, which is a tremendous ability. But while we can repair cars, we cannot design them! We are merely roadside mechanics," says Karnik.
How would you evaluate Nasscom 2005?
Nasscom 2005 saw an excellent mix of quality sessions and speakers. All the sessions were well attended. We have received a good feed back from the delegates. It also enables a lot of networking, interaction and sharing of ideas.
I have seen people discussing serious business. So, on the whole, it has been successful in generating debates and ideas to further business interests.
Does an event like Nasscom 2005 help bring in more investment into India?
I'm not looking too much at the business deals being signed up, though some of them happen through meetings like this. It is more a platform to give ideas, check out opportunities and threats, adopt better market models, understand what are the customers looking for, hold discussions.
It also helps in creating a database and knowledge base with which companies can promote their business as well.
Do you think that the President's call to capture 15 per cent of the IT market by 2008 is a realistic goal?
Well, I think a vision is very different from reality. A vision should be large. The President's underlying message was to dream big as he rightly pointed out that a 'small aim is a crime.' We have to think big, dream big and work hard at it.
One way to look at it positively would be to brainstorm on what can be done to achieve the President's vision.
DON'T MISS: Special series: India's best innovators!
During the last two days (at Nasscom 2005) we have discussed a lot about the poor infrastructure, roads, airports, etc. . . so we have to find out where the constraints lie, address those basic issues which are inhibiting growth, so may be we can achieve more than 3.5 per cent that Nasscom has projected to achieve in three years.
Where would you rank India the IT sector? When do you think will it emerge as an IT superpower?
India is a leading global player in the IT market. In the outsourcing business, India has emerged to be No 1. It is global in terms of services in the United States and the United Kingdom where it has a significant presence but if you take Japan, there is absolutely no service presence.
When it comes to IT products, India has a zero-product base. Indians are merely going for software programming: it is like a car mechanic repairing cars, which is a tremendous ability. But though we can repair cars we cannot design them! We are merely roadside mechanics!
If we compare India with China, there is a huge gap. China is today the factory of the world as it produces 50 per cent of the world's refrigerators and television sets, and about 30 per cent of the world's washing machines. India accounts for just 3 per cent.
Although we have a good share of the services business, in manufacturing and products business, India needs to go a long way to become a leading player.
How do we bring about a change in the existing system and see product innovations coming up from India?
Innovation is a key to this situation. We need to be creative. The underlying theme of the Nasscom meet is innovation. We are focussing on the small and medium enterprises sector, spotting talent and innovations from this sector.
We selected some of the best innovations and gave them a platform to display their product to major global players. We need generate intellectual property and promote creative ideas and patent them.
What steps will Nasscom take to promote these upcoming companies?
Nasscom does not have a role in giving them businesses. We have created an enabling environment. We have showcased them and given them a chance to display their products to an audience who could be potential customers or investors. It has generated a lot of interest already with vendors wanting to know more about the products.
How do you think can young entrepreneurs make sure that innovations are patented well in time and their ideas are not copied?
Patenting is a big issue and it involves detailed processes and capital as well. Upcoming entrepreneurs come up with great ideas but have no clue how to go about applying for a patent.
They do not know whether the idea is patentable, whom to approach, whether to apply for a patent on a global basis. . . We are talking to the government to grant loans to these entrepreneurs to patent their ideas as a global patent fee is about Rs 500,000 to 600,000.
This not a huge sum even if we have about 100 patents in a year. We have got a positive response from the government. We need to kick-start this process and encourage more people to go for patents because if the idea is not patented, some else can copy the idea and patent it and sue the original creator.
We have had the haldi (turmeric) patent experience in the past. We were using it for so long and then finally someone else patented it.
What role should the government play to promote innovative companies?
Capital is an integral part of any venture. At the same time, risk taking of Indian companies is very low. We need to take more risks. We can increase that by actually trying to decrease risks. The government should act as an insurer.
I have made a simple suggestion to the government, for all the angel funding to companies, the government should be willing to back up two thirds of the loss suffered by the company in case of a failure.
The risk assessment can be done by a professional who would ensure that the venture does not end up as a failure. These kind of simple steps will go a long way to help upcoming innovative ideas to translate into successful ventures.
Which sector in IT has the best potential for growth?
I believe BPO (business process outsourcing) has tremendous potential. To be more specific, it would be knowledge process outsourcing which includes business informatics, market research analysis, customer behaviour pattern or analysis of stock markets wherein you are executing a higher order of work in back office operations and are combing domain expertise with IT expertise.
The other area, which has a bright future is engineering design services. As we have a sound base that we have built from the 50 to 60 heavy engineering bases like steel plants or power projects.
A strong engineering base combined with IT would result in great opportunities. Engineering and design service is growing and even if we are able to capture a fraction of this market, it would be a great boost to the economy.
What are your expectations from the Budget?
For the IT sector, we do not want the government to do anything. The existing environment is good. The government should not take any steps to mess up the present environment.
The only issue that concerns us is BPO taxation: the proposal to tax the parent company that outsources any work to India.
If a company outsources any work in India, this proposal would tax the parent company for the profits that they made by selling the products, though only a part of it is made in India and the Indian counter part has already paid its share of taxes.
For instance, if a part of a Nike shoe is made in India, the proposal says Nike could be liable to pay taxes for the profits it made by selling the shoes. This scares foreign companies as they have set up captive centres or outsourced major contracts to India and they don't want to be taxed.
We have asked the government to review this, as it will hinder the growth of the BPO sector. We have already discussed this issue with the government and hopefully this should not come into effect. The government should also allocate more funds for education and infrastructure.
How has the transition been for you from media to IT?
Working in the media was a very interesting experience with its own excitement. I miss the media. This is a different challenge as a good part of the job is brand building. While working with the Discovery channel, the challenge was to make dull documentaries interesting and lively and appealing to a larger audience. This role helps me in a brand-building exercise for India, promoting India as a high-quality, low-cost destination for global players.
What is your vision for India?
We have not capitalised the inherent potential of our country. We need to do that in a humane and caring manner. One cannot live in an island of prosperity by oneself.
The prosperity should be passed down to others. The IT boom has created a lot of wealth, which unfortunately has created a bunch of young people who no longer care for others. The bane of the western culture may be seeping in as the younger generation doesn't respect or care for others' welfare and development.
These are the dangers that we need to look into as we move forward. On the other hand we have a good majority of people in the industry, who during the tsunami disaster were willing to go out to the affected areas irrespective of fear of epidemics to help out the distressed in every possible way apart from just giving donations.
Any progress or development should benefit the masses, only then can the country call itself a developed nation. We must all strive toward this goal.
A seven-year-old kid was asked how do you want to live when you are 21, and she said I want to live in a developed country. She was actually referring to India.
Ultimately all our goals must be towards building a strong and developed country.
Photograph: Indranil Mukherjee / AFP / Getty Images
Design: Rahil Shaikh