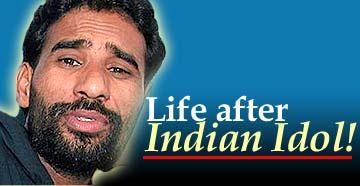 There was a time when Ravinder Ravi stood in line to buy the ration and pay electricity bills, to save enough money to send his children to school and to make ends meet.
"The struggle", he says, "made me weep." It was an overdose of desperation that drove Ravi to catch the 10.30 pm bus from Ludhiana to New Delhi on August 17, 2004 after he borrowed Rs 300 from a friend to reach the gates of National Stadium, New Delhi where the auditions of Indian Idol were taking place.
Two months after he was voted out, Ravi, the house painter from Ludhiana and the most loved and controversial contestant of Indian Idol, is getting used to a new life.
A life complete with audience adulation, stage shows in smaller towns like Indore, Mandi and Jalandhar, and what he describes as, "an overall improvement in my lifestyle".
The changes are indeed immense. For starters, Ravi has been approached by a leading paints company to advertise their product. "I'm still negotiating," he tells us excitedly.
Sources say the company is Nerolac Paints. Ravi still finds it hard to believe every time a fan comes to him for his autograph. "It takes me a little longer than other celebrities to sign my name in English," he explains.
There are other changes too, such as getting used to sleeping in AC rooms, learning to function the "complicated showers in hotel rooms and unlocking the hotel room door with a swipe card and not fumbling with my fingers to look for the key-hole".
Gone are the days when he borrowed money from relatives to travel in rickety buses "only when absolutely necessary". "Now," he says, "I only fly." He's got plans to buy a Maruti car and wants to do something to the house "to make it look better".
But the biggest change in Ravi's life post- Indian Idol? "Ab zindagi mein aaram hai," he says. "Now life is comfortable."
Ravinder Ravi may not have bagged the booty of Rs 1 crore (Rs 10 million) from Sony Television as part of the Indian Idol contract but as the contestant of this show he has inspired millions of people from far-flung areas to dream.
His own dream has catapulted him to almost iconic status, especially in Punjab, and has made his once "kachha" home close to a tourist spot. "Vo Ravinder Ravi ka ghar hai," ("That is Ravinder Ravi's home") is a favourite line of Ludhianawallas.
For most people in his area however, the favourite line is, "Vo hamare rishte mein hain" ("He is related to us").
Almost everyone in Ludhiana wants to be associated with Ravi, the man who is the latest hero of a rags-to-riches story courtesy Indian reality television.
Whether it's a desire to get their moments of fame or it's actual disgust towards a man who some claim "has changed overnight ever since he tasted momentary fame" or greed to hog a share of the booty, the point is that Ravi has managed not only to create but also sustain a buzz around him long after the show drew to a close.
Interestingly, Dara, who claimed to be Ravi's brother during the show has suddenly turned out to be a "far-off relative who has nothing to do with Ravi anymore."
Why? "Not even once since he started giving interviews has he acknowledged our role in his journey from Ludhiana to Mumbai," cries Dara. He tells us that he has a full-fledged contract with Ravi who is part of Simran Audio Company, "a music company that I started with another relative only to float Ravi as a singer."
His money, "all of Rs 250,000," he asserts, "is lost." The hurt and anger is obvious as Dara tells us: "Do a real exposé on Ravi. There are so many people who have suffered because of him.
His aunt's son left his government job to help him make a dent in his music career and not even once has he (Ravi) mentioned his name anywhere."
Does Dara feel success has changed Ravi? "It changed him while he was on the show. He became so high-headed that it ultimately back-fired. Why else do you think he fared badly in the gala rounds?" Dara argues.
Could he have a point, especially since Ravi did fare very badly during the gala rounds? He had been a favourite contestant of the judges and Farah Khan once remarked, "I find myself lucky to be a judge having selected you for the contest."
However, the tables turned when Ravi started performing for the gala rounds along with the other 10 contestants. "You're singing flat," remarked Sonu Nigam when our Ludhiana lad sang completely off the pitch in the first gala round.
While the judges were sure he would be the first contestant to be kicked out, the people who were religiously voting made sure he remained in the top five.
Mini Mathur, the anchor of the show, reasons, "We had announced that the top five contestants would get Rs 60,000 from ICICI and I feel the public wanted Ravi to get that money and that's why they ensured that he remained in the top five positions."
This, in turn, meant that other talented contestants who had given better performances were ticked off by the public. Vishal Kothari, the first contestant to be out of the show, still harbours a grudge.
"I wish I wasn't the first one to go. I feel I missed out on a lot of publicity that others managed to create by being on the show for a longer time." Gradually, the judges started reacting sharply every time Ravi came on stage.
"I have nothing to say to you because it seems our words carry no weight and the people of India seem to love you," said Anu Malik in one of the episodes. Farah made scathing remarks, "I hope the people of India realize that they have to vote for someone who will represent the country. It's high time we started acting in a mature manner instead of being emotional fools."
While everyone still wonders what went wrong with Ravi during the most crucial stages of the contest, the man in the line of fire says, "Those were the times when I was dying to get out of the show."
He feels he lacked the technical knowledge of music and singing on tracks with camera lights on him was something he was not prepared for. "The pressure to perform," he says, "was immense and I knew people were being extremely supportive of me by showering their votes on me".
Which is why Ravi became the most talked about contestant on the show. For a show that aimed to highlight a complete package of good singing with looks and attitude to match, one wonders how the small-town Ravi managed to pull it off for such a long time.
The singer from Ludhiana is taking no chances this time. He is now learning to "read and write proper English so that I can communicate with people directly when they approach me for shows".
He has his passport ready and is waiting for confirmation for his first show abroad. "According to the original script of the show, the top five were slated to go to Dubai. That didn't happen because I didn't have my passport. Now I'm prepared."
How does he react to the controversies that are simmering in Ludhiana and irritated relatives like Dara? "I don't think I even have the time to react to their statements. Sometimes," he pauses to add, "one needs to pay the price of being a celebrity."
Touché.
Powered by