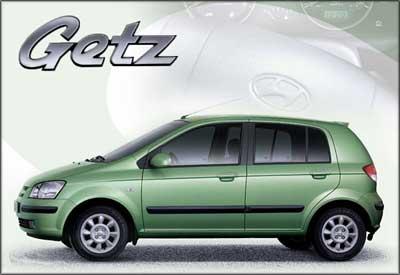 Hyundai Motor India Ltd (HMIL), India's second-biggest carmaker, on Friday launched premium hatchback Getz to enlarge its product portfolio and boost sales.
The 'Getz', which would be available in two variants -- 'GL' and 'GLS' -- has been priced at Rs 4.5 lakh (ex-showroom, Delhi) and Rs 4.75 lakh, respectively, HMIL Managing Director Byong Ho Sung said at a press conference in New Delhi.
The company, which is investing $220 millon to ramp up production capacity to 250,000 units at its plant on the outskirts of Chennai, aims to sell 8,000 units of 'Getz' this fiscal.
By October-November, the capacity of the A2 line, on which 'Getz' would be produced along with other models like mid-size sedan 'Accent Viva', premium sedan 'Elantra' and luxury car 'Sonata', would be increased to 2,000 units from 1,000 units now, HMIL President B V R Subbu said.
The Indian arm of the Korean firm aims to sell 220,000 units this year while its export earnings is likely to be Rs 1,700 crore (Rs 17 billion).
"We should sell 220,000 units this year in spite of the three month production blip," Subbu said. HMIL also aims to achieve 20-22 per cent rise in sales turnover this year from Rs 6,000 crore (Rs 60 billion) last year.
Keeping in view the growing demand, Sung said the company might look at second phase of expansion by the beginning of next year.
HMIL suffered production loss during April-June this year due to expansion exercise at its plant.