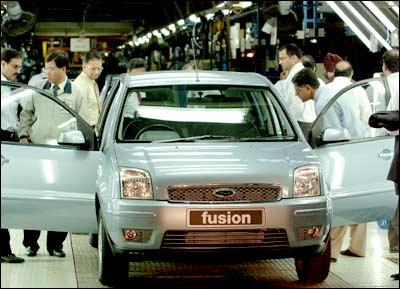 Ford Motor India on Thursday said that its urban activity vehicle Fusion would be priced at Rs 620,000 (ex-showroom, Delhi), adding that it would wipe out accumulated loss in the next three to five years.
The premium version of 'Fusion', a mix of a sports utility vehcile and a sedan, would cost Rs 75,000 more, Ford India managing director and president David Friedman told a news conference.
The Indian arm of the second-biggest US carmaker, which plans to post net profit this year on an investment of Rs 1,700 crore (Rs 17 billion), will also launch 'Hurricane', a variant of SUV 'Endeavour' this month and a version of luxury sedan 'Mondeo' early next year.
Asked how much was the accumulated loss of the company, Friedman declined to quantify the amount.
The company aims to sell 500 to 1,000 units of 'Fusion' initially, which will be ramped up gradually.
With the launch of 'Fusion' and the company's projected sales of 27,000 units of 'Ikon' sedan this year, Ford Motor has started second shift of production at its plant on the outskirts of Chennai.
"We will study the response for 'Fusion. We may look at the third shift of production," he said.
Ford Motor has sold 20,000 units during January-October 2004.
"We have been making cash profit for the last three years," Friedman said.
Since the company has become cash positive, Ford India had already started investing in product development, he said.
'Fusion', which has 70 per cent local content, will be available to customers from December.
'Fusion' was India's first urban activity vehicle, Ford Motor vice-president (sales and marketing) Vinay Piparsania said.
'Fusion' comes fitted with a 1,596cc engine.
People take a closer look at the Ford Fusion car in the Ford India plant in Maraimalali Nagar some 45kms south of Madras.
Photograph: Dibyangshu Sarkar/AFP/Getty Images