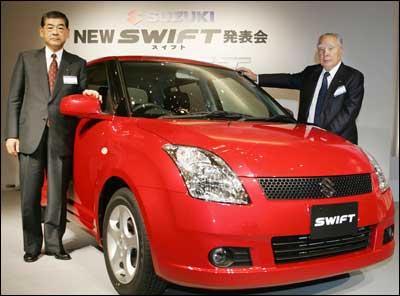 Maruti Udyog is all set to launch the Suzuki Swift in India. The new Swift took its own sweet time coming and it is so advanced that the concept car that spawned it looked like an unrealistic contraption.
The car is based on the Concept-S2 unveiled at the Paris Motor Show. It is wider and longer than the small cars we know (read Zen, Alto) and is not as tall as the tall boys. The new Swift should reach Indian shores before the next festive season, and from the look of things, is worth saving your money for.
It is difficult to be creative when small car design is now dictated by strict crash-worthiness and pedestrian safety norms. But then if someone knows how to design small cars, then it has to be the masters from Hamamatsu, right?
So you get a hatchback that looks hot-rod clean on profile, sports-car sharp from front three-quarters and a tad French (Renault Avantime, Megane) from rear three-quarters.
There is more than a hint of the hyper-successful retro-chic new Mini in it too and we are in love with the blacked out A-pillars which look surprisingly narrower than those in, say, the Hyundai Getz.
The vertically stacked headlamp-turn indicator units, the pleasant honeycomb grille with a chromed-out Suzuki badge gives it a handsome and cheerful visage too. One happy car, the new Swift is!
The interior is surprisingly roomy and well appointed too. Traditional dials share space with a sophisticated dashboard that carries a plethora of buttons and a neat display very well.
Power for the Swift comes from a range of petrol engines (a 1300cc 85 bhp lean-burn unit is the front runner) and a spanking new diesel motor.
The 1300cc diesel engine co-developed with Fiat would take the Maruti-Suzuki combine to the magic land of direct injection diesels where performance and fuel efficiency are two sides of the same coin.
At the moment, the Swift is being built at the Magyar Suzuki plant in Hungary and has been through extensive tests in Europe before being launched there.
It will also be manufactured in India, China and Japan.
The Swift will, when it is launched in India, compete with the Hyundai Getz in terms of price and size. Expect exceptional build quality, fuel efficiency and reliability to be the virtues of this new Suzuki.
So is it worth waiting for? Definitely yes! -- Business Standard
Suzuki Motor Co President Hiroshi Tsuda (L) and Chairman Osamu Suzuki introduce the new sporty hatchback Swift, equipped with a 1.3 or 1.5 liter engine at a Tokyo hotel November 1, 2004. Suzuki's global strategic car Swift will be produced in India, China, Hungary, and Japan. Photo: Yoshikazu Tsuno/AFP/Getty Images