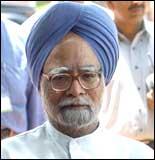 In what could be a good omen for the new Congress-led coalition at the Centre, incoming Prime Minister Manmohan Singh on Thursday hailed Left parties as 'great patriots.'
"Our friends in the Left have a different perception of past economic policies, but they are also great patriots and that patriotism and burning desire to make this century the Indian century is something I see common to all Indians," he told reporters in New Delhi.
Asked about the divergence in the economic policies of the Left and the Congress, particularly on issues like divestment, Singh struck a philosophical note saying, "Life is never free of contradictions."
Taking from the coalition philosophy, he said: "I am confident that our Common Minimum Programme will provide a basis that unites us. I don't see any problems in working out a programme which is forward looking, progressive and growth-oriented."
"The CMP will create an environment that was investment-friendly. There should not be any misgivings in this regard," he said
Emphasising that the mandate for strong, stable and secular government would keep allies and Left Parties 'united,' Singh said that every one of them was waging a 'relentless war' against 'poverty, ignorance and disease.'