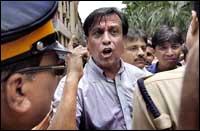 The scene outside the Phiroze Jeejeebhoy Towers (the Bombay Stock Exchange building) at Dalal Street in Mumbai resembled a battlefield.
Hundreds of livid traders and small investors, for the first time in the exchange's 130-year-old history, protested vociferously outside the BSE building against the Congress-led alliance.
There was a sense of doom, gloom and despondency amongst the market players. They had lost billions as the Indian stock market went into a free fall.
Ramesh Shah, a stockbroker at the Bombay Stock Exchange, had a foreboding that some bad news awaited him this morning but he never expected that Asia's oldest stock exchange would shut down its operations for three hours and his earnings would take a huge dip.
"I knew that this new government will not be market-friendly, but I never thought that something this bad will happen to the stock markets. (Prime Minister-designate) Sonia Gandhi is bad for our country and also for the economy. Sonia Gandhi and all her allies have no economic programme," says Ramesh.
"Everyone is panicking here with communist leaders making statements like they will disband the divestment ministry and not let labour reforms go through," Ramesh rues.
Asked how much money he lost, his broker friend Asmit Desai intervenes and says, "He has lost 'ek khoka' (Rs 1 crore or Rs 10 million) and I have lost around Rs 50 lakh (Rs 5 million)."
"This is all because of Sonia Gandhi. She has no sense of business and economics. She should have laid common minimum programme first and only then allowed these senseless Left leaders speak about economic policies. Because of their statements, FIIs (foreign institutional investors) are running away from the market. Both of us have lost money in blue chip companies like ONGC and Infosys," laments Desai.
Unlike Ramesh and Asmit, who were at least patiently explaining their woes, there were many others -- brokers and investors -- who were shouting slogans right outside the Bombay Stock Exchange on Dalal Street against Congress president Sonia Gandhi and her party.
They then turned their attention to the reporters and blamed them for their sorry plight.
"Why are your satellite television vans and reporters here? Get out of here. We have lost everything and you have come to report and make money out of our sorry plight," said an angry stock broker.
"Why do you want to know my name? You will come to know tomorrow as many of the brokers would have committed suicide by then. Read the newspaper then," shouted another broker.
Soon a group of four brokers ran towards the reporters and snatched their writing pads and told them to get out of the area. Some of them also heckled television reporters and told them to not project a good image of Sonia.
"Your exit poll results has ruined us and the statement of communist leaders on television channels have driven away FIIs. Why do you call these communist leaders to you television studios? These communists have driven away investment from West Bengal. What have they given the country?" shouted another broker.
The police soon arrived at the scene in force, fearing that the situation would get out of hand as the brokers seemed to be turning highly agitated.
The policemen cleared Dalal Street after telling the brokers and reporters to get out from the BSE building.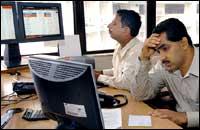 Ramesh Bhojwani, another broker, was more angry with the capital market regulator -- the Securities and Exchange Board of India -- as it "did not intervene or do anything to stop the market from falling heavily, leading to the suspension of trading twice."
"Since morning Rs 3 lakh crore (Rs 3 trillion) has been lost and the government could not do anything. Everybody here wants to quit and run from this market. The Congress has senior leaders like Manmohan Singh, Pranab Mukherjee and P Chidambaram. They understand the markets, but they did not make any statement to prevent the fall of the Sensex," cried Bhojwani.
Soon Manmohan Singh, who might be the new finance minister, made a strong statement saying that the new government will be pro-growth and pro-market. He also said that the stock market should find stability in the new government policies. He warned that if Monday's market crash is because of manipulation then the offenders will be taken to task.
"Our policies will ensure stock market stability," said Manmohan Singh and his word soon started spreading like wildfire.
When the market reopened around 1.30 pm it started gaining points on assurance from his statement.
Bhojwani said, "What is the point in making any statements now? It is too late. The markets don't wait for statements that come so late. These declarations must come when the panic is on and not be delayed so much. It is sad that the Congress-led alliance has not even come out with common minimum programme till now."
"They should have made economic policies clearer and only then allow communists or any other leader to comment on their views on television. By not doing so, the country has lost crores of rupees," said Bhojwani.
Manmohan Singh's pep talk and some heavy buying by the Life Insurance Corporation of India and the Unit Trust of India, the markets gained some of the lost ground but still ended a whopping 564 points down from the previous trading day.
This was the Sensex's largest ever single-day fall in its history.
"'When FIIs were investing billions of dollars in India, we said India is shining. Today they don't like what they are hearing about divestment and Leftist policies. So they are leaving, and we can do nothing about it," said another sad investor.
The crash of the stock market is a reflection of the market's loss of faith in the next government's economic policies and perceived uncertainty over the future course of reforms, say analysts, fearing that this could lead to a payments crisis in the stock markets.
"The genesis (of the fall) is the statements made by the Left leaders on reforms. I do not rule out a payments crisis if such a huge fall continues unabated. However, I believe the market has enough systems in place to avert such crisis if it happens. Like, the trade settlement guarantee fund should be able to take care of it," Apoorva Shah, senior research analyst, Prabhudas Liladhar Securities, said.
"It is simple, broad-based panic. Over the last two trading days (Friday and today), the market has lost about Rs 3 lakh crore. And it is unlikely, at least as is evident now, that the market will recover any time this week," Kavi Kumar, senior research analyst, Indiabulls, said.
This could well be compared to the Great Depression of 1929, he said. "Today's stock market crash is a reminder of that; the idea that a 'bear cartel' operating to pull the market down is hypothetical. The problem is bigger than that. The statements made by the Congress' coalition partners, like the Left, have all the potential to destroy the market," Kavi Kumar said.
He said comments by senior Left leaders, like A B Bardhan's statement 'no divestment of profit-making PSUs', Sitaram Yechuri's view that only 2 per cent of the population invest in stock markets, and the silence of the Congress who is the original reformer party on this critical issue have added to the nervousness.
The market also feared that reforms and development agenda would take a backseat under the new government, Kavi Kumar said.
The crash was due to two reasons -- election results were a surprise and the concerns over political stability, Arup Raha, head, equities, JP Morgan, said.
Dina Mehta, former vice president, BSE, suggested that short sales should be banned for two to three days to contain volatility in the market.
 "There is no bear cartel as is being talked of. There is a panic in the market because of perceived ideological shift in the progressive policies of the government," one analyst said.
Additional inputs: PTI