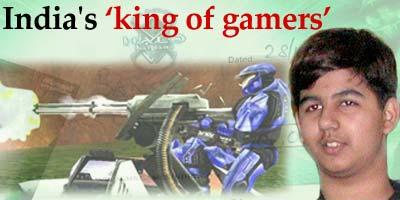 In the world of computer gaming, 13-year-old Nickunj Bansal is the 'Final Element.' Or so his nickname proclaims.
It is a rather appropriate for someone who was recently crowned 'the king of gamers' in India.
After battling over 4,000 contestants from across the country, Nickunj won the Halo Multiplayer Championship that was organised by Microsoft Game Studios and Reliance WebWorld.
Halo is an action science fiction epic adventure that Microsoft launched for the personal computer in October last year.
Here's a synopsis of the story line for the game: A fellowship of alien races known as the Covenant is determined to destroy humankind. The Covenant is wiping out the Earth's fledgling interstellar empire. As the player, you and the other surviving defenders of a devastated colony-world make a desperate attempt to lure the alien fleet away from Earth.
Shot down and marooned on the ancient ring-world, Halo, you have to begin a guerilla-war against the Covenant. The stakes are high as you are fighting for humanity against an alien onslaught even as you race to uncover the mysteries of Halo.
Worldwide gaming is a huge business. Not just in terms of sales, but for the kind of fanaticism and passion that gamers exhibit.
Nickunj embodies that. Everyday, after school, he plays games on the computer for four to five hours.
That kind of dedication has paid off. Nickunj has not just won the Halo championship in India, but he was also the winner of a gaming championship for WarCraft, another popular game.
It was only three years ago that Nickunj started playing games on his computer.
Soon he discovered a gaming cafe nearby called 'Gamecafe,' which also happens to be the only one of its kind in Chennai. A gaming cafe is a cyber cafe that is dedicated to just gaming. Gamers converge on the cafe to play computer games over high speed connectivity and LAN.
"My brother and I used to go to the gaming cafe to find out game codes and cheats. That's how I started getting into the world of gaming in a big way," says Nickunj.
Soon Nickunj was playing 3-4 hours of games on the computer every day. His first game was Quake 2 and soon he moved to WarCraft.
"I play almost all the games but WarCraft is a favourite," he says.
Nickunj's parents were initially worried about the amount of time he spent on computer games. But after he won a few local gaming tournaments held at the nearby cafe and even one that was held in Pune, they supported him.
As the winner from India, Nickunj went on to participate in the World Cyber Games finals held in Korea in December 2003.
His interest in Halo was piqued when he heard about the championships.
Halo itself was launched worldwide on the PC platform in October 2003.
With the championship scheduled in December, Nickunj didn't have too much time to get it right. But he practised hard and played the game for nearly four hours every day trying out various strategies.
"There's a difference between playing for fun and playing seriously. When you play for fun you can try out new strategies and experiment. But when you are playing seriously you have to play fast. Speed is the main thing. You should aim fast and your reflexes need to be quick," says Nickunj.
On its part, Microsoft did try to offer participants in the championship in India eight hours of free practice to the game.
Over 4,000 contestants turned up for the championship. The championship was conducted across seven Indian cities: Delhi, Mumbai, Chennai, Hyderabad, Pune, Kolkata and Bangalore.
The finals were held on December 28 at the Dhirubhai Ambani Knowledge City in Navi Mumbai.
Nickunj emerged as the all-India winner will get a cash prize of Rs 100,000 as well as all-expenses-paid trip to Los Angeles to participate in the Worldwide Halo Championships Final.
Nickunj believes that his experience that helped him win the championship in India.
"Experience is very important -- it helps you decide what strategies you should use and how to react," says Nickunj.
Held in Los Angeles in February, Nickunj represented India in the Worldwide Championship where 19 best-of-breed gamers representing nine nations were competing.
At Los Angeles, though, there was to be no victory for Nickunj.
"I was jetlagged and tired. I could not react quickly enough. I almost gave up on the game after a point. I was really tired," says Nickunj.
Microsoft's manager for home and entertainment division in India, Mohit Anand, agrees jetlag could have played a very strong part in Nickunj's poor performance at Los Angeles.
"When you are playing at that level, it can be very exhausting. It is a test of skill not luck. Nickunj was the youngest contestant in the championship in the United States and his participation itself made a statement," says Anand.
With the Rs 100,000 that he won as prize money in India, Nickunj plans to buy a state of the art computer machine: a P4 3 GHZ, 1 GB RAM, 160 GB hard disk drive and 400 MHZ SSB that he will use largely for gaming.
More than prizes, winning the championship in India and participating in the competition in the US has made Nickunj a hero among the gaming community in India.
"There is a lot of friendly jiving that happens online when players get together. There's a lot of friendly banter that goes on in the community. And there's something that bragging rights. By winning the championship in India, Nickunj has got the bragging rights. It does confer on him a certain status in the community," says Anand.