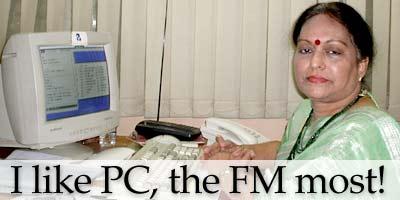 With the annual fiscal festival -- the Union Budget -- just round the corner, there is anticipation in the air. For the next few days, the entire nation will be looking up to one man who will draft and craft the economic fate of the country: P Chidambaram, the Union finance minister.
To see if the same air of aniticipation pervaded his own house, we visited the Chidambaram residence when Swamy Associates, our representatives in Chennai, managed to get an interview with the finance minister's wife, Nalini Chidambaram.
Nalini Chidambaram is a leading lawyer in her own right and focusses on Customs and Excise matters apart from Income Tax.
In an exclusive interview with Jai Kumar, G Natarajan and M Karthikeyan of Swamy Associates, for taxindiaonline.com, Mrs Chidambaram answered the questions with candour. Excerpts from the interview:
How easy or how difficult it is to be the wife of a celebrity, being a celebrity yourself?
It is not at all difficult. On the other hand it is a pleasure to keep seeing one's husband daily on the TV and the media.
For us you are a multi-faceted personality. A representative of the Indian women, legal luminary and wife of the Union finance minister. . .  What would be your expectations from the forthcoming Budget as a common citizen?
As a common citizen, I am concerned about the lowering of interest rate on bank deposits since most people who do not want to speculate are dependent only on the interest income.
At least for the senior citizens and non-pensioners a higher rate of interest can be given on bank deposits, otherwise they are bound to be tempted to make deposits with non-banking financial institutions and land up losing their principal too.
Also I feel that the government should utilise 50 per cent of the amount set apart for the farmers as loan for setting up village industries so that the farmers will have something to fall back upon in times of drought.
As a leading lawyer and a socially responsible citizen, what do you expect from the finance minister of India, in the ensuing budget?
Reforms. But to use the oft-repeated cliche, reforms with a human face are most welcome.
As the wife of the finance minister, what do you expect from your husband in the ensuing Budget?
There is no particular expectation from the Budget as a finance minister's wife. But, of course, I would like to see that his budget pleases more than it displeases and the budget should be considered as a dream budget for most people.
What do you think should be the top three priorities of the finance minister in the ensuing budget?
Reduce fiscal deficit, focus on economic growth and remove unwanted departments in the government.
Do you think that women getting an exclusive rebate of Rs 5,000 in income-tax is justified?
I do not justify concessions for women in matters of taxation.
Do you think the petrol hike was reasonable?
It was unavoidable. The issue is tied up with petrol hikes worldwide and OPEC (Organisation of Petroleum Exporting Countries) now.
Your husband once said that now there is hardly anything an FM can do about taxes and revenue as they are almost settled down at fairly standard rates. What he can do is allocate funds for the right purposes. If there is one area for which you would like the FM to allocate large amount of funds, what is it?
The government has allocated about Rs 100,000 crore as loans for the agricultural sector. I wish that the government invests at least 50 per cent of this amount towards setting up rural / village industries instead. This would serve as an alternative means of income for farmers in the event of drought or failure of rains.
Do you contribute anything in your husband's duties as the finance minister of India?
My husband will not tolerate any unwarranted interference in his work as finance minister. He will not like me to take advantage of my position as his wife and start giving ideas on the budget in my individual capacity. Hence like all members of the public I keep guessing about the probable proposals in the budget.
What would be the mood of the FM around the budget. Would he find time to be with the family during the crucial period? Does he share any of his plans with you?
I do not think his mood is any different during budget time. My husband is a perfectionist and he takes everything he does very seriously. Needless to say that budget preparation is taken most seriously by him. He has always been a busy person and he never had much time to spend with his family.
I do not think any finance minister would have discussed budget proposals with his family. At any stage I do not expect my husband to discuss budget proposals with me. In fact, on account of this, I feel free to talk about the budget since they are my views and not of my husband's.
What is your view on the political aspect of Mr Chidambaram: his decision to part ways with the Congress and later his parting ways from the Tamil Maanila Congress, the initial controversies over his fielding by the Congress, etc?
I was happy to see that within the constraints of electoral politics he is one politician who had stuck to his principles in the matter of alliances and I am proud of it. His formation of TMC and thereafter the CJP (Congress Jananayaga Peravai) were all borne out of his principled politics and I appreciate it.
Which PC do you like the most: PC, the politician, or PC the finance minister, or PC, the Lawyer?
PC, the finance minister.
If you happen to be in his place, how would PC react to your decisions?
I cannot imagine such a role for him and hence my mind boggles at that thought. Maybe he will pity the fate of the nation since he has seen that I have not been a good finance minister of the household!
Do you argue with each other? On what subjects? Whose view prevails?
We do not argue much with each other. Of course, his views will prevail in the house. But I have never felt restricted.
If PC is going to argue a case against you, how would you rate yourself against him?
I have lost one case against him. I am yet to settle the score. Clients feel I will give up the case if I appear against him. But it is not true. I would strain every nerve to succeed against him. It once happened when I was the Income Tax standing counsel. An assessee had engaged him in an income tax matter.
When the CIT learnt about it he felt that I would be intimidated by my husband's presence and not argue properly. CIT asked the CBDT to permit him to engage a senior counsel instead of me. I felt very hurt and objected to the CIT. But it was too late since the CIT had already assigned the work to another counsel. I missed a good opportunity because of the traditional male attitude of the CIT which prevailed about 20 years ago. But now attitude in general has changed.
What is your role in supporting the person, who is holding one of the toughest posts in the country?
My role will be just not to be a nuisance to him. I will not be making any positive contribution since he will not relish any interference in official matters by his family members.
It is said that even the best of FMs cannot draft good domestic budgets. Who is the FM at your home. You or he?
There is no finance minister at home. The house gets run on its own since both of us are working.
For the netizens, can you recollect your younger days when you both fell in love?
That was a very interesting phase in my life which I cherish very much. Life was just full of joy and happiness. I remember with affection and nostalgia the time when we first met and love was in the air. I feel sorry for people who have not been hit by Cupid's darts.
You are a high profile and a successful legal practitioner. Tax laws have been your favourite subject. We were informed that, as your husband heads the finance ministry, you are not going to practise on the subjects and areas coming under FM's domain. What prompted you for such a sacrifice?
Sacrifice is a misnomer. It is not a case of being influenced by him in my professional duties. As a matter of probity in public life, I have taken such a decision. Of course, my favourite subject is taxation: Income Tax, Customs and Excise are the branches I like the most. But I want to instill confidence in the minds of the people about politicians' families.
I want to impress upon the public that political families can also be honest. I think Dr Manmohan Singh and my husband are epitomes of efficiency and integrity. I do not want to again use a cliche -- but such a combination is rare in politics.
With more and more youngsters coming into politics I feel that the stock of politicians will go up since youngsters are idealists.
Powered by