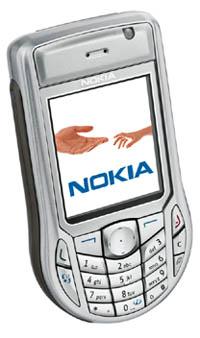 Making the person-to-person mobile communication richer, dynamic and versatile, Nokia on Tuesday unveiled its latest range of new products in Singapore including world's smallest megapixel phone 6630 with Third Generation (3G) technology.
Besides 6630, the world's first mobile to combine the benefits of enhanced speed and smart phone features, Nokia, which at its 'connection-2004' event showcased its products with services like real time video sharing always-connected e-mails, live video streaming and video conferencing, made the implementation of 3G technology a reality for a growing number of people.
The phone is tentatively priced at about $600 (Rs 27,500) and Nokia is likely to launch the model in India too.
Explaining that an essential enabler for convergence was enhancing the capability of mobile networks -- such as transition to 3G, Nokia Corporation President Pekka Ala-Pietila said: "digital convergence marks the creation of a new industry, that of mobility, and Nokia aims to be the leading company in this new industry that is wider and more versatile than mobile telephony alone."
Among other products, the company launched several innovative clamshell phones -- 6260, 6170 and 2650 to appeal to style-oriented Asian consumers and 2600 that comes with affordable colour display and relevant feature sets to help drive mobile phone adoption in new growth markets.
The new models would be available in the market in the next three months, Nokia officials said.
Achieving a first for the Asia-Pacific region, Nokia also showcased a live end-to-end mobile phone 7700 TV broadcast over a handheld Digital Video broadcast which would be introduced at the pilot level in 2005.
The event with theme 'live, work and play the mobile way' reflects Nokia's aspiration to help consumers and business of all types takes advantage of wireless communications to enhance their personal and work lives.
"Our key strategies in this new industry phase are -- expanding mobile voice, driving consumer mobile multimedia and bringing mobility to enterprise alongside with evolving network technologies," Pekka said.
The company also announced the Asia-Pacific availability of the latest introductions to its family of high performance network security platforms, the Nokia IP2250 and Nokia IP1220, designed to handle the increased high-volume traffic levels of larger sized enterprise, service provider and data centre sites.
Key features
3G speed with Series 60: WCDMA+EDGE broadband access
Quad -band phone for use on five continents
Improved 1.23 megapixel image capture with 6x smooth zoom and sequence mode
Video recording time up to 1 hour per clip
Video editing with Nokia Video Editor
Movie Director application for automated fun video production
Web browser with improved HTML support
Direct printing at home, office, retail kiosks
Hot swap Reduced Size MultiMediaCard (MMC) for data storage
Multimedia Messaging (MMS)
Enhanced Media Gallery for storing photos and videos
Help application for usage tips and hints
Data Transfer application for moving contacts, calendar, images, videos and voice clips
-- PTI