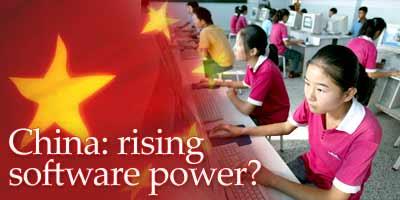 Is China a threat to India's software services industry? In all likelihood, no. China's software industry is fragmented, at an early stage of development, and focused on the domestic market. There are some exports, but mainly to Japan. The emergence of an industry similar to India's is unlikely.
What are the factors holding China back as it tries to develop a competitive software industry? They are the same reasons why China isn't yet an important market for the global software vendors.
Chinese enterprises don't like to pay for software, which they consider an intangible. Yes, Chinese companies are gradually buying more pure software as opposed to bundled hardware-plus-software packages, but any sale of software in China is still an uphill task.
That's also because Chinese companies don't need software as much: they don't yet have highly complex internal processes or rely on technology to gain a competitive edge.
SAP, for example, derives less than two per cent of revenues from China. While Indian software services companies do implement SAP for multinational clients in China, and while there are products similar to SAP in the Chinese market (from vendors like UFSoft and Kingdee), local companies are not big users of technology.
Generally speaking, their main proposition is low-cost labour. It is true to say that China is an incredibly competitive market, but that's because some state-related firms enjoy preferential status, such as easy access to bank loans. This allows them to compete on a non-commercial basis.
The answer to fierce competition in China is not to beef up your technological prowess and improve efficiency; it is innovation and cutting costs to survive a war of attrition. The software talent pool is also much smaller than India's.
Finally, piracy -- an issue not only for consumer software companies like Microsoft, but for vendors of industrial-use software, as well. Pirated products sold in the street include even high-end electronic design automation and computer-aided design tools.
There is one source of significant demand for software in China and that's the telecom industry. There are over 300 million mobile subscribers, for example. Several million new users are added each month, putting a strain on the infrastructure of carriers. Software is critical to support the growing number of users as well as services.
This is good news, but there is also bad news. China has only a handful of carriers, and they hold tremendous bargaining power. They take their time to pay, for example. Procurement above certain amounts is centralised but other decisions are taken at the provincial or even local level, where relationships count.
This has resulted in a fragmented landscape on the side of the software solution providers. Their fragmentation is not only incidental but also structural, determined by the low capital intensity (except with respect to working capital) and variable-cost nature of the systems integration business.
Chinese service providers handle these challenges in one of the two ways: some, like AsiaInfo, a Nasdaq-listed industry leader, strengthen their software offerings and branch out into new verticals, away from telecom, often through acquisition. AsiaInfo now offers human resources software to airlines and energy companies, for example. Other players stick with telecom but play an integrator role, staying away from building proprietary software.
Product-oriented companies seek higher margins through a wide deployment of self-developed software without customisation, but such a goal appears difficult to achieve. Both paths -- software product and integration -- are challenging. Chinese telecom companies do have real software needs, but their demand is a mixed blessing for service providers.
The government is another bigger user of software in China. As in the case of telecom companies (all of which are also state-owned), doing business with the government isn't easy. Contracts tend to be large and their award can be driven by non-commercial considerations. Decisions take time. Getting paid also takes time.
Thankfully, software companies can target enterprises that interact with the government. They can sell software to support exporters and importers with the electronic filing of inspection and quarantine paperwork, for example.
Getting paid by enterprises for government-related work is better than being paid by the government itself. But the government-related software market is unlikely to support a large-scale business.
What is a more optimistic perspective on China's software industry? First, statistics may support more optimism. But, as in the case of China's economic growth, China's macro figures and micro landscape are often hard to match.
For example, China's software exports are said to have reached $3.6 bn in 2003, ranking China fourth in the world behind India, Ireland and Israel. Other statistics (including Nasscom's) don't even put China in the top six software exporters. It is difficult to find empirical evidence for a high set of numbers.
Nonetheless, the export of software services is growing. Japan and Korea are the main targets. The exporters are based either in Dalian city in Liaoning province (companies like DHC, Haihui), where they benefit from geographical proximity and language competency, in Beijing (Sinocom, which recently went public in Hong Kong), or in Shanghai (Venus Software, Newtouch).
But the size of this export business is still very small and the addressable market itself limited. Exports to the US don't seem to be strong, while Europe is absent.
More impressively, a growing number of Chinese or China-related organisations have achieved high status in terms of Carnegie Mellon's capability maturity model.
As recently as 2002, only two companies had achieved CMM Level 5 in China -- both Motorola software centres.
Now, a handful of native companies have been certified to be at Level 5 based on CMM or the new CMM-I standard, including DHC, which has 1,200 employees in Dalian; Neusoft, a software conglomerate based in Shengyang, also north-east China; Bamboo Networks, a company based in Hong Kong but with facilities in southern China; and NewSky, a company based in Changsha, the capital of Hunan province. Quite a few other Chinese companies are at various points of CMM and/or CMM-I competence.
Despite this, it's fair to say that China's software industry is still emerging. "Scale isn't such a big deal," wrote Bloomberg's Andy Mukherjee in a recent column on the subject.
My own belief is that scale matters -- and that scale is an issue more generally with Chinese enterprises, which are small by international standards and sheltered from serious external competition.
Going forward, China is facing the challenge of increasing complexity. Your typical Chinese company makes a limited range of simple products for a small number of customers.
In hardware, this may mean making a hundred models using several thousand components, for a handful of clients. Administrative staff represent only a small percentage of total personnel.
This is in contrast to an established Western company that may produce hundreds of models, handle tens of thousands of components, have a much large client portfolio and multiple layers of internal management resembling a millefeuilles cake.
The same is true in software. Scale does put a strain on organisations. Managing a company with single or double-digit millions of dollars in sales, like most of China's software companies, or even a group with hundreds of millions of dollars in revenue, as in the case of China's handful of large software conglomerates, is not the same as managing a billion-dollar company with 25,000 employees like Infosys.
In short, the development of the software industry in China is worth monitoring but there are few signs so far that India can expect serious competition.
Photograph: FREDERIC J. BROWN/AFP/Getty Images
Powered by