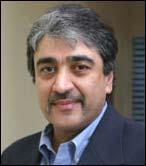 Carnegie Mellon University has named Dr Pradeep K Khosla as the new Dean to lead its College of Engineering.
Khosla, 47, is an internationally renowned Indian American researcher and educator, an expert on robotics and intelligent systems, embedded software and cybersecurity.
He will lead the Carnegie Institute of Technology from July 1. CIT is among America's top engineering schools.
Currently the Philip and Marsha Dowd Professor of Electrical and Computer Engineering and Robotics, Khosla has been a member of the Carnegie faculty since 1986. He is an IIT-Kharagpur and Carnegie alumnus. He also heads the Electrical and Computer Engineering Department (ECE) and is co-director of CyLab, a university-wide initiative.
Khosla received B Tech (Hons) from IIT-Kharagpur and both MS and PhD degrees from Carnegie Mellon University.
Prior to joining Carnegie Mellon, he worked with Tata Consultancy Services and Siemens in the area of real-time control.
From January 1994 to August 1996 he was on leave from Carnegie Mellon and served as a DARPA Program Manager in the Software and Intelligent Systems Technology Office, Defense Sciences Office and Tactical Technology Office where he managed advanced research and development programs, with a total budget exceeding $50 million in 1995-96, in the areas of information-based design and manufacturing, Web-based information technology infrastructure, real-time planning, and distributed AI and intelligent systems, real-time embedded software, sensor-based control, and collaborative robotics.
Khosla's research interests are in the areas of collaborating autonomous systems, agent-based architectures for embedded systems, software composition and reconfigurable software for real-time embedded systems, distributed robotic systems, distributed information systems, and intelligent instruments for biomedical applications.
Professor Khosla is a recipient of the Inlaks Foundation Fellowship in 1982, the Carnegie Institute of Technology Ladd award for excellence in research in 1989, 2 NASA Tech Brief awards (1992, 1993), the ASEE 1999 George Westinghouse Award for Education, Siliconindia Leadership award for Excellence in Academics and Technology in 2000, and the W. Wallace McDowell award from IEEE Computer Society in 2001.
He was elected Fellow of IEEE in January 1995, and Fellow of AAAI in 2003. He was appointed a distinguished lecturer for the IEEE Robotics and Automation Society for 1998-03.
Professor Khosla currently serves on the Advisory Boards iNetworks, ITU Ventures, and Alcoa CIO's Advisory Board. He is a member of the Board of Directors of Quantapoint Inc., and Intellions Inc. He also serves on the advisory boards of the Institute for Systems Research at the University of Maryland, the Dean's advisory board for the College of Engineering, the ECE department's advisory board at Michigan State University, the EECS department advisory board at Vanderbilt University, and the Computer Engineering Advisory Board of San Diego State University. He is a co-founder of Quantapoint Inc -- a high-tech company based in Pittsburgh.
He lives with his wife Thespine and his two sons Nathan and Alexander in a Pittsburgh suburb.
"It is a great honor for me to be named head of Carnegie Mellon's Engineering College because it is a very strong college with a long tradition of leadership in research and education. I am also very honored that I am following in the footsteps of several excellent deans whose leadership has made a difference," the Pittsburgh Gazette quoted Khosla as saying.
"As one of the most technically sophisticated campuses in the world; we need to continue to take leadership roles in global education and leading-edge research. My immediate plan is to build on the great work and leadership of my predecessor John Anderson, who has left behind a strong college," Khosla added, according to the Pittsburgh Gazette.