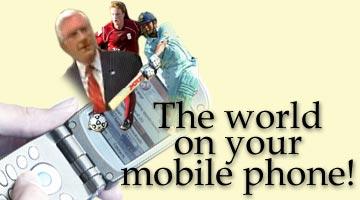 Indian infotech companies are fast coming of age as dozens of young entrepreneurs display determination and unleash a range of world-class innovative products and services.
This is the story of one such entrepreneur, Neil Salvi, whose PACE Soft Silicon specializes in video software solutions for mobile devices.
rediff.com brings to you the second article in a special series on India's best innovators.

---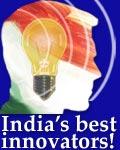 Neil Salvi holds a small cellphone that seems quite ordinary. But as he presses a particular button on it, the phone displays a video footage of his son playing with a rabbit in the United States.
This is the latest MPEG4-based video SoftCorder in a Maxson handset, a new phone that enables consumers to take high-resolution videos clips.
You can also watch your favourite cricket or football matches or the latest Bollywood flicks on your cellphone, facilitated by software developed by PACE Soft Silicon.
PACE Soft Silicon, based in the United States, was established by Neil Salvi in June 2000 to deliver mobile video technology and multimedia solutions that fully utilise the capabilities of mobile application processors.
PACE Soft Silicon develops high value-added multimedia products, applications and architectures for packet-based wireless applications or mobile devices. Its patented applications and embedded algorithms are fully standards compliant, and designed for maximum performance at minimum complexity.
Today companies like Intel and Texas Instruments use camcorder software developed by PSS as 'the PACE solution unleashes the full power of the underlying silicon and delivers best performance for lowest battery consumption.'
Neil Salvi was born in Pune, but migrated to the United Kingdom with his parents. He, however, returned to India to set up a world-class engineering centre in Pune.
"I know Pune has always been in the forefront of excellence in education and I strongly believed that it offers plenty of opportunities for entrepreneurs as it abounds with fresh talents waiting to be tapped,'' he explains.
He believes that India offers plenty of opportunities for entrepreneurs. He was at his best explaining the growth of the company in the last four years, after an interesting presentation at the National Association of Software and Services Companies meet showcasing the best six companies in the western region.
The company was one of the top six selected from 36 companies in the western region. The best of the six will be given an opportunity to participate at the mega NASSCOM event in February. These companies will also be ensured venture capitalist support and regular mentoring.
Salvi's PACE Soft Silicon has been selected for the NASSCOM event to be a part of a bigger forum and showcase its hi-tech products.
Having good synergy between ideas and a sound knowledge of the subject helped him meet his goals. He did his masters in mathematics from Oxford and obtained an MBA from INSEAD. With an excellent educational background, like many other players in the small and medium enterprises (SME) sector, Salvi also started his career in the corporate world.
He worked with Accenture for ten years during which he was responsible for setting up the product development in Europe.
"While working on products, I realised that there was a huge market for multimedia technology. I decided to set up PSS to tap the potential of the 'optimised video solutions for mobile devices'."
When Salvi decided to establish engineering centre, Pune was the obvious choice.
"India also has a good pool of talented engineers. We have tied up with Indian Institute of Science and Indian Institute of Technology to recruit the best talent available at our centre," he says.
The Pune centre develops and delivers mobile video technology and multimedia solutions that fully utilise the capabilities of mobile application processors.
Today, the PACE software is used in mobile phones, camcorders, media players, videoconferencing platforms of many leading companies in the world.
Last year, the company's clocked a turnover of $1.5 million. But to reach this position, Salvi had to go through difficult times. "There were testing times, when the market was dormant. We had to really try hard to gain credibility," he says.
Today he has come a long way and learnt new lessons. From here, there is no looking back, he says. The company has major plans in the pipeline to diversify and develop to cater to the changing demands of its customers.
Today, it also has an elite list of clients -- Intel, Texas Instruments, Microsoft, Hewlett-Packard, Motorola, Tata Elxsi, ASUS, ADS and Pantech to name a few.
"Our latest Mpeg4-based video SoftCorder is a new class of application that enables consumers to take high quality videos clips with mass market devices which they then can easily and instantaneously share with friends and family using e-mail or MMS without having to worry about device compatibility."
"The combination of Maxon's GSM/GPRS technology and PACE's video software technology delivers market leading mobile multimedia capabilities to the consumer at a reasonable prices," adds Salvi.
The company's latest offering, SoftCorder, enables PDAs and smart phones to become camcorders. SoftCorder, developed by Pace, is a new class of application that enables consumers to take quality video clips with their phones which can be easily and instantaneously share with others.
Various applications like streaming audio and video, multimedia messaging, gaming, security, speech recognition and location-based services and mobile commerce becomes much easier with this innovative product.
Adding more value to customers' requirement has been the most important selling propositions of the company. "We believe the best way to add value to the customer's endeavours is to understand and solve our customer's toughest design challenges," says Salvi.
He has taken the product designed and developed in India to countries like Japan, Taiwan, Korea and the US. The 'Made in India' brand has won accolades from leading IT and mobile companies globally.
"The Indian market is not yet ready to accept high-end products. Cost is a factor which many people in India are not willing to come to terms with; but we are getting a good response from the Indian market for video phones which are competitively priced at $50 to $100 depending on the type of features," explains Salvi.
The research and development activities take a long time. The product lifecycle is at least 18 months. "We spend the initial two years in testing software to build innovative consumer-orientated software applications for a diverse range of products. The process of research and development is a continuous and tough phase," says Salvi.
Salvi was recently appointed convener of the WG7 multimedia technology focus group in Ireland. He is also an active member of the Mpeg4 rollout community worldwide.
"Money matters," he says, adding that "innovation is the key to successful business enterprises."
Fortunately the company received funding as the software they developed was well accepted. "The IT sector is bound to develop and the prospects are bright. But India has to build up its infrastructure," says Salvi.
With top handset manufacturers in Korea and Taiwan and in personal media players in North America using PACE software, the future holds much promise for Salvi.
Ambitious and raring to take up the challenges of the tough and competitive market, PACE is all set to become to become a clear market leader in developing software for mobile and media devices.
"Our turnover for the coming year is pegged at $2.5 million. Now from every quarter, we are planning to introduce newer and better models so we will have at least three new models every quarter," says an optimistic Salvi.
The future plans are on track with the company already in the process of extending its core technology into video on demand, wireless television and video conferencing.
Technology is on the move and Salvi has a definite lead in the field of mobile video technology.
Design: Rahil Shaikh