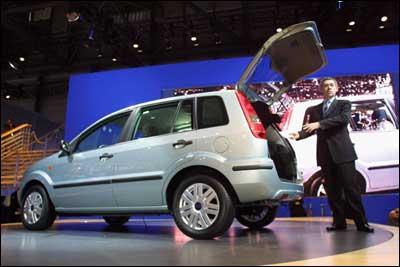 Ford Motor India said on Wednesday that it has firmed up plans to launch 'Fusion' in the next three months as the prototype of the vehicle, a crossover between a car and an MUV, has been developed.
"We have decided to begin delivery of the car to customers in about 3-4 months. We can talk about 'Fusion' now as the prototype of the vehicle has been developed," Ford Motor India vice-president (marketing) Vinay Piparsania said over phone.
Asked about the price of Fusion, he said: "We have not deliberated on the price yet." Industry sources, however, said car would be priced at Rs 500,000-700,000.
Initially, the company plans to sell about 500-1,000 units of the car which can be ramped up further.
The Fusion will hit the road soon after the launch of Hyundai Motor India's premium compact car Getz, which is scheduled to make a debut next month.
Ford's Fusion would be one of its kind of vehicles in the country as there had been no car in India which was a cross between a car and a multi purpose vehicle, Piparsania said.
Hyundai will position Getz, which is a 1300 cc petrol-driven car, as an upgrade to compact car likes Santro, Indica and WagonR.
Both Fusion and Getz will mark a beginning in the Indian car market as the cars were positioned in a way that they will create a segment of their own.
Piparsania said Fusion has been placed in such a way that customers who planned to upgrade from a mid-size sedan would now have a new category to choose from.
Ford will launch Fusion after having hit the road with Escort, mid-size car Ikon, luxury car Mondeo and sports utility vehicle Endeavour.
The Indian arm of the second-biggest US automaker has its manufacturing unit on the outskirts of Chennai and imports Mondeo from its sister concern in Belgium and assembles Endeavour after bringing it from Thailand. -- PTI
The Ford Fusion at the Geneva Motor Show. Photo: Tim Bishop/Ford Motor Company/Getty Images